10 Stylish Ways to Keep Mosquitos at Bay
Skip the itch and take back your outdoor space this summer with these chic citronella finds.
Keep in mind: Price and stock could change after publish date, and we may make money from these affiliate links.
Sticky and sweltering summer temps are setting in and one thing we know to be true: where the balmy days go, biting insects will follow. Nature gives us mosquitos, but nature also gives us a non-toxic tool to combat tortuous pests. So, before you ransack your pharmacy for anti-itch cream, we suggest preventing the bites. The cure? Citronella oil.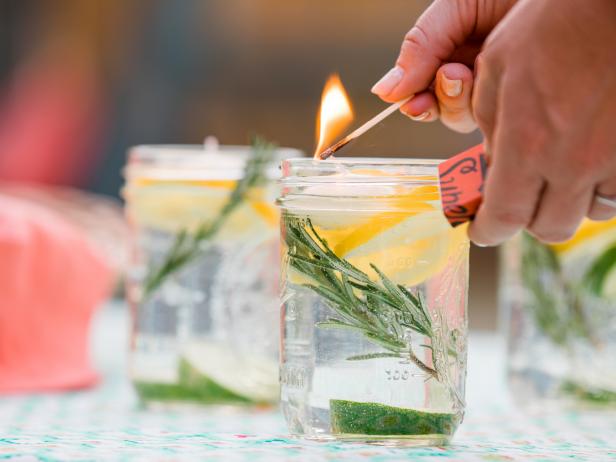 Party Hacks Every Parent Should Know
BUG REPELLANT LUMINARIES If the idea of dousing your yard in bug spray before a kids' party just turns your stomach, whip up a few of these luminaries to keep mosquitos from crashing your party. Place a few slices of lemons and limes along with sprigs of rosemary into a jar of water, then add several drops of essential oil. We recommend citronella, lemon or lavender! Top with a floating candle and you're good to go!
Citronella is a bright, citrusy oil derived from Cymbopogon plants or lemongrass. The fragrant oil is infused in incense, candles, soaps and body sprays and promises to provide safe, chemical-free protection against mosquitos and other flying insects. Sometimes citronella is used as a stand-alone oil or blended with other insect-banishing essential oils like eucalyptus, cedarwood, clove and geranium.
Below, we're sharing the best citronella products to shop for home and body and protect your porch, pets and patio party guests through fall.
Banish mosquitos from your alfresco dinner party with chic citronella hanging coils from Food52. The shapely coil is compressed wood infused with citronella oil that you light at one end. Once lit, the wood slowly burns away and emits a non-toxic, citrus-scented smoke that naturally repels mosquitos from your guests and pets alike. Treat yourself to a two- or five-coil set in mod black or a natural wood finish, then dangle your lot from tree branches or line them down your outdoor table as part of your summery centerpiece.
Buy It
Keep mosquitos, horseflies and hornets far away from your patio party with top-rated Madison James Flyaway Sticks. Small but mighty, these sticks burn for 2.5+ hours each and release a fragrant geranium, clove and Texas cedar-infused smoke to keep critters at bay. Place the hardworking sticks on your lawn or tuck them into a potted plant, light the end and blow it out.
Buy It
Citronella with a splash of sea salt is just what the doctor ordered for your next outdoor lunch date. This hand-poured vegetable soy blended candle is made from lemony citronella oil and sea salt to blanket your back porch or patio table in enchanting fragrance and protection. Each candle burns for 80 hours from a hand-painted white jar, complete with an inky dragonfly illustration and a blonde wood lid.
Buy It
Give your bug repellent skincare routine a facelift with this spa-worthy palo santo citronella body spray. The frosted yellow bottle and contemporary white lettering are so pretty you won't mind keeping it out on the table for guests for special events. And aesthetics aside, this stuff works. The fragrant spray is formulated with all-natural ingredients like citronella oil, palo santo, castor and soybean oils to create a chemical-free barrier against insects.
Buy It
Snag this four-candle kit from Amazon to cover all the hang-out spots in your outdoor space. The soy wax candles come encased in summery blue-and-white tins that pair seamlessly with neutral and colorful outdoor decor. Plus, each three-wick candle burns for 60 hours, meaning this mighty set will keep your family bite-free for up to 240 hours.
Buy It
MORE IDEAS
HGTV editors and a pediatrician share recommendations on how to keep kids bite-free this summer.
SHOP NOW
MORE IDEAS
Keep annoying mosquitoes at bay all season long with these repellers we tried and loved.
SHOP NOW
Shop More Outdoor Essentials