How to Clean a Fabric Hammock
Keep stains, mildew, and pollen buildup at bay by learning how to maintain your hammock.
Outdoor hammocks are designed to hold up in the elements, and they may be durable against rain, dirt, and pollen, but that doesn't mean they're maintenance-free. Deep cleaning your hammock a few times a year will help prevent mold and mildew and help the fabric last longer. After all, no one likes to bring their favorite toys on a dirty surface.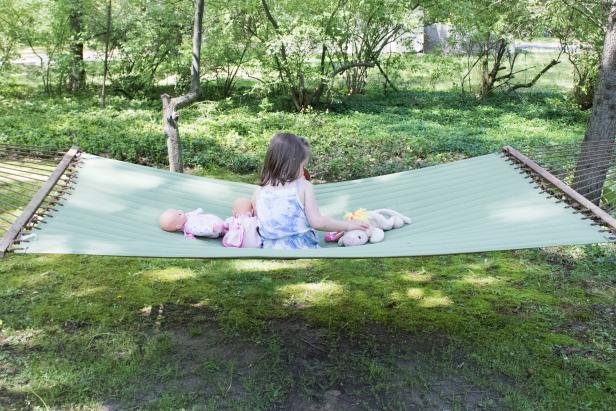 How to Clean a Fabric Hammock
Start by laying the hammock flat on the ground. It's easier to scrub while it's completely flat. Use a dry bristle brush to agitate the surface of the fabric on both sides. This helps to lift dirt and pollen, and also scrubs at any mildew spores that are housed on the fabric or in the seams. Best not to breath in the mildew spores as you scrub away, so put on a respirator for this part of the job. Shake it out when you're done and lay the hammock flat again.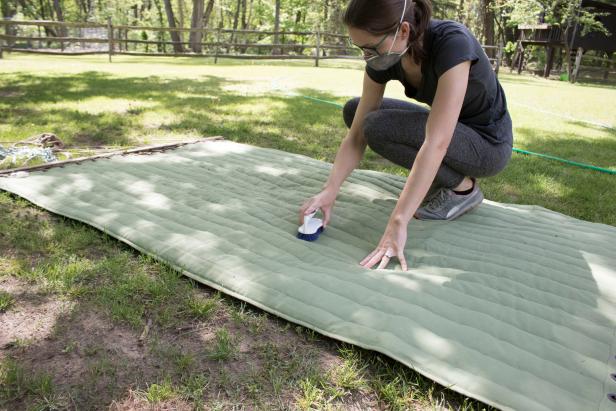 How to Clean a Fabric Hammock
Make a cleaning solution: on your stovetop over medium heat, dilute 1 cup of borax and 1 cup of washing soda into 8 cups of water. Add a few squirts of regular liquid dish soap too, for extra cleaning power.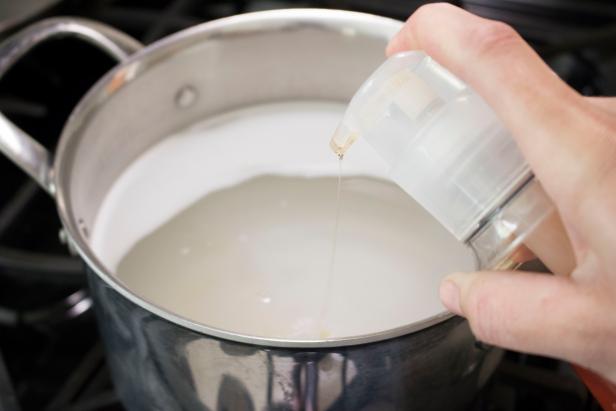 How to Clean a Fabric Hammock
Take the diluted solution outdoors, and use the bristle brush to scrub the surface of the fabric, massaging in the cleaner, and paying special attention to visible problem-areas. For bad mildew, apply hydrogen peroxide with an old toothbrush directly to the affected area. Allow the cleanser to sit and soak in for 20 minutes, and then use a hose with a high-powered nozzle or a pressure washer to rinse the surface clean.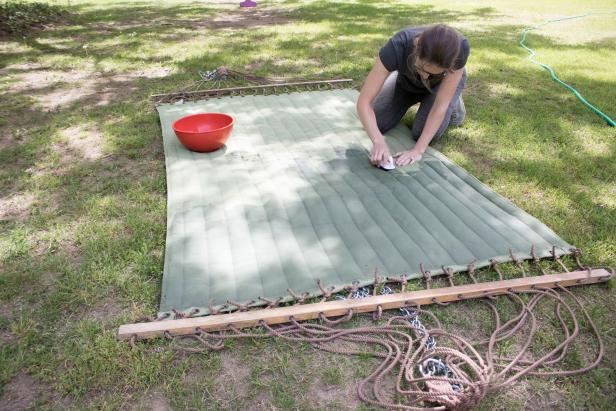 How to Clean a Fabric Hammock
Start at one corner and spray the soapy water across the surface of the fabric until it runs off into the grass. Then switch to the opposite corner, and re-rinse the surface to ensure all soap and cleaning solution is removed.
Drag the hammock to a dry area of the yard, flip it over, and repeat the process again by scrubbing the other side with cleaner and thoroughly rinsing the fabric.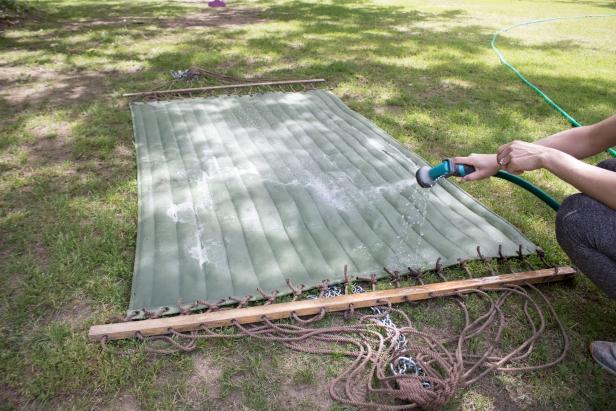 How to Clean a Fabric Hammock
It will be heavy when saturated with water, but if you can get the hammock off the ground and reinstalled on its frame or set of trees, it will dry quickly with less risk of mildew.
Once it dries, apply an outdoor fabric protectant to both sides of the hammock. This will help create a waterproofed fabric surface, prevent stains and protect the fabric against UV rays.
If you're allergy prone, consider using a cordless vacuum to lift pollen before use.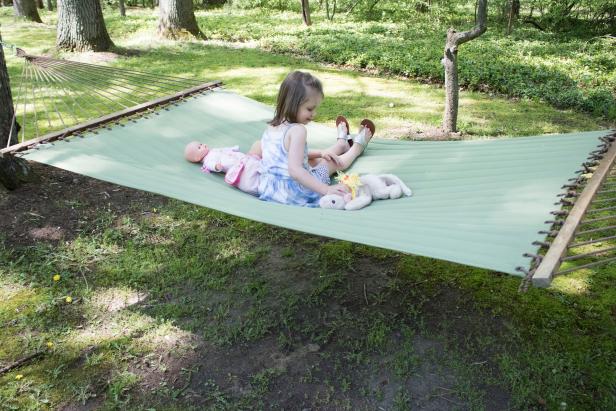 How to Clean a Fabric Hammock