Portable Outdoor Kitchens
Portable outdoor kitchens help you conserve space and your budget because they go with you across the patio or across the country.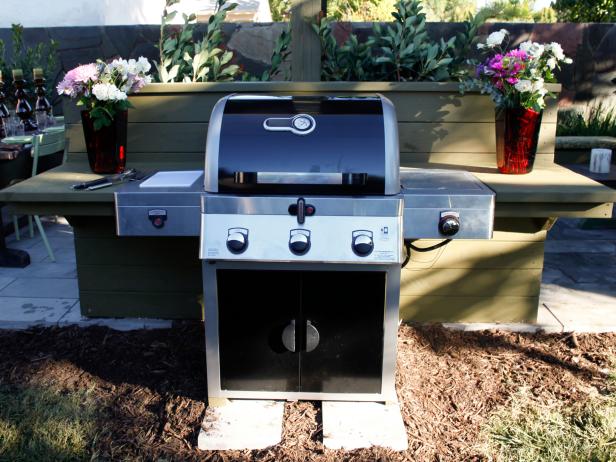 HORJD410_after-grill-barbcue_h
Detail of the outdoor kitchen attached to the outside of the safari pergola at the home of Justine and James Finney which underwent a makeover that turned the large, plain yard into a sustainable safari in the suburbs. The vegetable garden will give the couple and their baby some wholesome, home grown fruits and vegetables. The large pergola will offer shade as well as seating for their lounging guests and dining guest while the barbeque master can interact with guests from the outdoor kitchen attached to the pergola. The breakfast deck built off the bedroom, along with a new door that will allow the couple to head to the deck directly from their room, allow them to enjoy the morning light. The french doors newly installed on the garage will give the couple a blank canvas to the unfinished garage that can be used as they see fit, which may well be used as a mother-in-law suite.
Portable outdoor kitchens are popular because they're easy to install, maintain and transport. You get the luxury of an outdoor kitchen without the price or hassle of construction; and if you decide to move, your kitchen can go with you.
Design your portable outdoor kitchen with movement in mind. Think about the size of your space and make sure you'll have enough room to move or store away your kitchen. Also consider that a portable kitchen will require minimum utilities like plumbing, electric and gas. Propane tanks and solar panels are good options for portability.
A kitchen island on casters and wheels is one way to achieve portability. Be sure to look for casters rated to withstand the weight of your island, including whatever you may store inside or on top. Also be sure you have proper ventilation above if your island will include a grill or cooktop.
A movable island gives you more storage and counter space without being fixed in one place. Islands are available in a variety of prefabricated, modular design options to fit any budget, or they can be custom-made to complement your backyard space, no matter what size or shape.
If you have a more modest portable kitchen in mind, some stand-alone pieces may be a better option. A nice, functional outdoor kitchen can be achieved with an all-weather serving and prep cart, a gas or charcoal grill and a metal tin on a stand for drink chilling and service. Add some nice patio furniture and an umbrella or sun sail and your backyard entertaining space is complete.
While you're looking for portable outdoor kitchenware, search for stainless steel options. The popularity of stainless makes finding everything from tables and carts to grills and accessories easy and wallet-friendly. Stainless is also easy to clean and stands up to varying weather conditions, so it's a good option for outdoor use.
Portable outdoor kitchens do have some drawbacks. Cleanup and storage might be a hassle, but you can minimize this by placing your outdoor kitchen near the entry to your home or reserving space for used glassware. Look for products with drawers and compartments to maximize your storage space and minimize trips inside to get supplies.
For any outdoor project, make sure you use materials that are appropriate for your climate. Materials like granite and other stone, concrete, glass, polymer products some kinds of tile are best for outdoor use. Stay away from plywood and particleboards that may warp or rot under humid or wet conditions.
More Outdoor Kitchen Designs
Other Outdoor Kitchen Inspiration