Outdoor Kitchen Lighting Ideas
Outdoor kitchen lighting affects everything from food preparation to mosquito control and is an important part of the design and performance of any outdoor kitchen.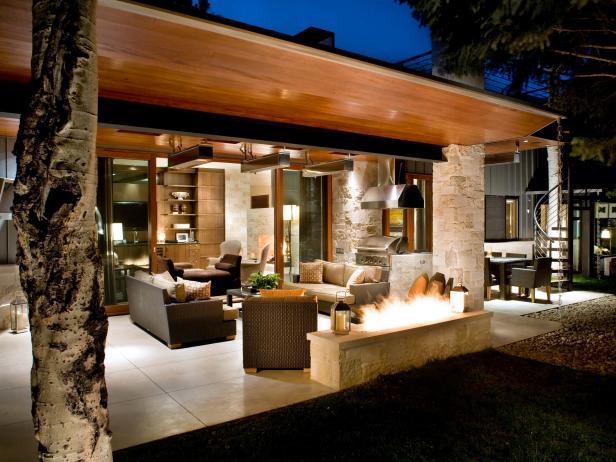 CI_rowlandbroughton_Terrace-at-night-ranch-home_h4x3
The new polished white concrete terrace and adjacent outdoor dining room are extensions of their interior counterparts. The linear fire pit and overhead heat lamps extend the months the outdoor rooms can be used. Skylights in the roof above provide plenty of light during the day and stargazing at night.
Everyone knows that the right lighting enhances everything from colors to moods, but there are a few things you may not know about outdoor kitchen lighting ideas that can affect everything from food preparation to mosquito control.
If you've ever cut into a piece of grilled chicken and had to walk inside to make sure it was done, we have the solution to that and many more frustrations of outdoor living all by installing the right lighting.
Whether you have a large outdoor kitchen or a modest outdoor kitchen island, the right lighting and fixtures can change your entire outdoor cooking and dining experience. The first area to consider in outdoor kitchen lighting is above the grill or cooktop. This may seem obvious, but being able to see the food you're cooking is essential to presentation and whether meats are cooked to the right temperature.
Consider installing task lighting with Par-20 halogen bulbs above your cooking area. Halogen lamps are small and stand up to higher temperatures, which make them perfect for outdoor cooking areas.
Lighting and any electrical fixtures should also be rated for humid and damp conditions. There are many variations from damp to wet, so be sure you choose fixtures best for your part of the world.
If your outdoor kitchen or dining area has a ceiling, consider installing a ceiling fan with a lighting fixture. The fan deters mosquitos and the extra lighting will help the performance of the entire kitchen area. Also consider installing a dimmer so you can adjust the amount of light in your outdoor kitchen.
For extra visual appeal, install pendant lighting over bar and serving areas. Pendant lighting has some drawbacks, the main one being they are attractive to spiders for building webs. Keeping a duster handy isn't a bad idea. It's also a good idea to install lighting under cabinets, countertops, and inside lower cabinets where overhead lights don't provide great coverage.
Don't forget walkways and other areas near the ground. Nighttime grilling and entertaining outdoors is fun, but can create hazards in under lit areas. Consider solar-powered LED landscape lighting for walkways and the outer perimeter of your outdoor kitchen.
Installation for outdoor lighting will most likely require an electrician. Ask your contractor, neighbors or friends for a good recommendation. Ask the electrician how he or she plans to calculate the load your lighting plan will use; more than one circuit may be needed so appliances and lighting can be on separate circuits. A professional can help you make the most of your outdoor kitchen lighting by ensuring it functions efficiently.
More Ideas for Your Outdoor Kitchen
Other Outdoor Kitchen Inspiration