Outdoor Kitchen Flooring Options
Get tips on finding the right floor surface for your outdoor kitchen.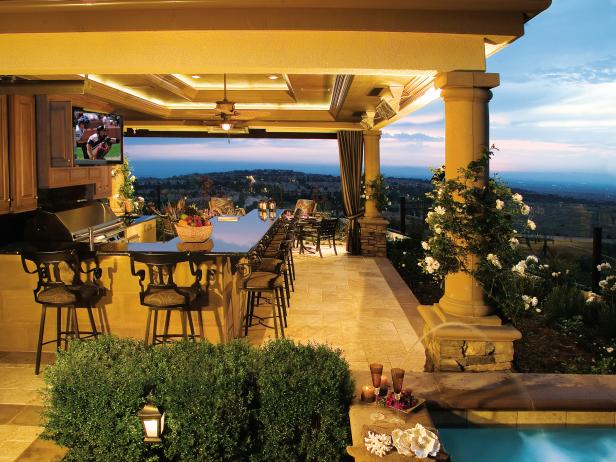 Luxurious Outdoor Kitchen and Bar With a View
Photography courtesy of Mark Scott
Mark Scott; Photo by Will Hare Photography, Will Hare Photography
If you're not installing an outdoor kitchen over an existing patio you'll need to plan for paving underfoot. Like your indoor kitchen's floor, this one will take a lot of abuse, foot traffic, dropped pots and food splatters. Plus sun, rain, wind and possibly snow or ice. So toughness is as important as are great looks. Here's what to consider when evaluating the most popular paving options.
Natural stone paving can give your kitchen a look that's at once elegant and natural. If you choose stone that occurs elsewhere in your landscaping, you'll create an integrated effect as well. But stone can absorb oily stains, and it's expensive. Your best budget bets are sandstone, limestone, slate and marble. Don't assume that your local home center will have the best prices on stone. Check with stone yards.
Price: $25 per square foot
It's durable and versatile. Concrete can be colored, imprinted and finished for a wide range of looks, including that of natural stone. If you live in a cold climate, consider a formula with a base additive that will help the concrete withstand the freeze-thaw cycle without cracking.
Price: $8-$10 per square foot ($15-$25 for concrete pavers)
Affordable and available in many different styles, tile can be an attractive choice for an outdoor kitchen floor. Choose between ceramic and porcelain tile, and pick frost-proof, unglazed product, and have your installer coat it with a penetrating sealer.
If you want porcelain, a "full body" tile is the best choice, since the color runs all the way through the tile, so chips and scratches show less. Tile must be installed on a flat surface or it's prone to rocking and cracking. In cold climates, the freeze-thaw cycle can damage grout and tiles unless your installer has taken particular care.
Price: $10-$30 per square foot
It's the most important feature in an outdoor kitchen, but before you go shopping for a grill make sure you've done your research.