Learn About the Monarch Butterfly's Fall Migration
Make way for monarchs! These pretty butterflies migrate each fall to spend winter where frosts won't find them. Read on to see where you can experience this incredible annual migration.
Every fall, as days grow shorter and the sun starts sliding south, monarch butterflies begin their trek southward. These orange and black insects can't survive winter's chill, so they head to warmer regions where a mild winter guarantees survival.
Ryan Hagerty for U.S. Fish & Wildlife Service at FWS.gov
Monarchs gather by the thousands in their winter homes, spending the days literally hanging around on trees, mimicking dead leaves until winter sun warms the air to 55 degrees Fahrenheit. That's the minimum temperature these butterflies need to be able to fly. When the air warms, they flutter away in search of food, returning to roosts before nightfall.
The wonder of tiny butterfly wings flapping up to 2,000 miles on a migration journey is astounding enough, but there's another piece to this migratory puzzle that's even more amazing. The monarchs that make the journey have never made it before. Unlike birds that survive for years, the average monarch lives for six weeks. Over the course of spring and summer, up to five generations of monarchs feed and reproduce, until the final generation appears on the scene in summer. The butterfly that makes the long winter journey ultimately lives for up to 8 months.
Scientists don't know how the new monarchs know where to go for winter survival. Somehow the migratory path and destination is passed to this last generation, which takes off for parts unknown starting in late summer and early fall. The entire migration season is 85 days, with butterflies flying an average 22 miles per day.
Where to See Monarch Butterflies
California: Monarchs living west of the Rocky Mountains spend winter along the coast of California. There are 400 known winter roosting spots—a few are easily accessible.
In California, monarch butterflies are present from roughly mid-October to January. The best time of day to see butterflies is when they're most likely to take off—usually when the sun is overhead. Weekdays typically offer lighter crowds. Check with the reserve you plan to visit to learn the best times for butterfly viewing.
Mexico: Monarch butterflies from east of the Rocky Mountains head to the high mountains of Central Mexico. The Monarch Butterfly Biosphere Reserve is a World Heritage Site covering roughly 200 miles. It houses an estimated 70 percent of the total number of monarchs overwintering from eastern areas of North America, including Canada. Millions of butterflies literally weigh down tree branches and make a sound like light rain when they take off. A few of the colonies are open for public viewing:
The Biosphere Reserve is located roughly 52 miles northwest of Mexico City. Butterflies are there from mid-November through March, with peak populations in January and February.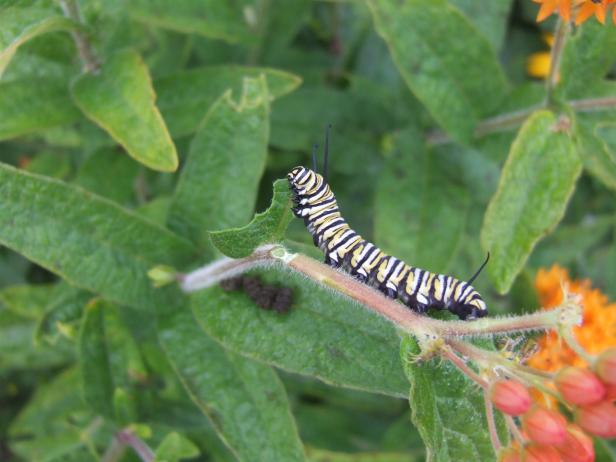 Monarch Caterpillar
Monarch butterflies lay eggs on plants in the milkweed family, including butterfly weed (Asclepias tuberosa). Eggs hatch to reveal striped caterpillars that eat until they reach about 2 inches long. Often the first clue that a caterpillar is present on a plant is the round black frass or caterpillar poo seen on leaves.
Citizen Scientists Welcome
Much is still unknown about monarch butterfly behavior. For instance, scientists aren't sure they know yet where all the winter monarch roosts are. Many suspect there are undiscovered wintering spots in places like the Yucatan Peninsula or Caribbean.
Researchers who study monarchs welcome gardeners to host these butterflies in their gardens by planting milkweed and its family members, including butterfly weed (Asclepias tuberosa) and swamp milkweed (Asclepias incarnata). These are the plants that striped monarch caterpillars require for food.
Or take part in butterfly tagging events, where butterflies are caught and tagged with tiny tracking devices. Learn about local citizen scientist opportunities from Monarch Joint Venture, a U.S.-based organization that's working to protect monarch butterflies.