How to Grow and Use Scented Geraniums
Pelargoniums, cousins of common garden geraniums, add delightful fragrance to your home and garden.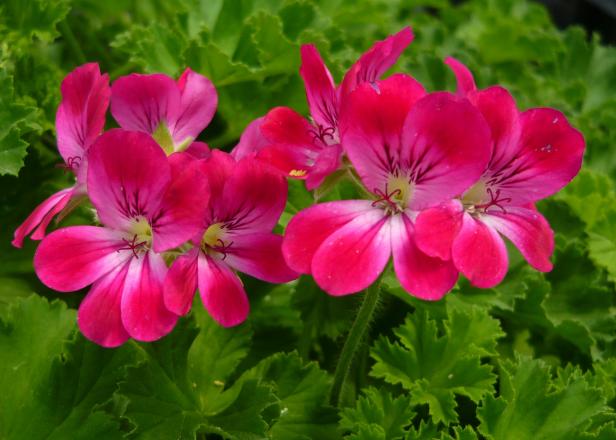 Scented Geranium Lime Pink Champagne
If you're planting for fragrance, you can grow roses, gardenias, heliotropes or hyacinths in your garden. Try some scented geraniums, too, or pot up a few to enjoy indoors. These pretty plants, which are related to common garden geraniums, have heady fragrances that range from intense to subtle.

Scented geraniums are in the genus Pelargonium, and they've been around since the 1600s, when Dutch sailors discovered them growing wild in South Africa and brought them home to their gardens. By the late 1700s, the plants were on the move again, becoming fashionable in America and Europe.

They were popular because they were, and still are, easy and fun to grow, but over the years, their soft colors and typically small flowers were overshadowed by modern hybrids with big, bold blooms.
Today, you can find scented geraniums in white, pink, red and lavender, with green, bluish-green, gray-green or variegated leaves. Their fragrance, interestingly, comes from the leaves, which produce aromatic oils.

Thanks to their wide variety of fragrances, the plants are making a comeback. You can find fruity varieties that smell like apples, lemons, limes and oranges, or sweet types reminiscent of chocolate and violets. Spicy pelargoniums smell of peppermint, cinnamon, anise, nutmeg or pine. Rose-scented geranium leaves can be used to flavor cakes and other foods, as long as the leaves have never been grown or treated with chemicals.

Scented geraniums tolerate dry soil and many are excellent for growing in containers. When you water, drench the plant thoroughly and drain away any excess water. Then let the soil dry out slightly before you water again. The plants don't like wet feet, so use a planting medium that drains easily.

Scented geraniums prefer full sun, but they may need protection from the hot afternoon sun, especially in Southern climates. Before the temperatures drop to freezing, take cuttings or bring your potted plants indoors for the winter. Give them a brightly lit exposure, or they may stretch toward the light and start to look leggy. Fertilize very little, if at all, until spring, and then feed lightly. Feeding too heavily can also cause legginess.
Buds will start forming as the days get longer. Once active growth starts, you may want to prune or pinch your plants back, so they'll stay bushy and shrubby, but wait until the flowers finish. Stop pruning and pinching in late fall.
Scented geraniums are usually free of pests and disease. If you do spot common pests, like aphids or whiteflies, use a product labeled for indoor or outdoor use, depending on where your plants are growing, and follow the directions.
Ready for more fragrant flowers? Scented geraniums are tricky to grow from seed (and hybridized varieties won't grow true-to-type—that is, the seeds won't always produce baby plants that look like the parent). They're easier to reproduce by cuttings. Use a sharp knife to cut a stem 3 to 4 inches long. Strip off the leaves about an inch from the bottom of the cutting, and insert it into a mix of sand and perlite. Keep the cutting moist, but not soggy, until roots form. Then you can transplant it into regular potting mix in a 4" pot. Once the potted cutting has a strong root system, and the weather is reliably warm, move it into the garden or a larger pot.
How to Use Scented Geranium Leaves
Note: Never use scented geraniums that have been treated with insecticides or pesticides in anything you eat or drink, or in finger bowls.
- Wash the leaves, pat them dry and add them to jellies and jams.

- Float a few leaves in a crystal bowl filled with water. Lemon-scented leaves were used in finger bowls in the Victorian era.

- Layer rose geranium leaves with sugar and cover tightly. Sprinkle the scented sugar over desserts or into tea.

- Sew the dried leaves into sachets.
- Mix a few stems of scented geraniums into bouquets of cut flowers.
- Grow the plants in mixed containers or garden beds.
- Dry the leaves to add to potpourri.
- Pin a cutting to your jacket or blouse.