Secret Garden in the Tropics
This award-winning garden, designed by Craig Reynolds Landscape Architecture, is a lush tropical paradise complete with a swimming pool and hammock for relaxing. Located in Key West, FL, Craig Reynolds integrated native tropical plants and completely re-designed the look of this outdoor space. This property was named the 2019 HGTV Ultimate Outdoor Awards Overall Winner - and it's easy to see why.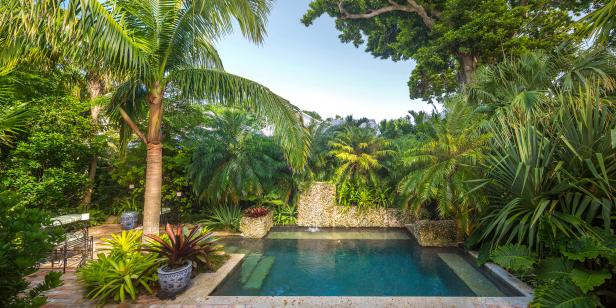 Tropical Backyard With Pool
Layers upon layers of lush green make this tropical backyard infinitely inviting. In the center of the plants, a small pool is like the crown jewel.
What were the main objectives and goals you set out to accomplish?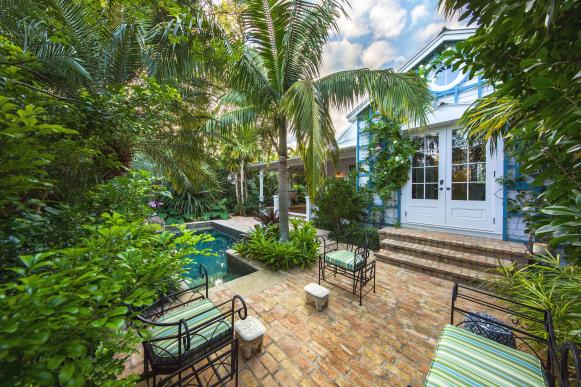 Tropical Brick Patio and Pool
A small pool peeks out from behind leafy palms. A weathered brick patio is its meant-to-be companion.
The main objective is always to get to know the client, their style and wishes for the program. This client wanted a very lush, shady, and extremely tropical hidden garden. Additionally, there needed to be one spot for winter sun next to the pool for his college age daughters when they visit. He commented that "if I need a machete to get through the property, that's fine by me!" He encouraged over planting.
What improvements and changes did you make to the space to better suit the lifestyle of your client?
The house had been a rental property and in a state of disrepair prior to our client purchasing it. The landscape was sparse and overrun with downed trees, weedy patches and only a few big trees worth keeping. The hardscape was old and tired, with a raised wooden deck nearly up to the existing historic porch and a bad kidney shaped pool. Other than that, there were just a few little brick paths and falling down fence at the front.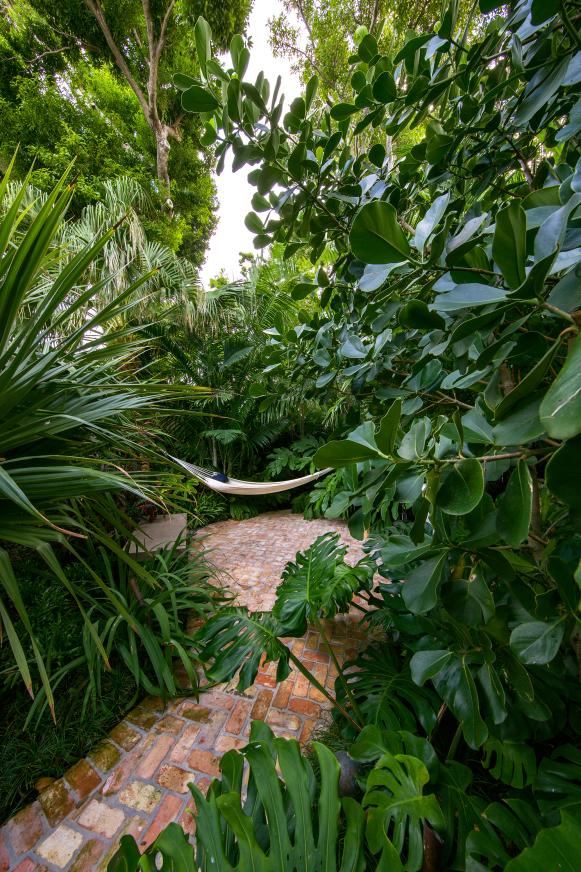 Brick Patio and Hammock
The only thing missing from this hidden hammock respite is a monkey or two peeking from the trees.
We lowered the pool to grade and created a series of paths throughout the property that not only created small private spaces but also created a sense of entry, literally "down a garden path" before you even saw the house. You cannot drive up to this house. You park at the end of a lane and walk through planting and garden before getting to the wood front gate and stone walls. The house is hidden even from the street view.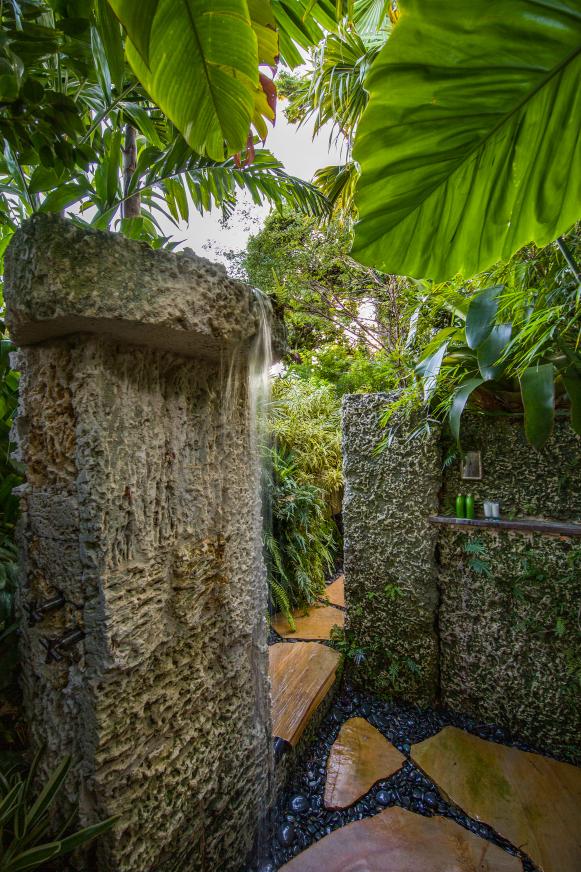 Tropical Outdoor Shower
Water cascades over crumbling rock in this backyard jungle's ancient ruins. Ok, fine, it's an outdoor shower. But the best one ever!
The final piece of the clients lifestyle that we improved, was his propensity for what he called "2 hour outdoor showers" He likes to soak in the outdoors, so we designed a sunken shower with a volcanic stone bench for spray jets, overhead gushers and of course a stand up shower that has the water falling off a raised stone like a natural waterfall. All of this is hidden completely from view.
What was your biggest obstacle in the redesign of this backyard space?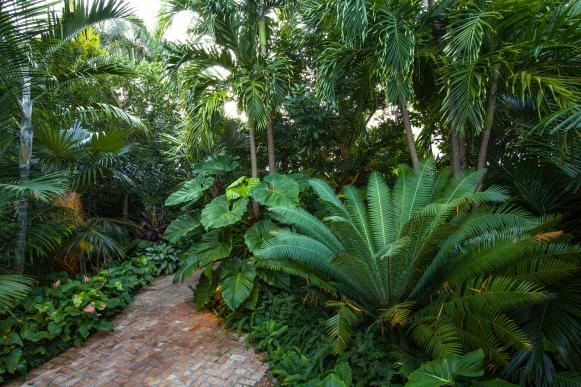 Tropical Garden With Palms
In this tropical backyard, there's green for days, a gorgeous mix of palms and other tropical foliage plants.
The biggest obstacle was creating privacy so close to the neighboring houses. This property is in the middle of a block and surrounded by 6 different homes. We secured the perimeter first with planting and then designed inward. We maintained views to the south for winter sun by using a dwarf type palm that blocked the eye-to-eye view of the neighbors but let the winter sun in.
Access was a serious challenge, so we relied on one of our other clients, who lived next door, to allow us to bring in 12 palettes of cut oolite stone. Timing was everything.
What was the inspiration behind this project?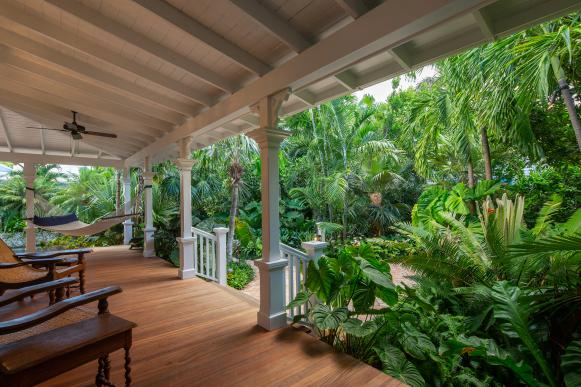 Porch and Tropical Garden
This home's wide porch becomes a second living room, surrounded by green that gives a deep sense of peace.
The inspiration was to create a labyrinth of sorts, a place that showcases a large variety and multiple layers of tropical plants – all selected for their beauty and drama.
What is your favorite feature, element or detail of the landscape?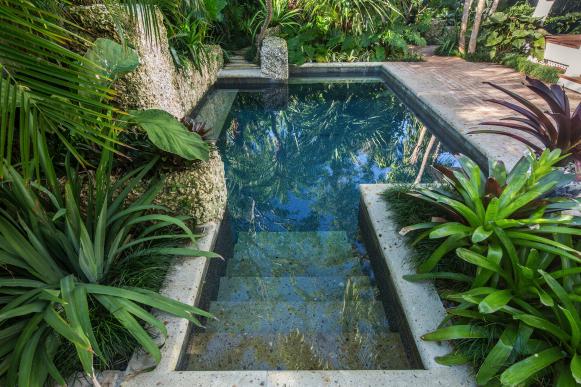 Steps of Small Swimming Pool
Wild and wonderful, this tropical backyard comes with a tiny pool like a secluded jungle pond.
I am most proud at the balance between the hardscape and landscape on such a relatively small site, and of course the incredibly variety of tropical plants. It's like a botanical garden surrounding the house. My favorite feature is the pool, which was designed to look like an old cistern/mineral pool that had always been there. The materials, layout and surrounding plantings made that happen. The stones were set right on the coping to help further the idea that it was not planned, but found. A small trickling fountain comes off one of them like a small stream from beyond. It's understated and inviting.