Growing Winter Vegetables
Save money and grow food even when it's cold outside by growing your own fresh crop of winter veggies.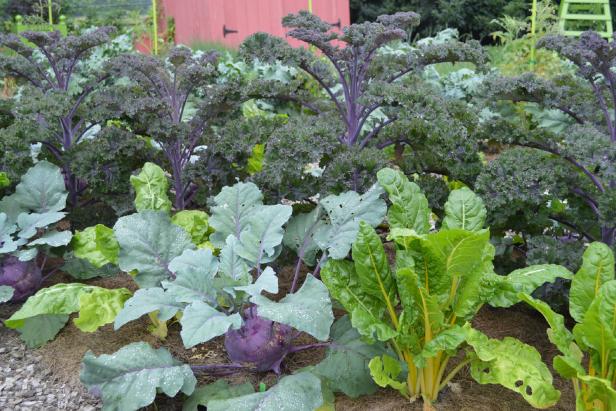 Swiss Chard, Kohlrabi And Kale
Swiss chard (in the beet plant family) is a great companion plant for cabbage family members, including kohlrabi and curly purple kale. The plants also stage a beautiful edible planting with contrasting colors and leaf textures. Other good cabbage family companions: lettuce, carrots, rosemary, oregano, marigold, nasturtium. Do not plant with beans, tomato, pepper or strawberry.
Staff for Tower Hill Botanic Garden at TowerHillBG.org
Don't hang up your trowel just because frost is coming. In much of the country, you can tackle growing winter vegetables and expect a handsome harvest. Many vegetables thrive in the cooler temperatures of fall, and where winters are mild these same veggies sail through winter yielding plenty of fresh flavor for your dinner table. Learning which winter vegetables to grow and when to plant them is the secret to starting a winter garden.
Some vegetables are semi-hardy, which means they tolerate light frosts (29 to 32 degrees F) without experiencing damage. The list includes a host of greens, such as leaf lettuce, salad greens, Swiss chard, arugula and endive. Asian greens like mizuna, tatsoi and Chinese cabbage also thrive through light frosts, as does savoy cabbage and radicchio. A few root crops fall into this category, too, such as Irish potatoes, beets, rutabaga and carrots.

Try growing these winter vegetables in spring and fall gardens. In regions with mild winters, including the Southwest, Pacific Northwest, and Southeast, these veggies can yield all winter long. A few, like lettuce and Swiss chard, need covered with frost blankets if temperatures hover much below freezing for more than a few hours.

Other vegetables that grow in winter are hardy, which means they withstand hard frosts (25 to 28 degrees F) without experiencing damage. A few are exceptionally hardy and tolerate temperatures in the low 20s to upper teens. These cold-weather champs are kale, spinach and collards. Other hardy vegetables include broccoli, Brussels sprouts, English peas, kohlrabi and leeks.

Hardy root crops are radishes and turnip, which also yields some greens from the tops. Other hardy greens include kale, mustard greens and collards. Parsley belongs on this list, too, along with winter herbs such as sage, thyme and rosemary.

Hardy winter vegetables are adapted to be growing outdoors in early spring (to yield spring harvests) and again in late summer (to yield fall harvests). In mild winter regions, like the Southwest, Pacific Northwest, and Southeast, these winter vegetables grow and yield all winter long.
Growing winter vegetables offers a few advantages over warm-weather gardens. First, because temperatures are lower, water needs are usually reduced. Use soaker hoses and drip irrigation to make the most of the water you must provide. Pests are typically less of an issue during the cool-season garden season. Keep an eye out for slugs and aphids in mild regions, but in areas where frosts occur with regularity, you shouldn't experience heavy pest problems.

Determining when to plant your winter vegetables can be a little tricky. Find great resources at your local extension offices. Generally speaking, in Zones 7 to 10 plant in October. Exact timing will differ depending on which winter vegetables you're growing and when your region's last frost date is.

Once you know which winter vegetables to grow, choosing the ones you want to try really depends on what your family likes to eat. For hearty soups and stews, include kale, leeks, radicchio, winter herbs and a selection of winter root vegetables. Salads demand winter greens, and stir fries welcome Asian greens, winter herbs, winter root vegetables and Chinese cabbage.
More About Winter Fruits and Vegetables