How to Grow Gladiolus Flowers
Plant easy-to-grow gladioli in spring and watch them burst into beautiful summertime blooms.
Keep in mind: Price and stock could change after publish date, and we may make money from these affiliate links.
Gladiolus is a summertime favorite, with tall spikes of flowers that come in almost every color except true blue. Also called sword lilies, gladioli are easy to grow and available with plain, ruffled or frilly blooms. Most are hardy to USDA Zone 7, although the nanus species is a hardy gladiolus that overwinters to Zone 5.
Gladiolus does it all. The plants fill garden beds and borders with eye-catching colors and invite hummingbirds to visit. When cut for vases, the flowers last up to a week. (If their stalks are too tall for your table, snip the blooms and float them in bowls.)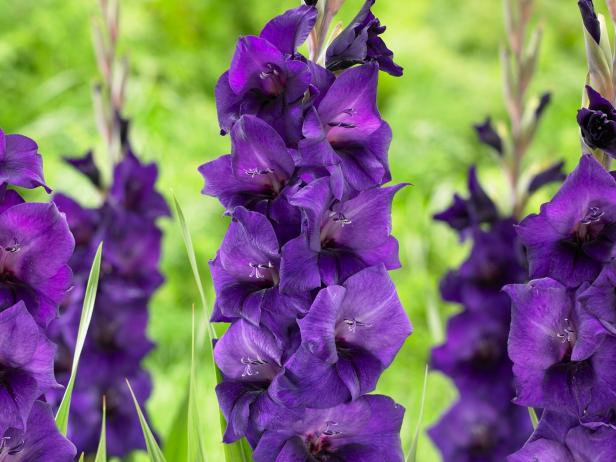 Gladiolus 'Performer'
Pair velvety-purple 'Performer' gladiolus with orange or peach flowers to attract butterflies and hummingbirds.
Longfield Gardens
Pair velvety-purple 'Performer' gladiolus with orange or peach flowers to attract butterflies and hummingbirds.
Tall gladiolus plants are beautiful in beds when planted in groups of seven or more. Use them in borders in front of shorter plants or grow them in a grid or rows in a cutting garden.
Gladiolus plants need well-draining, slightly acidic to neutral soil in a sunny to a partially shaded spot. Gladiolus plants thrive in full sun but will grow in part shade, although their colors won't be as bright.
Before planting gladiolus, loosen the soil with a garden fork or tiller, rake out rocks, sticks and other debris and work in 2 to 4 inches of compost or aged manure. You can also plant in raised beds or in large containers.
They grow from corms, but we'll refer to them here as "bulbs," since that's what many gardeners call them.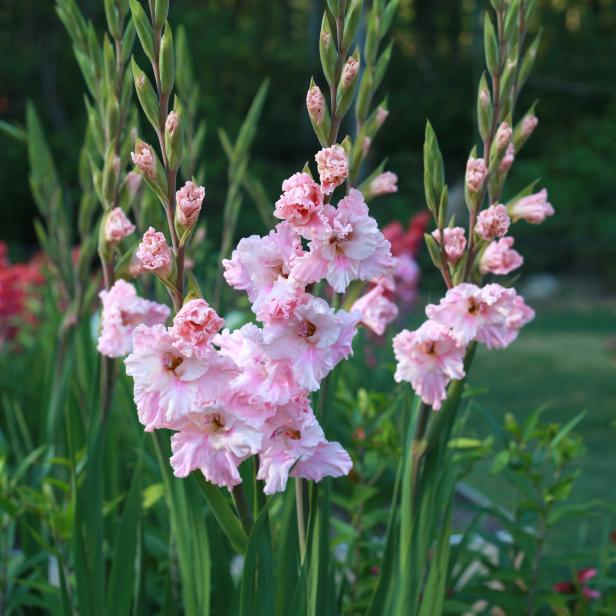 Alicia Schwede/Longfield Gardens/National Garden Bureau
Plant the bulbs from spring to early summer and expect blooms three months after planting. They'll start opening from the bottom of the stalks up.
When planting gladiolus bulbs, place them 2 to 6 inches deep, depending on their size, with the pointed sides up.


Space them about 5 inches apart, so they can lean on each other as they grow. Otherwise, put stakes or cages around them so they won't flop over.


Water thoroughly after planting, and apply another inch of water each week, if there's not enough rain.
When to Plant Gladiolus Bulbs
Plant gladioli about two weeks before the last expected spring frost in your area, or when your soil stays around 55 degrees Fahrenheit.
For an ongoing flower show, plant more bulbs every two weeks until mid-summer or grow a mix of early, mid-season and late-season flowering types.
How to Care for Gladiolus Plants
When the plants are 10 inches tall, give them an organic, water-soluble fertilizer as directed on the product label. Feed again when the blooms start to open and show color.
How to Cut Gladiolus Flowers
Cut gladiolus stalks when the bottom two or three flowers start to open. If you're going to keep the bulbs for next year, let four leaves remain on the plant.
Harvest the stems with a sharp knife early in the morning and put them in a bucket of tepid water. After you arrange the flowers indoors, cut another inch off the bottom of the stalk every few days and remove fading blooms.
Expert Tips
Get gladioli tips from floral designer Rene van Rems.
Planting Gladiolus Gardens
Grow glads with elephant ears, cannas, zinnias and dahlias or other plants with the same water and light requirements. When you harvest early vegetable crops like leafy greens, plant glad bulbs in their places for blooms by late summer.
How to Store Gladioli Bulbs
If you garden in USDA Zone 6 or colder, wait until the gladiolus leaves turn yellow in the fall. Then cut the plants to 2 or 3 inches above the ground and dig up the bulbs. Let them dry out of the sun for about three weeks. Brush off any dirt and small bulbs you don't want. Dust the remaining bulbs with fungicide, if you wish, and store them in paper or cloth bags in a dry, well-ventilated spot around 45 degrees. Don't let them freeze.
Gardeners in warmer regions can leave their bulbs in the ground to overwinter by cutting off the tops in late fall and mulching them with 4 to 6 inches of chopped leaves or straw for insulation.
How to Handle Gladioli Pests and Diseases
Spider mites are tiny black, brown, yellow or red pests that make small webs on gladiolus plants. They suck plant juices, turning the leaves yellow. Try knocking them off with water from your hose, but don't spray so hard that you damage the plants. As an alternative, spray with insecticidal soap as directed on your product's label.
Thrips are tiny, dark pests with wings. As they suck sap, they cause streaks, speckles, white patches and stunted growth. Sticky traps, available from garden centers and nurseries, and insecticidal soaps can banish them. Natural predators like lacewings and ladybugs will prey on them.
Aphids are small, soft-bodied insects that also feed on plant juices, leaving stunted, curled, or yellowed leaves. They hide under foliage and make a sticky substance called honeydew that attracts ants, honeybees and other insects. Spray with water from the hose to dislodge them or use Neem oil, insecticidal soap or horticultural oil. For an organic spray, mix water and a few drops of dishwashing soap. Natural predators like ladybugs, parasitic wasps and lacewings can help keep them in check.
Aster yellows is a common gladiolus virus that causes stunted growth and yellow foliage. Fusarium wilt is a fungus that causes spots and yellowing on stored gladiolus bulbs. Another fungus, gray mold, grows in moist conditions and makes leaves wilt. Remove and destroy infected plants or bulbs affected by these viruses, because there is no cure or treatment.