Get planting and care tips for rose of Sharon, a beautiful hibiscus in rose's clothing.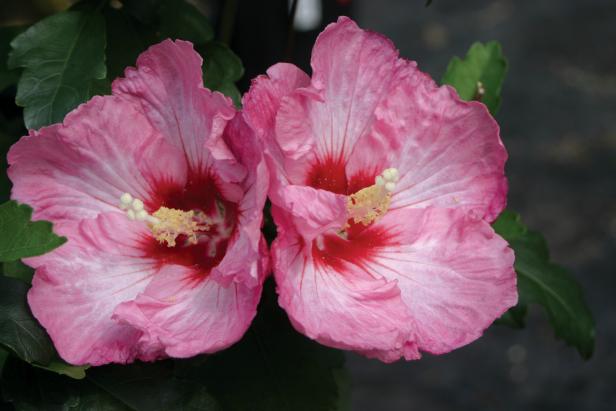 Rose of Sharon
Like most rose of Sharon varieties, 'Ruffled Satin' tolerates a variety of growing conditions and is seldom bothered by deer or rabbits.
ProvenWinners.com
Like most rose of Sharon varieties, 'Ruffled Satin' tolerates a variety of growing conditions and is seldom bothered by deer or rabbits.
Don't let the name fool you. The flowering shrub we call rose of Sharon isn't a rose at all. Native to parts of Asia, this plant with exotic-looking blooms, Hibiscus syriacus, is a member of the mallow family and a relative of tropical hibiscus. You may also know it as shrub althea, althea tree, Chinese hibiscus or hardy hibiscus.
No matter what you call it, rose of Sharon is lovely. The large single, semi-double or double flowers can be flat or frilly and open from summer to fall when few other shrubs are blooming. There are many varieties of rose of Sharon, so you can find violet, blue, pink, red, lavender, purple or white flowers. These woody plants drop their leaves in the fall.
How to Plant Rose of Sharon
Hardy to USDA Zones 5 to 8 (and sometimes 9), rose of Sharon is easy-to-grow and happy in full sun in northern gardens with at least six hours of sun each day. In southern areas, the plants like morning sun and some protection from the intense afternoon heat.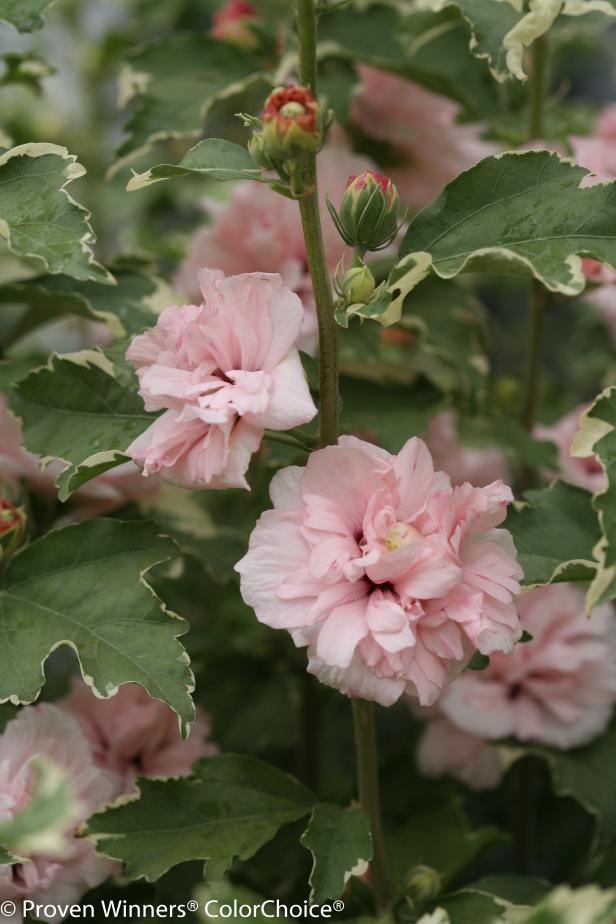 'Sugar Tip' Rose of Sharon
Image courtesy of Proven Winners
Rose of Sharon prefers moist, well-drained soil with an alkaline to neutral pH. Once Hibiscus syriacus is established, it can tolerate drought and pollution, making it a great choice for urban gardens. Since the plants can grow 8 to 12 feet tall and spread 6 to 10 feet, think about where you'll put rose of Sharon before you plant.
Plant rose of Sharon in spring or fall. The plants tend to leaf out a bit late in springtime, so don't be alarmed if yours gets off to a slow start. Space the plants 6 to 10 feet apart; read the tag or label for the exact spacing. You can also grow rose of Sharon in a large container filled with good quality potting soil. A dwarf rose of Sharon (also Hibiscus syriacus) that tops out at 3 to 4 feet tall and wide is a good choice for this. Otherwise, you can let your plant grow into a bushy shrub or train it as a tree.
More Tough Shrubs
Need a shrub? Check out these tough-as-nails beauties that include rose of Sharon.
Add Color That Lasts
If you're planting rose of Sharon in the garden, dig a hole twice as wide as the plant's root ball. Don't plant too deeply. The top of the root ball should sit a little higher above the soil than it was growing in its nursery pot.
Mix a general-purpose, controlled-release fertilizer into the soil you removed and backfill the hole halfway. Add water and fill in the rest of the hole. Water again to eliminate air pockets and settle the soil. You may want to give your plant some liquid fertilizer in mid-summer.

In the past, rose of Sharon shrubs were known to drop seeds that sprouted everywhere, which was a nuisance in some lawns and gardens. Modern breeders have gotten around that problem by developing seedless varieties or plants with few viable seeds.
How to Grow Rose of Sharon
After planting your rose of Sharon, add a layer of mulch to help keep moisture in the soil and prevent weeds from sprouting. Hibiscus syriacus likes fertilizer with plenty of phosphorus, which is the "K" in the ratio shown on the fertilizer's label. Look for a timed-release fertilizer so you won't have to feed again for a few months.
Avoid overfeeding rose of Sharon, which can cause the leaves to turn brown or yellow and drop. Over-fertilizing can also encourage the leaves to grow at the expense of flowers.
Rose of Sharon makes a lovely addition to a wildlife garden, where it will attract butterflies and hummingbirds.
To use rose of Sharon as a hedge or living fence, plant the shrubs in a straight line. But remember: These deciduous plants drop their leaves in fall, so they won't give you privacy year-round. The plants also make a nice backdrop for shorter shrubs and flowers. Use a single rose of Sharon as a focal point or specimen plant, or let it add height to a flowerbed.
To train your shrub as a small tree, prune the canopy to about one foot above the ground. Prune again each year to maintain the size and shape. Some gardeners prune their Hibiscus syriacus hard every six years to encourage it to produce more blooms.
Give your plants an inch of water a week if there's not at least an inch of rain. Yellow leaves and dropped buds can signal you're watering too much or too little, so you'll need to check the soil and determine whether it's moist or dry if you notice a problem.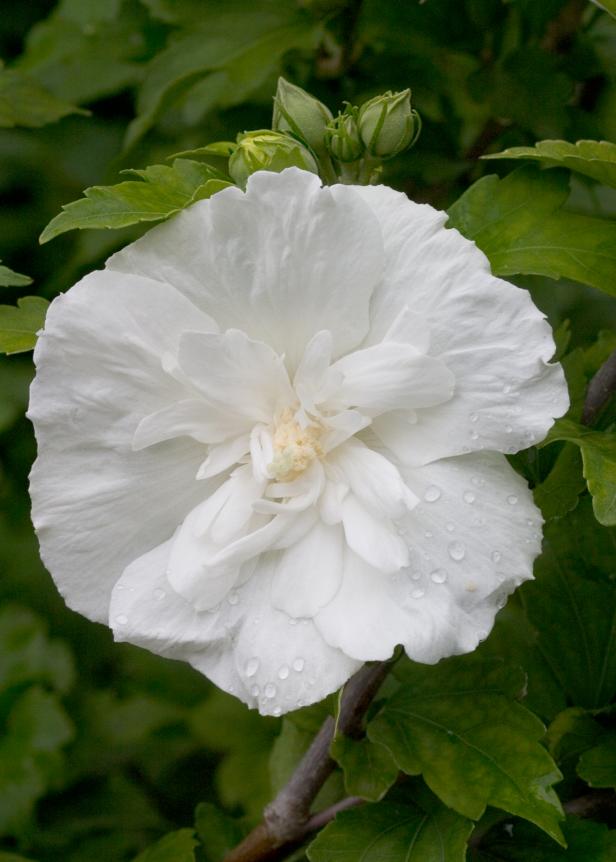 Rose of Sharon
Try Rose of Sharon 'White Chiffon' in a cottage or butterfly garden. Its lacey centers give it a frilly look.
ProvenWinners.com
Try Rose of Sharon 'White Chiffon' in a cottage or butterfly garden. Its lacey centers give it a frilly look.
Prune your plant to control its size or to remove dead or damaged branches. Otherwise, rose of Sharon needs little pruning. Cutting back to two or three buds per branch will help encourage larger flowers.
When to Prune Rose of Sharon
Prune in early spring when you see new growth. Don't prune in the summer. Rose of Sharon blooms on the current season's wood, so summer pruning will remove your flowers.
Rose of Sharon Pests and Diseases
Few pests damage these plants, with the exception of Japanese beetles and aphids. To control a small number of Japanese beetles, pick them off and drop them in a bucket of soapy water. If you see large numbers of these pests, look for an insecticide and follow the directions on the package label. Aphids can also be controlled with insecticides, and natural predators, like ladybugs, can help.
Rose of Sharon is typically deer-resistant, although very hungry deer will eat almost any plant.
When you water, try not to get the foliage wet. Fungal spores can grow on wet leaves and form brown spots that eventually kill them. If leaf spots show up, remove the damaged leaves and destroy them. Don't put them in your compost pile, where diseases can spread. You can also use a fungicide to control leaf spots.
Fungal spores can also cause cankers that ooze sap on rose of Sharon plants. Leaves can wilt or turn yellow and drop, and if not treated, the plants may die. Cut off any infected branches or replace your plant if the main trunk is infected. To avoid spreading the disease, clean your pruning tools between uses.
Popular rose of Sharon varieties include the following:
Image courtesy of Proven Winners
'Lil' Kim' is a dwarf rose of Sharon with red, purple or white blooms. It matures at 3 to 4 feet tall and wide. The leaves are small, so you see a lot of colorful blooms as opposed to foliage. The flowers often last up to three days, while most rose of Sharon blooms fade after just one day.
'Purple Pillar' rose of Sharon is a beauty with semi-double, purple-pink flowers with red throats. It tops out at 10 to 16 feet tall but only grows 2 to 3 feet across, so it's a good choice for narrow spaces.
Plants in the Chiffon line, like 'Blue Chiffon,' have large blooms that look like anemone flowers. These bushy shrubs grow vigorously and are hardy in Zones 5 to 9. 'Blue Chiffon' rose of Sharon is violet-blue with inner petals around the stamens, giving it a frilly look. It matures at 8 to 12 feet tall.
'Lavender Chiffon' rose of Sharon is striking with its semi-double, light purple petals marked with red veins. It grows 8 to 10 feet tall, so it can be used as a small tree; just leave the central leader and remove the other branches.
'White Chiffon' rose of Sharon is a fine choice for a moon garden, where its pure white blooms, when planted with other light-colored flowers and foliage, will reflect the moonlight. It matures at 6 to 8 feet tall.
'Blue Satin' Chiffon has nearly true-blue petals set off by yellow stamens and splashes of red in the flowers' throats. This nearly seedless variety is sometimes sold as 'Azurri Blue Satin' and reaches 8 to 12 feet in height.