How to Use Canna Lily in the Garden
Turn up the heat in your garden design by adding tropical canna lily. Its exotic beauty makes every planting sizzle.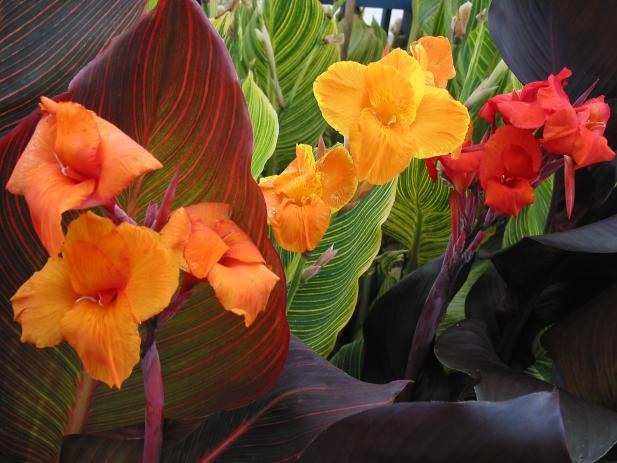 Tropicanna Canna Varieties
Canna lily plants explode with color from striking leaves and exotic flowers. This trio of canna lily varieties adds vivid color to any planting: Tropicanna canna (striped leaves and orange blooms), Tropicanna Gold (green and yellow striped leaves and yellow and orange flowers), and Tropicanna Black (dark leaves and red blooms).
Anthony Tesselaar Plants at Tesselaar.com
Gorgeous and easy-growing, canna lilies add colorful, tropical flair to any garden. These south-of-the-border beauties hail from tropical America, where the roots were once a food staple in Peru and Ecuador. In the garden, canna lilies deliver vertical interest with strong, tall stalks. Large, substantial leaves provide bold texture for planting designs.
Plant breeders have tamed the wild canna lily to yield varieties with diverse leaf and flower colors, along with differing plant heights. Leaf colors range from solid green to black, to variegated blends that combine hues like red, orange, yellow and pink. The large flowers resemble tropical blossoms, commanding attention from midsummer to frost. Bloom colors include orange, gold, red, white and bicolor blends, all of which beckon hummingbirds.
Typically canna lilies grow from 2' to 6' tall and wide, depending on the variety. You can also find dwarf cannas designed for containers, as well as mammoth selections. This beauty thrives in the heat, growing best when temps are 75° F or higher. Canna lily is winter hardy in Zones 7-11. In colder zones, dig roots (rhizomes) in fall and store indoors over winter.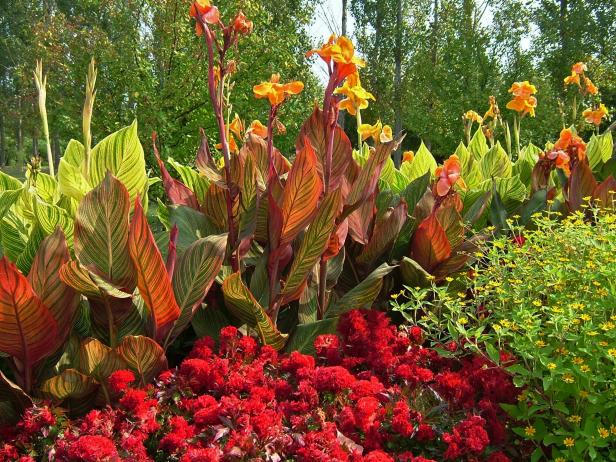 Variegated Cannas In Planting Bed
Count on canna lily plants to add vertical interest to planting beds. Here, Tropicanna canna lily and Tropicanna Gold canna lily tower over annual flowers red celosia and gold melampodium. Choose annuals with flowers that match the leaf colors of canna lilies for an eye-catching display.
Anthony Tesselaar Plants at Tesselaar.com
Canna lily is a versatile garden performer. Plant it in mass for a living screen or backdrop for other annuals or perennial plantings. Tuck it into containers to fill the role of thriller plant, surrounding it with filler and spiller plants. Use it solo as a specimen plant in planting beds, where its impressive size and color easily commands attention. Its strong vertical growth makes it a terrific choice for adding height to plantings in small spaces.
The roots of canna lily survive in standing water, making this tropical beauty a perfect choice for adding a pop of color to a water garden. Submerge a container of canna lilies in a pond on an underwater shelf or nestle pots of cannas along pond edges to serve as marginal plants. A canna lily also works well in a container water garden. Just be sure your water garden pot is large enough to fit a mature canna plant.
When deciding what to plant with canna lily, focus on plants with fine-textured leaves, such as ornamental grasses, carex or ferns. Or pair canna lily with fine-textured annuals, including cleome, tall Verbena bonariensis or asparagus fern.
You'll coax the best show from canna by planting it in a full to part sun location. At least six hours of direct sun is ideal. Just realize that the more sun you give it, the more water it needs. Sunshine is also the key to flowering. If your cannas are full grown and not flowering, lack of sun may be the culprit.
Canna lily loves water, and it needs plenty to support those huge leaves. The more water you give it, the bigger it will grow. The plant's oversize beauty also means it benefits from ample fertilizer. In planting beds, add slow-release plant food at planting time, and topdress again in midsummer when stems are standing tall and full. For cannas in containers, work slow-release fertilizer into the soil at planting time. About four weeks after planting or when plants are growing strongly, add more slow-release plant food to soil or use a water-soluble fertilizer every other watering. For cannas growing in water gardens, follow instructions on aquatic plant food.
Anthony Tesselaar Plants at Tesselaar.com
Canna lily is winter hardy in Zones 8 and warmer with no additional protection. Cut plants to soil level after leaves start to die back in late fall. Watch for new growth in spring. In Zone 7, mulch plants heavily, cutting stems after leaves start to die back. Cannas may or may not survive winter in Zone 6 with additional mulch, so you may want to follow steps for Zones 5 and colder.
In coldest regions (Zones 5 and colder), cut plants back in fall, leaving 2" to 4" of stem aboveground. Cut plants after frost blackens leaves — or before frost. Timing is up to you. Dig up the fleshy roots (known as rhizomes), shaking the soil off. Move rhizomes to a protected location, placing them on screens or something that allows air flow. After rhizomes dry for a few days, pack them in wood chips or peat moss for winter. Store them in a cool, dry place.
Check Out These Varieties
Tropicanna — This is the best-selling canna and comes in a rainbow of hues. The photo at the start of this article shows the three types available: Tropicanna, Tropicanna Gold and Tropicanna Black. Plants reach 5' to 7' tall.
'Australia'— Striking burgundy-black foliage stands out on stems that grow 4' to 5' tall. Vibrant red flowers play nicely off the black leaves.
'Bengal Tiger'— Green- and white-striped leaves provide a stunning backdrop to brilliant orange flowers. Plants grow 5' to 6' tall.
'Toucan'— Green or black leaves open blooms in shades of red, coral and yellow. This canna grows 4' to 5' tall and up to 2' wide. It's a good choice for tucking into pots.
'Cleopatra'— Green leaves sport a purple-red splotch pattern. Remove solid green leaves and stems to maintain variegation. This canna grows 4' tall and is a good variety to try in pots.