What It's Like to Own a Luxury Home
High-end realtors and estate owners give an insider's perspective.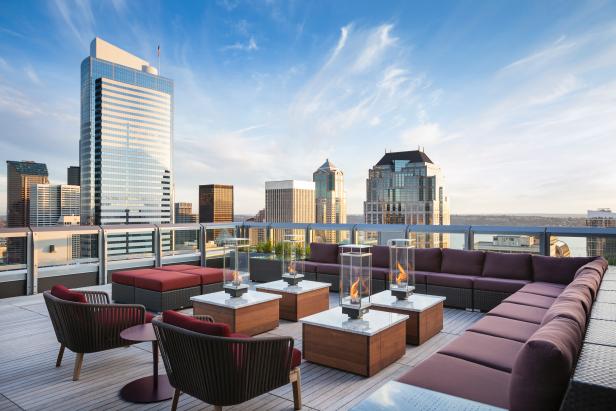 Seattle Penthouse Deck
The luxury penthouse seen here features breath taking panoramic views of Seattle from forty stories up. The interior includes stunning quartz counters, stainless steel appliances and backlit mirrors all furthering the sleek sophistication of this buildings architecture.
Windermere Real Estate, a member of Luxury Portfolio International
Is it really all about champagne wishes and caviar dreams? While living in a multimillion-dollar home has its perks, it's also a lot of financial responsibility. Some new homeowners overlook the details and work required to own a luxury home. However, it's often worth the upkeep.
"Real luxury living is the features and the peace of mind and luxury of a hotel but the warmth and hominess of your own home and your 25 staff members," says Wendy J. Sarasohn, senior vice president of residential real estate firm Corcoran Group, which serves New York City, Long Island, N.Y., and Palm Beach, Fla. Its clients range from Wall Street bankers to entertainment industry moguls.
For luxury homeowners, it's all about amenities, and luxury living in New York City is all about privacy and security, Sarasohn says.
"No one comes into the lobby of the apartment building without being screened or announced," Sarasohn says. "The buildings have beautiful lobbies filled with fresh flowers, a white-gloved doorman and a car greeter. It's a very stressless lifestyle. Most of the buildings offer mind-boggling views of the city so that you're physically and psychologically above it all. You have silence and a feeling of being powerful."
Other amenities include first-class spas with private massage rooms, swimming pools, nail services and other beauty and fitness services. If you don't want to have your manicure and pedicure downstairs, you can have it in your apartment. As for groceries, the concierge will fill your refrigerator with whatever you need. Most luxury apartments also feature radiant floor heating, wine coolers and state-of-the-art kitchens. The buildings also provide party rooms so you can entertain guests in your building but outside of your apartment.
The Price of Luxury Living
A luxury homeowner in New York who prefers to remain anonymous (most of them do) describes his property in the esteemed Hamptons. Purchased incomplete in 2005 for $2.8 million, the 11,500-square-foot home features an infinity pool, an attached 15-person whirlpool, a cinema that seats nine, full-size gym, billiards room and full-size bar. He says he put more than $650,000 into the home's lavish details.
The homeowner visits his Hampton home weekly during the summer and every two weeks in the off-season. Even when he's working in New York City, his home in the Hamptons is regularly maintained. Including electric, landscape, pool maintenance and other utility bills, he estimates spending about $5,000 each month just for upkeep. Add that to the $8,000 each month he spends on his primary home in Manhattan.
With all his expenses, he admits budgeting is very important for any luxury homeowner, no matter what state the economy is in. "You have to pay close attention to where you're putting your money," he says. "Real estate still remains a good investment. Even though things are deteriorating, now is still a good time to buy. The decline of the stock market is far more severe than the decline of housing."
He advises that now is the best time to purchase a luxury home, but buyers who are purchasing solely for investment purposes should be cautious and figure in the price of running and preserving the home.
"Make sure you have not only figured the cost of home and mortgage, but also the utilities and maintenance," he says. "This is important in calculating the home's affordability. Also, you would want to buy in an area that you feel has a good growth potential. I felt that the Hamptons were a good investment at the time. Individuals who want to purchase purely for investment need to be careful. You must take into consideration that most luxury homes do not have a high turnover rate."
All things considered, owning a luxury home certainly has its perks. But keep in mind that the home price is just the beginning of what you should expect to pay. Luxury living is not just about buying an expensive property. It's a lifestyle that requires maintenance and responsibility, no matter if it's an apartment with a terrace on the top floor, an antique estate on 200 acres of lush green property or a waterfront mansion steps away from turquoise waters and velvety sand.