5 Types of Neighbors and How to Handle Them
You may love your house, but getting stuck with bad neighbors may have you thinking about putting up a for-sale sign. Here are some tips on dealing with rude, sloppy or nosy neighbors, and even those mean ones with spite houses.
By:
Geoff Williams

and

Mina Hochberg
It used to be that everyone knew their neighbor. At the very least, you'd meet them after the kid next door accidentally hit a baseball through your living room window, or when they appeared on your back porch to borrow a cup of sugar. But in these days of two-income households, commuting and cocooning, it is increasingly common to buy a house and realize eight years later that you have never met your neighbors.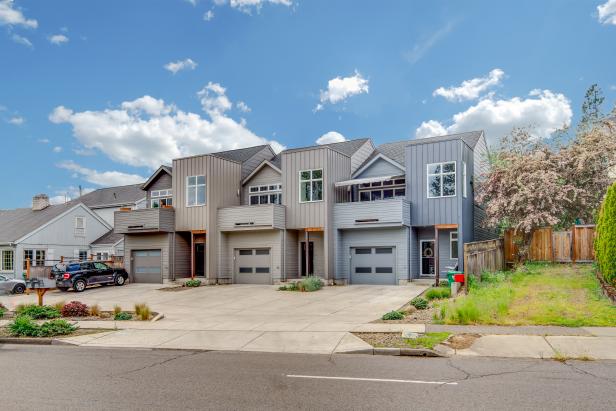 Gray Urban Row Houses With Modern Design
Gray row houses with a strong, geometric design stand out on an urban block.
Neighbors come in all shapes and forms. Some become your best friends, others simply wave from afar. Some integrate themselves into the neighborhood, others keep to themselves. Everyone once in a while, though, you may get a neighbor who is at best odd and at worst a downright nuisance. Unfortunately, especially if your yards are small, you may find yourself in constant contact with them. How you co-exist can make all the difference between living happily ever after or litigiously ever after. That's why we've created a primer on some of the neighbor archetypes you might expect to find and how to handle them.
Who they are: They're friendly enough. They just never seem to mow their lawn more than once or twice a year, and they have a 1978 Buick rusting in their front yard. Granted, if they're bad enough, you may have noticed this before moving in, but even a stopped clock is right twice a day: They may have looked presentable when you gave them the once-over.
How to handle them: Communicate, communicate, communicate, suggests Jodi R. R. Smith, author and etiquette consultant in Marblehead, Massachusetts. She knew a group of neighbors who were upset that a house on their block wasn't taking care of the lawn. The neighbors assigned a delegate to knock on the door to discuss the yard, and when the owner came out of the house and the problem was explained, she broke into tears. It turned out that she was in the midst of a divorce and an aggressive chemo treatment. The neighbors then organized a rotating schedule of lawn care for the ill neighbor.
"Things are not always what they seem," says Smith.
Who they are: Sad but true, some neighbors are not worth getting to know well. Maybe their overall demeanor raises red flags or makes you feel unsafe. Perhaps you hear a lot of angry yelling in the middle of the night. Maybe they are perfectly nice but have an alarming menagerie of exotic animals. Whatever the reason, your inclination is to keep your distance.
How to handle them: If something about your neighbor seems off, be careful not to overreact. Unusual behavior may be explained by reasons that have nothing to do with how dangerous a person is. It may help to talk with the neighbor to learn more about them. Alternately, you can ask a representative from your neighborhood association or building management company to step in. It's good to know something about your neighbor's dislikes and boundaries so that you don't cross them. Of course, if the neighbor makes clear transgressions and threats against you, it is time to call the police.
To avoid dangerous neighbors in the first place, it pays to do some research into a neighborhood before you choose to live there. Visit the neighborhood, speak to residents and read threads about your neighborhood on sites like Nextdoor. You can also check out sites or apps like SpotCrime, CityProtect and Crime and Place to learn about local crime reports. Family Watchdog is a helpful website for parents who would like to know if any registered sex offenders live near the neighborhood they're considering.
Give your yard a finishing touch with a one-of-a-kind fence.
The Richer Than You Are Neighbor
Who they are: These are the Joneses whom you try valiantly to keep up with, but can't. They're always getting remodels of their home. They have the perfect blades of grass treated by a team of dedicated lawn professionals. They have the new Maserati parked in the driveway. Of course, they are doing nothing wrong, but you might start to suffer from feelings of inadequacy.
How to handle them: "The best you can do is learn to cope," suggests Long Island novelist Saralee Rosenberg, author of Dear Neighbor, Drop Dead (HarperCollins, July 2008).
Rosenberg, who did a lot of nonfiction research for the tale of a harried mother who often feels inferior to her wealthier neighbor, says it's important to remember that "every family is dysfunctional to some degree, and that just because a lawn is beautifully maintained and a house is immaculate, doesn't mean that trouble isn't brewing. Not that you'd wish that on someone, but if you find yourself envious, it's important to remember that you probably don't know the whole story." If you find yourself feeling less than, try to focus on the qualities of your home that make you happy. Remember the joy that your vegetable garden brings you. Revel in pride for knocking out a bathroom remodel all on your own. Focus on the bright side and you will be much happier for it.
Who they are: These are the folks who know no boundaries and constantly barge into your yard or living room at inopportune moments. They can be friendly, maybe a bit wacky, but almost always clueless.
How to handle them: Chances are your neighbors are unaware that their behavior is intrusive. Try to alert them to boundaries that they may not realize they're crossing. For example, if a neighbor walks over whenever you are reading alone on the porch, you can talk about how much you enjoy reading by yourself on the patio. If your neighbor doesn't take the hint, it wouldn't hurt to have a direct talk and to politely ask for privacy when needed.
Apartment dwelling puts you in close proximity with the people on the other side of your walls.
Who they are: Who aren't they? They're the aforementioned neighbors as well as anyone who makes your life more complicated than it needs to be. Difficult neighbors can mean anything from people who throw noisy parties to families that let their dog do its business in your yard. In rare cases, a difficult neighbor might be someone who constructs a home specifically meant to get under your skin. These are known as spite houses, and their owners do not make easy neighbors.
How to handle them: "The thing I do is keep a good rapport," says Susan Nelson, a landscape designer in Tampa, Florida. "I really feel that the small amount of physical contact goes a long way with neighbors. I notice who keeps to themselves and it comes off as being unfriendly. These days, there aren't many chances of making impressions with your neighbors, so a simple wave or hello can represent you well."
Rosenberg concurs, piling onto Smith's plea for a little communication. "If you explain your problem in a reasonable, nice way, suddenly you're no longer anonymous. Often we have an issue with a neighbor we don't know, and so we hate their guts, and we don't even know their name."
And if you don't say something to your neighbor, why should they stop doing whatever they're doing? If you do talk, a solution may just be forthcoming. After all, Rosenberg adds, "Most people don't want to be that neighbor."
Hint hint: Updated kitchens, stone veneer exteriors and converted attic bedrooms are money well spent.
If you're a new homeowner, you likely have questions about budgeting for your new expenses, adding value to your home and handling post-purchase surprises and challenges. Here, the answers!