High-end luxury meets ultimate function in this family-friendly kitchen designed by Peter Salerno.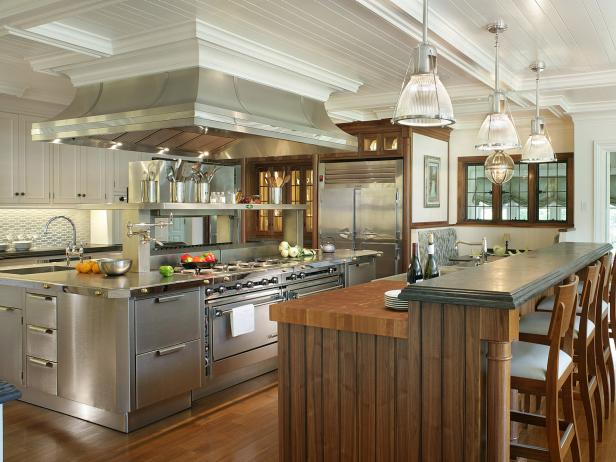 Traditional White Kitchen With Stainless Steel Island
This traditional kitchen features white cabinets, lots of natural wood and industrial-grade stainless steel appliances.
Designer Peter Salerno creates a chef's dream for two passionate cooks who love to spend hours in the kitchen preparing gourmet meals.
In addition to designing a kitchen that houses all their cooking and baking needs, he had to also include multiple dining areas for their family.
Peter shares with us how he harmonizes stainless steel, painted wood and walnut wood to create a one-of-a-kind look that mixes the classic and contemporary styles.
Describe the homeowners' wish list.
They wanted us to create a luxury kitchen that satisfies the two passionate cooks in their family, while softening the feel of an industrial kitchen.
What were the homeowners' design problems?
There were no windows in the kitchen cabinet layout, and we needed to find a storage area for oversized blenders and mixers. They wanted multiple seating areas for their large family since they entertain often and to also create display areas for their extensive dish and glass collections.
What were your top design solutions?
The island was placed parallel to the large windows in the breakfast area to maximize and enjoy the natural light. Three appliance garages were implemented in the design for easy accessibility to large, heavy oversized blenders and mixers. Three seating areas — the kitchen table, island seating and a booth — were created to meet the needs of the family and guests.
What made the biggest design impact?
An impressive four-sided stainless island contains two commercial stoves, a griddle, a broiler, a salamander, sink, pot filler and a built-in ice container integrated in the countertop.
What are the "hidden gems"?
The coffered ceiling was designed to accentuate the stainless hood and wall cabinets, and a window placed over the booth allows natural light from the home office area to enter the kitchen area.