Custom Building a Luxury Home
Get the layout and features you want, but expect to blow your budget.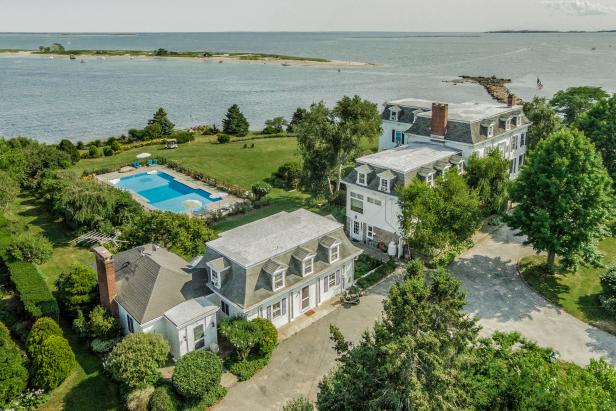 Magnificent Victorian-Era Estate on New England Shoreline
Spanning nearly half a mile of pristine New England shoreline, this extraordinary Victorian-era compound includes an elegant manor house, two guest houses and beautiful English gardens.
Lila Delman Real Estate, a member of Luxury Portfolio International
When you're spending several million dollars on a home, you want it to be perfect. That's why luxury homeowner Sharon Gigliotti chose to custom build her dream home, rather than buy an existing property.
"No matter how lovely the house was or how much I really liked it, I always thought it would be better if it had this or that," said Gigliotti, who bought previously-owned homes in the past. "I always felt like it was lacking something."
"If I'm going to spend X amount of money decorating or furnishing a luxury home and will live there for a length of time, I want it to really work for me," said Gigliotti, who lives with her husband, two teenage sons and two dogs in a luxurious 9,000-square-foot home in Knoxville, Tenn.
And real estate agents say many of their luxury clients feel the same way. "You get the floor plan you want; you get the materials and quality you can afford to pay for. If you want a dream home, the only way to get it is to design it yourself," says Judi Starliper of Realty Executives Associates in Knoxville. She says 60 percent of her clients in the $1 million-plus price range have their homes custom built.
Consider these factors when custom building your luxury home:
Choosing the Site and Builder
The Gigliottis chose a five-acre property that is both "out in the country" (they wake up to deer in the front yard) and only a short drive from shopping and the freeways.
Whether you build a luxury home or buy an existing one, location is key. "Even though it is custom-built, you always have to think about resale because things can happen even if you plan on staying there for a lifetime," Starliper says.
As for choosing a builder, interview two or three builders because not everybody gets along personality-wise, suggests Starliper. "Pick a builder that you have confidence in, that matches your personality, that you feel like you can work well with, and then get an architect with the same qualities — somebody who can see your dream. If you can't communicate well enough to put that down on paper, that won't work either," she says.
Gigliotti worked with an architect to design a "European and old-world-looking" home. When planning her dream house, Gigliotti did a lot of research, collecting and studying floor plans. She had no professional design experience, but was inspired by her passion for studying houses. She created a scrapbook of features she wanted in her dream home — from vaulted cathedral ceilings to an open, continuous one-level floor plan to exquisite detailing.
From the fireplace in the spa-like master bath to the exposed brick wall in the kitchen, Gigliotti focused on every detail. Several millions of dollars later, Gigliotti says she was shocked at how much she had blown her budget. "Let's just say there are not very many homes in Knoxville in this price range," she said.
Staying on budget is a tremendous challenge when custom building a luxury home. Though Gigliotti and her husband were able to cover the additional expenses, any homeowner planning to build a luxury property must create a budget and account for every detail, from high-end built-ins to all the electronics required for a home of a large scale. The last thing you want is a home that's half-finished, Gigliotti said.
"It's easy to get carried away," she explained. "You can plan something and then when you get into the actual building, you have all these options. Spend a lot of time really figuring out how much you'll be spending. It's all in the details."
"I've been in luxury homes that feel cold, where you're afraid to touch things," Gigliotti said. "You don't feel like a family lives there. There are no personal photos or collections from the family."
Not the case for Gigliotti. People who've seen her home often comment on how cozy and welcoming the house is for such a vast space, she said.
That's because she made it a point to build a luxury home that's both a family-friendly environment and a welcoming space for entertaining. Hence, the basketball court, batting cage and pool with diving board for her kids and their friends, and a gourmet kitchen with top-of-the-line appliances, high-tech media room and covered veranda with outdoor kitchen for the adults. "It would be silly to have a nice place if you didn't entertain," Gigliotti said.
"A luxury home inspires you to entertain more," she said. "If you have such a wonderful space that flows well, you want to share that."
Nothing expresses this more than the home's media room. While a typical luxury home theater is a separate area from the rest of the house, Gigliotti's media room flows right off the kitchen and living room to allow for maximum entertaining. Instead of traditional theater seats, she opted for comfy couches and chairs so guests can socialize while watching the Super Bowl or whatever else on the 96-inch flat screen.
Depending on what you want out of your luxury home, whether it's to entertain or to showcase your art collection, design your home based on how you plan to use it.
Luxury homes are owned by high net-worth individuals who want to protect their families and valuables. So when they build homes, security and privacy are major factors. Most luxury homeowners live in gated communities or high-rises staffed with security guards 24/7. But if you don't live in this type of neighborhood, as is the case with the Gigliottis, you find other ways to feel secure. The home is set back from the road, and the Gigliottis built their own security gate with keypad and motion detection system inside the home.
"It was very important for my husband," Gigliotti said. "He wanted to feel secure that when he's not at home, his family is protected."
What if later down the road, you decide to sell your dream home? Will buyers see their dream home in yours? Maybe. Starliper advises homeowners to keep universal appeal in mind when designing the home so the average person can see themselves living there.
For instance, she says, "if you put a big bonus room off the master bedroom and no one else could get to it except for the people in the master bedroom, that wouldn't be good for resale. You might need that, because maybe you want to have an office off of your master, but the majority of people aren't going to want a bonus room office off their master. They want it for the kids to have a playroom, so it would need to be accessible to other areas."
If you're in the market for a luxury home, weigh the pros and cons of building it yourself versus buying an existing one. Custom building allows you to control the home's layout, add personal touches and choose features that cater to your specific lifestyle. But as Gigliotti cautions, costs can quickly add up. If you want more predictability in your luxury home purchase, buying a previously-owned property may be the way to go.