Tiffany Brooks' Sweet Potato Casserole Recipe
HGTV Magazine asked this familiar HGTV star to share her favorite family recipe for the holidays.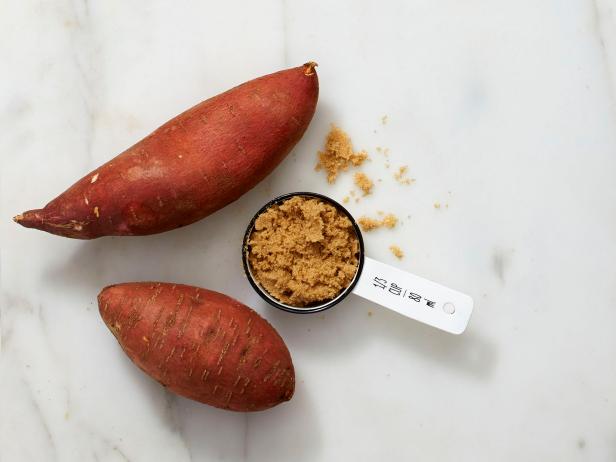 Thanksgiving Recipes From HGTV Stars
HGTV stars shared some of their favorite family recipes for the holiday.
Lara Robby (food styled by Mariana Velasquez)
I tinkered with this recipe until I landed on the secret ingredient: pineapple juice. The acidity cuts the sweetness.
Tiffany Brooks,
HGTV Smart Home 2016
Time: 1 hr 50 min | Serves: 8
5 medium sweet potatoes (about 2 1/2 pounds)
1/2 teaspoon salt
2 teaspoons cinnamon
1 teaspoon nutmeg
1 1/2 teaspoons vanilla extract
1/2 cup granulated sugar
1/4 cup pineapple juice
1 large egg
3 tablespoons unsalted butter, cut into pieces
2/3 cup packed light brown sugar
1/3 cup chopped pecans
2 tablespoons all-purpose flour
2 tablespoons unsalted butter, cut into pieces
1. Preheat the oven to 375˚F. Make the sweet potatoes: Line a baking sheet with foil or parchment paper. Place the sweet potatoes on the prepared baking sheet, and bake until soft, 50 minutes to 1 hour.
2. Let the sweet potatoes cool, then peel. Mash with a potato masher in a large bowl.
3. Stir in the salt, cinnamon, nutmeg, vanilla extract, granulated sugar, pineapple juice, egg, and 3 tablespoons butter. Pour the mixture into a 9-inch-by-9-inch baking dish.
4. Make the topping: Stir together the brown sugar, pecans, and flour in a medium bowl. Stir in 2 tablespoons butter. Sprinkle the topping over the sweet potato mixture. Bake until the topping is crisp, about 35 minutes.