David Bromstad's Whipped Potatoes Recipe
HGTV Magazine asked this familiar HGTV star to share her favorite family recipe for the holidays.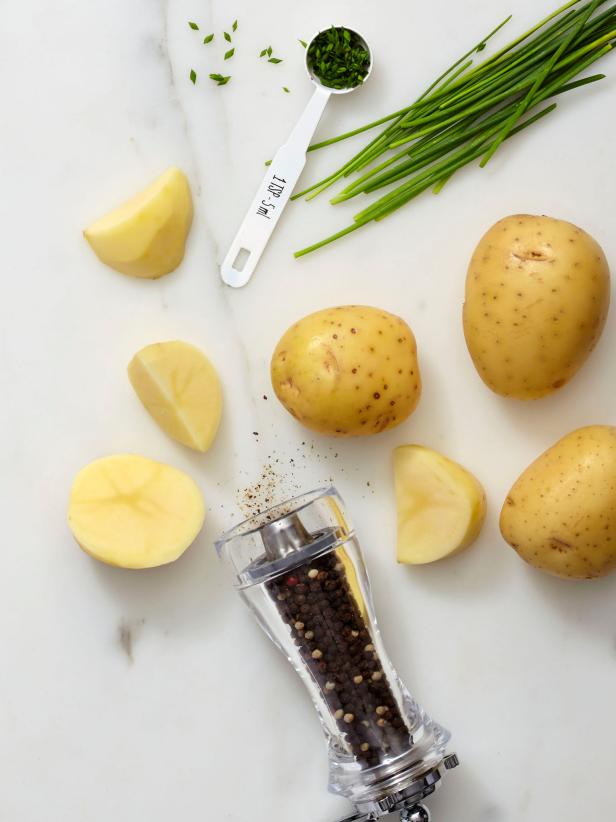 Thanksgiving Recipes From HGTV Stars
HGTV stars shared some of their favorite family recipes for the holiday.
Lara Robby (food styled by Mariana Velasquez)
I put my own twist on whipped potatoes—and hit the Yukon Gold jackpot. Hello, new tradition!
David Bromstad,
HGTV Dream Home 2016
3 pounds Yukon Gold potatoes, peeled and quartered
2 slices bacon
6 tablespoons unsalted butter
1 teaspoon salt
1/2 teaspoon freshly ground pepper
1/3 cup half-and-half
2 tablespoons sour cream
2 1/2 ounces shallot-and-chive cheese spread (such as Boursin)
2 teaspoons chopped fresh chives
1. Place the potatoes in a large pot, and cover with water by 2 inches. Bring to a boil, then cook until very tender, 18 to 20 minutes.
2. Fry the bacon in a skillet over medium heat until crisp, about 8 minutes. Drain on paper towels, then crumble.
3. Melt the butter in a small pot over low heat, and keep warm.
4. Drain the potatoes and pass them through a potato ricer and into a large bowl (or beat with a mixer on low speed, but do not overmix). Add the melted butter, salt, pepper, half-and-half, sour cream, and cheese spread. Stir until just combined.
5. Transfer the whipped potatoes to a serving dish. Top with the crumbled bacon and chives.