Meg Caswell's Sausage, Apple, and Cornbread Stuffing Recipe
HGTV Magazine asked this familiar HGTV star to share her favorite family recipe for the holidays.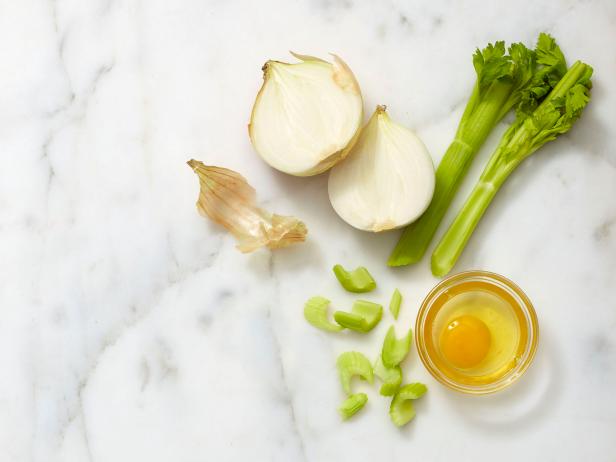 Thanksgiving Recipes From HGTV Stars
HGTV stars shared some of their favorite family recipes for the holiday.
Lara Robby (food styled by Mariana Velasquez)
Almost 30 years ago, my dad clipped this recipe out of the newspaper, and it's been our go-to stuffing ever since. How cool is that?
Meg Caswell, HGTV designer
Time: 1 hr 15 min | Serves: 8
1 12-ounce tube bulk pork sausage
3 tablespoons unsalted butter, plus more for the baking dish
1/2 cup chopped celery
1/2 cup chopped onion
1 small tart green apple (such as Granny Smith), peeled, cored, and chopped
1 14-ounce can reduced-sodium chicken broth
1 large egg, beaten
1 teaspoon dried thyme
1/2 teaspoon ground sage
1 12-ounce package cornbread stuffing mix (such as Pepperidge Farm)
1. Preheat the oven to 375˚F. Butter a 9-inch-by-13-inch baking dish. Cook the sausage in a large skillet over medium heat, breaking up the meat with a wooden spoon, until cooked through, about 6 minutes. Remove to a large bowl with a slotted spoon.
2. Melt 3 tablespoons butter in the skillet, then add the celery and sauté until it begins to soften, about 4 minutes. Add the onion and apple, and sauté until just tender, about 5 minutes.
3. Add the sautéed mixture to the bowl with the sausage, and let cool slightly. Stir in the chicken broth, egg, thyme, sage, and 2 1/2 cups water. Add the stuffing mix and toss to combine.
4. Transfer the stuffing mixture to the prepared baking dish. Cover tightly with foil and bake 30 minutes. For a crispy top, remove the foil and bake 10 more minutes.