Turn Leftover Thanksgiving Turkey Into Jerky
Take those leftovers "to go" with an easy recipe for holiday jerky.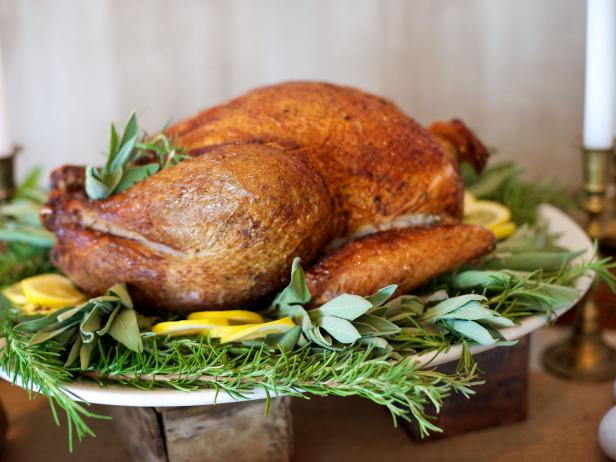 Make Turkey the Centerpiece of a Thanksgiving Buffet
Let's face it: The turkey is the culinary star of the show. Though in the past I've tried techniques from frying to brining, this year I chose to stick to tradition by roasting a whole fresh turkey, infusing it with citrus and herbal flavors. Served on a simple white platter atop a bed of lemon slices, sage and thyme, I elevated the bird on my cheese box levels to become the beautiful focal point at the center of the buffet.
Leftovers are a secondary Thanksgiving tradition about which most of us feel pretty good. A few hours after the big meal is another full plateful of just about all of it. Day two we might do turkey pot pie. Day three is turkey sandwiches or maybe turkey soup. Much as I love these traditional uses for the the revered holiday bird, we've added a new tradition when it comes to leftover turkey with this surprisingly easy recipe for leftover Thanksgiving turkey jerky.
Using a dehydrator or in the oven, leftover turkey jerky takes just a few hours to dry and takes advantage of those great herbs and spices already imparted through a lovingly brined and cooked turkey. Already seasoned, cooked and sliced, a marinade of soy and Worcester sauce, brown sugar, salt and pepper prepares the poultry for the transformation. If you are starting with an unseasoned or lightly seasoned turkey, fresh herbs may be added to the marinade for added flavor, but are not necessary.
If you've never made jerky before, this holiday version is an easy place to start. Pre-cooked and forgiving of uneven slicing, it can be prepared in a conventional oven. The result is a jerky that is lean, tender (for jerky) and a delicious way to preserve leftover turkey for a lean, on-the-go snack from the holiday table. Now if we could just figure out how to keep those mashed potatoes from slipping through the grate.
Leftover Thanksgiving Turkey Jerky
1 pound leftover cooked turkey breast, sliced thin against the grain
1/2 cup soy sauce
1/2 cup Worcester sauce
2 tablespoons brown sugar
2 teaspoons salt
2 teaspoons pepper
2 teaspoons selected chopped herbs like rosemary, thyme or sage (optional)
Cut sliced turkey into strips.
Place turkey strips in an airtight container or Ziploc bag.
Add soy sauce, Worcester sauce, brown sugar, salt, pepper and optional spices to turkey and seal container.
Shake to coat and place in refrigerator overnight, occasionally returning to shake to ensure marinade soaks in fully.
Place turkey strips on a wire rack nestled in baking sheet.
Cook in a 175 degree oven 2-4 hours depending on thickness and size of pieces.
To test doneness, remove a piece from oven or dehydrator to cool. When bent, turkey should bend slightly before breaking.
Store jerky in an airtight container.