Fresh Christmas Tree Care Guide
Follow these tips to keep your cut Christmas tree looking its best through the whole holiday season.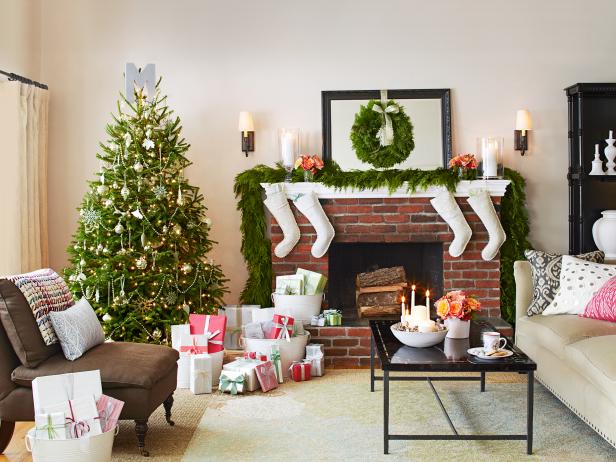 Living Room with Holiday Decorations
Marianne still goes all-out without sacrificing style. "The house is very warm and welcoming," she says. "I host an annual holiday party with a fire going in the living room, christmas music playing and hors d'oeuvres and desserts in the dining room."
Photography by David A. Land; styling by Matthew Gleason
There's nothing more blissful than bundling up in warm clothes and heading out to the woods to cut down a real Christmas tree with your family. Idyllic as it may be, caring for a real Christmas tree can be challenging, and keeping a cut tree fresh until Christmas is a true feat. Our tips, below, will help your tree weather the season while avoiding some of the common fresh tree faux pas.
Often, the reason a real tree sheds needles and dries out the moment it enters your home is that it was already doing so before you bought it. To avoid this, look for a healthy tree. While it's easy to tell visually if a tree is healthy before it's cut down, there are a few tricks to deducing if a precut tree is healthy. Start by pinching a few branches and sliding your fingers to the end. Do needles fall off? Not a good sign! Another surefire way to tell if a tree is dried out is to lift the tree and give the cut end a good thud on the ground. If it's dried out, the needles will come cascading down. This method also doubles as a great way to see what the tree will look like once the branches have settled.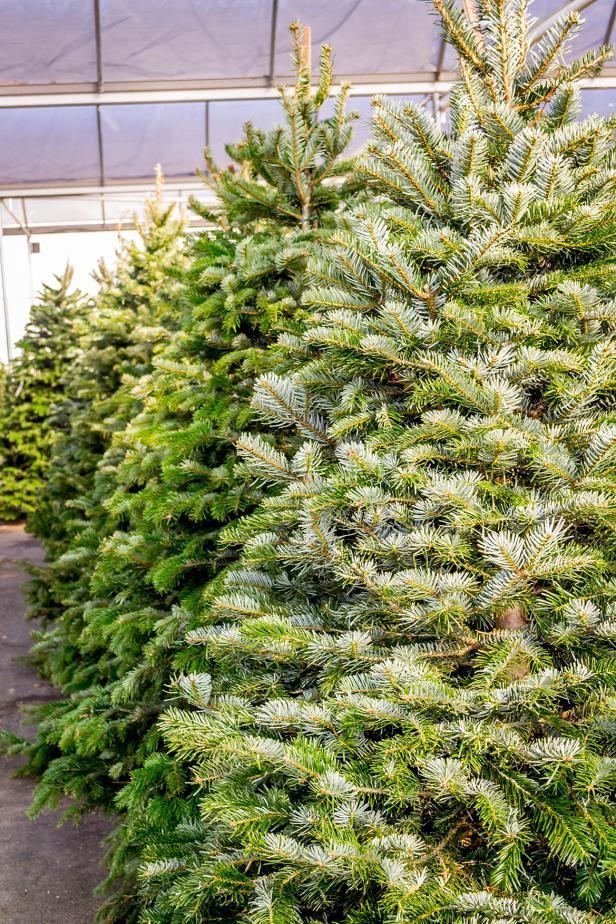 Fresh Cut Christmas Tree
Fresh cut trees are by far the most popular because of tradition, fragrance and because Dad needs to use his chainsaw at least once a year. Whether you buy from a farm or a re-seller like a nursery or non-profit tree lot, these trees are planted with harvest in mind. In addition to the lovely fragrance of a cut tree, buying a fresh Christmas tree is a great way to support Christmas tree farmers.
Store Outside Until Ready to Decorate
No matter how healthy a tree is, the moment you place it in your cozy, heated home, it will acclimate and begin to dry out. This is inevitable. For this reason, it's a good idea to store your tree in the garage or a covered indoor/outdoor area until you're ready to decorate. The key here is to keep the tree out of windy, open air. While the cooler air may benefit the tree, the winds will dry it out.
Cut Again Before Putting in Stand
Always make a fresh cut before putting your tree in the stand. There are a few reasons for doing this, but the main one is to help the tree's cut end better absorb water. Even in a short time, a fresh tree's cut end can begin to callous over, making it hard to draw up water and shortening the tree's lifespan. This is due to the exposure to air mixed with the sap that makes its way out the end. Recutting the base also allows you to easily make an even cut ensuring the tree will stand up straight.
Use a Stand That Holds Water
This may seem like an obvious decision, but there are plenty of stands out there that are just made to hold the tree without room for water. Even still, some water-holding stands leave little room for an appropriate amount of water. Choose a stand that's sturdy, has quality hardware for holding the tree in place and provides adequate space for water. And, be sure to use only water to keep your tree hydrated — additives will not prolong its freshness. Also, if you have pets in your home, be sure to block their access to the tree's water; drinking from it could make them sick.
Protect From Heat Sources
This just in! Fresh Christmas trees are highly flammable. If putting one in your home seems crazy, remember that there are plenty of other highly flammable everyday items in your home. As long as you use common sense, a Christmas tree is no more dangerous than other flammable household items. Though the quintessential Christmas living room always shows the tree next to the fireplace, this may not be the best idea. However, if you don't use your fireplace for fires, the aesthetic is hard to beat. While open flames are of utmost concern, it's important to position your tree away from any heat sources. An air vent may not set the tree on fire, but it will dry it out quickly which makes it abundantly more flammable and less visually appealing.
Sarah Busby; Styling by H. Camille Smith
Christmas trees soak up a lot of water. If you're reading this and thinking about how your past trees didn't seem to go through much water, you most likely had calloused trees that were unable to absorb water (we know from experience). In reality, a healthy tree with a fresh cut will soak up water constantly, leading you to fill the stand on a daily basis. Tip: And, many experts recommend adding boiling hot water to the tree stand reservoir when you initially add the tree. This hot first sip liquefies any remaining sap, improving the tree's ability to draw up water. After that, room temperature water will do.
Just as an air vent will quickly dry out a Christmas tree, a constant draft will do the same. Do yourself a favor and turn off the ceiling fan until after Christmas. Your tree will thank you.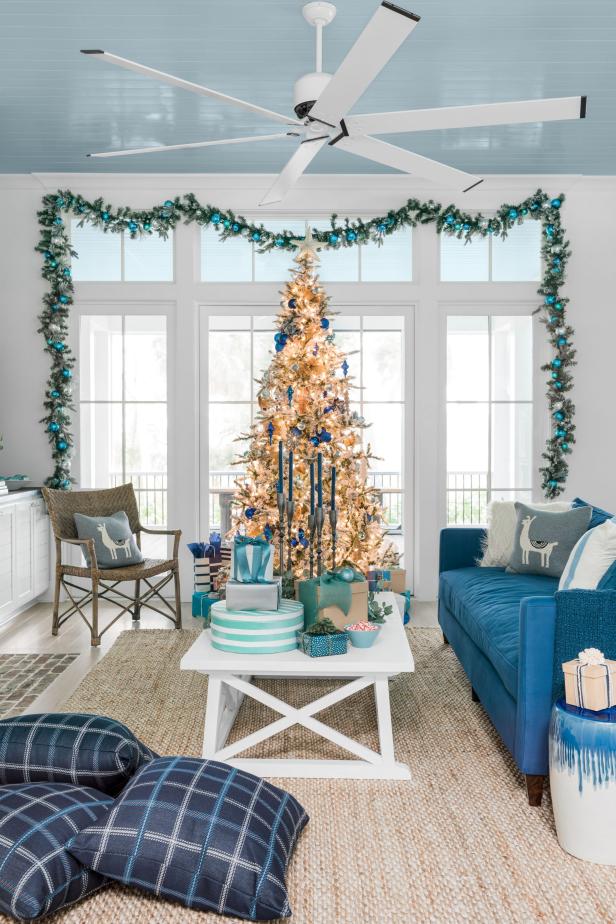 The Main Event
Allow your tree to take center stage in your living room. If you have a large window, center it in the middle and form a stunning border by draping garland around the windows. Woven textures, such as the jute rug, and warm textiles, like the plaid throw pillows, up the cozy factor of this ready-for-the-holidays space.
Offsetting the dry air in your home can make a big difference for a cut Christmas tree. A humidifier placed near the tree will offer a local humidity boost that the tree will gladly soak up. While some people recommend directly spritzing the tree daily for moisture, we are fans of the humidifier route. This way you are not directly spraying water on your lights and ornaments.
Speaking of lights, technology has advanced quite a bit since Christmas lights first came onto the scene. The days of strands filled with individual light bulbs pumping out heat and drying out your tree are long gone. LED bulbs have changed the lighting world in a variety of ways and LED Christmas lights are just another advancement. They offer safety with strikingly low heat output and practicality with long-lasting, energy-efficient bulbs.
Stringing Lights on Garland
Slip the garland-covered tomato cage around the mailbox post. Then add twinkle lights to the garland, starting from the very top, working your way down to the bottom. An extension cord will be needed to power the lights.
Take It Down Before It's Too Dry
Do yourself and the vacuum a favor by taking your tree down before it gets too dry. Once a tree has dried out, needles will fall at even the slightest touch, leaving your house with a green trail heading out the door. Even if your tree has a little health to it, it's bound to shed needles as you finagle it out of the house, so it's best to clear a path out the door for easy cleanup.