How to Make a Skeleton Cookie Charcuterie Board for Halloween
Frighten up your Halloween party table with this scary-cute skeleton bone cookie board. The spaces between the cookies overflow with sweet and salty treats to create an interactive, crowd-pleasing dessert display.
2 sticks unsalted butter
1 cup + 2 tablespoons granulated sugar
1 egg
1 teaspoon vanilla extract
2 cups + 1 tablespoon all-purpose flour
1 scant cup dark cocoa powder
pinch of salt
8 ounces high quality white chocolate, melted
assorted Halloween candies and treats
black food color marker
Note: This recipe uses a set of skeleton bone cookie cutters that can be found for purchase online.
Chocolate Sugar Cookie Instructions
In a stand mixer fitted with the paddle attachment, mix the butter and sugar together until just incorporated. Do not over-mix at this stage, or the cookies may spread while baking. Next, add the egg and vanilla extract. Mix again on low speed, stopping to scrape down the sides of the bowl intermittently as needed. In a medium bowl, whisk together the flour, cocoa powder and salt. Add that to the butter and egg mixture, and mix on low speed until a dough is formed and there are no longer any streaks of butter in the mixing bowl. The dough will often clump around the paddle attachment while being mixed. This is normal and a good sign that your dough is the right consistency.
Next, line a baking sheet with parchment paper. Turn the dough out onto a sheet of wax paper and top with a second sheet. Roll dough into an oblong disc between the papers with a rolling pin. Transfer dough, wax paper and all, to a large cookie sheet. Wrap the dough tightly onto the cookie sheet with plastic wrap and refrigerate for 1 hour. Remove the top sheet of wax paper and roll the dough to 1/4-inch thickness. It should not be sticky. If it is, dust the surface very lightly with flour.
Using the cookie cutters, cut out the bone shapes from the dough and transfer them to the prepared baking sheets (Images 1 & 2), being careful not to stretch the cutout shapes. Refrigerate for 30 minutes to help the cookies maintain a crisp shape during baking. Preheat the oven to 350°F and bake the cookies for 15 to 20 minutes. Let cool on the baking sheet for 5 minutes, then transfer the cookies to a wire rack.
Transfer the melted white chocolate to a piping bag fitted with a decorator tip with a small round opening such as Wilton size #2 or #3. Outline each cookie and fill in the shape using the white chocolate (Image 1). For the skull, leave two blank spaces for the eye holes. For the hands, pipe dots and dashes with blank space between them for the finger bones (Image 2). Gently tap each cookie on a countertop to smooth the surfaces. Allow the cookies to stand until set, about 1 hour at room temperature. When the chocolate is set, draw the nose and smile on the skull using the food color marker (Image 3).
Assemble the skeleton cookie pieces on a large board or platter. Fill the spaces in and around the skeleton bones with assorted candies and treats such as candy corn, gummy worms, foil-wrapped chocolates, salted peanuts, pretzel twists and lollipops. It's best to assemble this board where you plan to serve it as to not jostle the contents when transporting. Happy Halloween!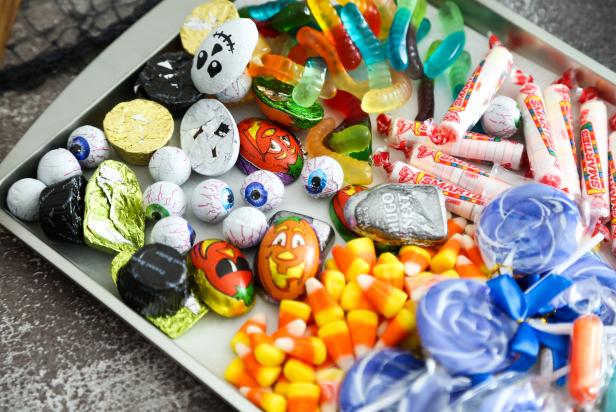 Heather Baird, SprinkleBakes.com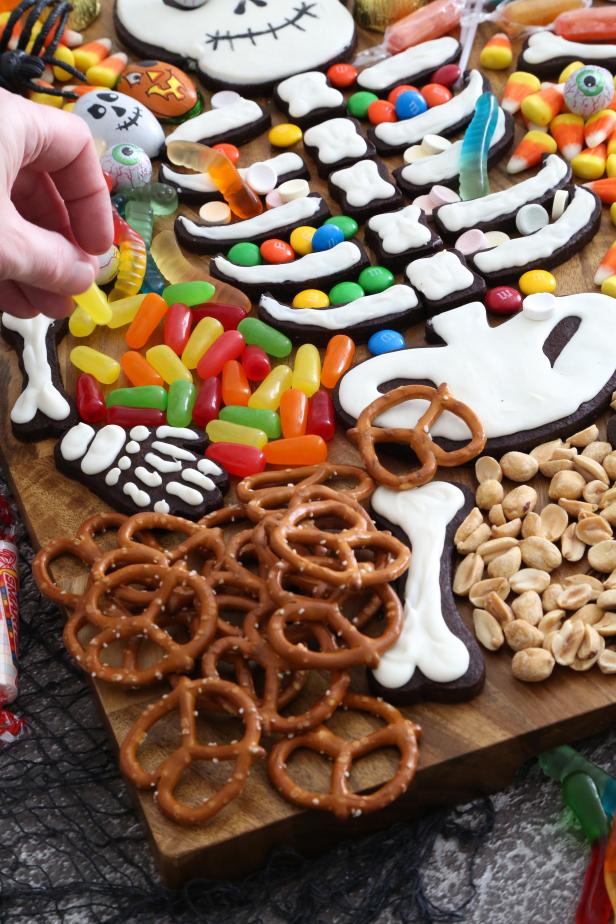 Heather Baird, SprinkleBakes.com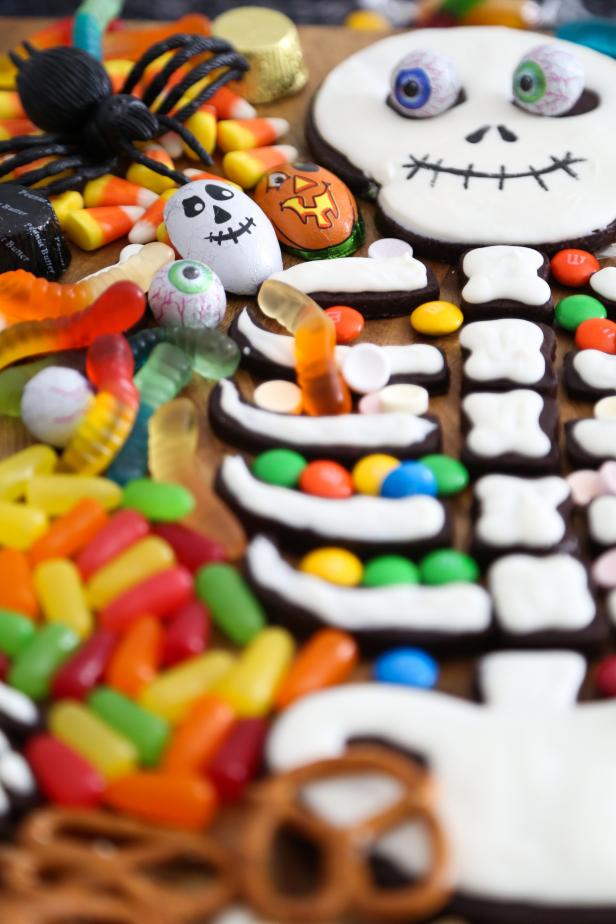 Heather Baird, SprinkleBakes.com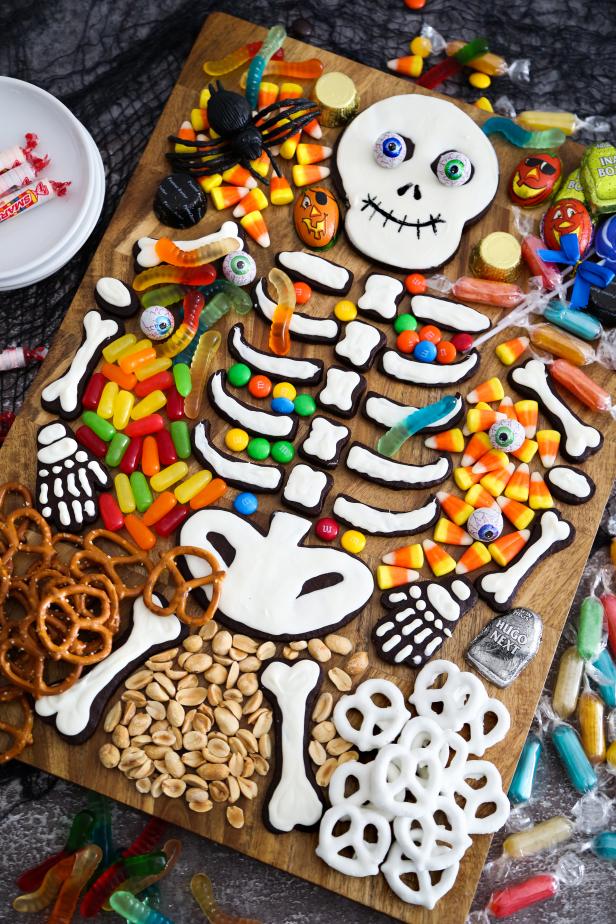 Heather Baird, SprinkleBakes.com
More Halloween Treats to Try
Whether your Halloween style is spooky, kooky or somewhere in between, these sinfully sweet homemade desserts are guaranteed to thrill at your next monster mash. Discover our creative ways to dress up cupcakes, cookies, candy apples and more for Halloween.
These colorful Halloween cookies will put a spell on partygoers with their hypnotizing swirls. The dough freezes well and has slice-and-bake convenience for easy entertaining.
Give classic caramel apples a Halloween makeover by using fun-size candy bars and other chocolatey treat bag goodies as delicious decor for this seasonal fall treat.
Use ectoplasm-green faux fur and basic craft supplies to transform a pop-up sports tent into a monstrous candy station perfect for socially distant trick-or-treating.