3 Bulk Gifts You Can Make in a Clear Ornament
Check off everyone on your list with these double-duty Christmas tree ornament gifts.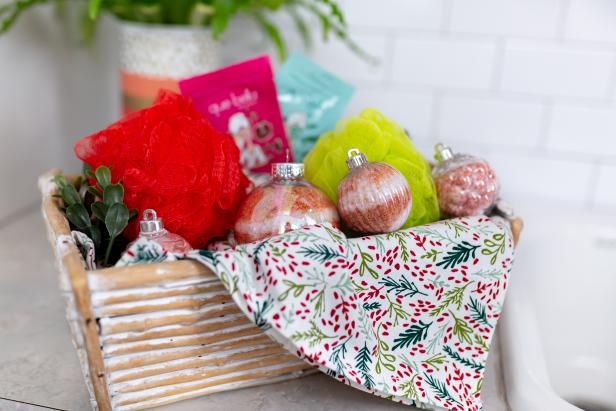 Balt Salt Ornament Gifts
These clear ornaments are filled with a homemade bath salt recipe of Epsom salt, baking soda, essential oils and hued with food coloring. They're a great bulk gift idea on their own, but you can also take it to the next level by adding face masks, loofahs and spa gloves.
clear plastic ornaments
Epsom salt
baking soda
essential oils
all-natural food coloring
spoon or spatula
funnel
3 large bowls
cup or scooper
twine
face masks
spa gloves or loofah
Start with 3 cups of Epsom salt in three separate bowls, then add 1 tablespoon of baking soda to each bowl. Add 10-15 drops (use fewer drops for a lighter hue) of an all-natural food coloring. We used red and green and left one of the bowls white, but feel free to use any combination of colors you want.
Next, add 10-15 drops of essential oils – we used peppermint eucalyptus for the green bowl, peppermint for the red bowl and left the white bowl unscented. Once again, choose any scent combination that suits you or loved ones. Caution: Make sure to only add 10-15 drops. Essential oil is very concentrated and can irritate the skin if you use too much, especially citrus and cinnamon oils.
Use a spatula or a spoon and stir the bath salt mixture until well combined. If you left a bowl white, give it a stir as well to remove any clumps.
Now you're ready to fill: Scoop the bath salt mixture into a cup and use a funnel to layer it into clear ornaments, then secure the lid. If you don't have a funnel, you can make one by rolling up a sheet of paper. Tip: Work over a muffin tin to catch any residue and prevent the ornaments from rolling around.
Finish off the spa kit by threading a face mask and a loofah or spa gloves onto twine and attach it onto the ornament. You can also arrange the bath salt ornament and spa supplies in a basket. Make sure to save one for yourself!
bulb-shaped, clear plastic ornaments
wildflower seed packets
dried flowers
Select a variety of wildflower seeds packets and fill the bottom of a bulb-shaped clear ornament. You may need two to three seed packets or more depending on the size of the seeds. Reserve the empty seed packets.
Top off the seeds with dried flowers of your choosing then secure the lid. Stick the reserved seed packets inside a pair of gardening gloves – this lets your recipient know what they're growing. Finish by threading twine onto the seed bomb ornament and tie it around the top of the gardening gloves.
food-safe, clear plastic ornaments
hot cocoa powder
mini marshmallows
crushed peppermint candy
peppermint candy spoon
coffee mug
paper basket filler
funnel
Use a funnel or paper funnel with a small opening to fill one-third of a clear ornament with hot cocoa mix. The smaller funnel opening helps prevent the fine cocoa powder from dusting inside the ornament and cuts down on the mess.
Fill the remainder of the ornaments with toppings of your choosing – we used peppermint candy and mini marshmallows. Put the finishing touches on the gift by filling a mug with basket filler. Place the ornament on top and push a peppermint candy spoon down into the mug. One ornament makes the perfect cup of hot chocolate.
These gifts look great styled on a tray – use them as festive decor until you're ready to gift them or keep them under the tree for the family to make on Christmas morning.
Bring Scandinavian simplicity to your Christmas tree this year with these three easy-to-make DIY ornaments.
Embellish a plain canvas stocking from the craft store with one of these modern, Scandinavian-inspired designs.
Don't throw away your wrapping paper scraps after the holidays. Use them to make these easy crafts instead!