How to Frame a Favorite Family Recipe
In just a few steps, turn a treasured family recipe into DIY decor for your kitchen or a sweet handmade gift for mom.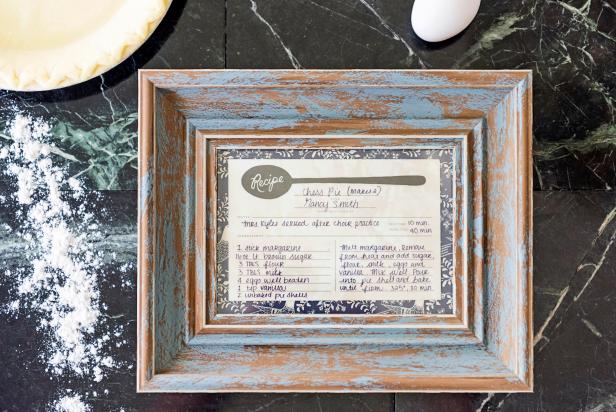 Kitchen Craft: Frame a Fave Family Recipe
Preserve a treasured family recipe card (and grandmother's handwriting) from future decades of kitchen mishaps by framing it. Just a few easy steps to turn their go-to family recipe into kitchen decor they'll treasure.
Sarah Busby; Styling by H. Camille Smith
frame (that's just a bit larger than the recipe card)
decorative paper
handwritten recipe card
glue stick
glass cleaner
scissors
Remove glass from frame and use it as a template to mark the decorative paper that will border the recipe card. Cut out.
Use a glue stick to cover the center of the decorative paper (Image 1), then attach recipe card (Image 2).
Using window cleaner, clean the frame's glass, removing fingerprints and smudges then replace it in the frame.
Place Recipe Card in Frame
Pop paper-backed recipe card in frame (Image 1). Replace the frame's backing and secure with included tabs (Image 2).
Hang or set the framed card in your kitchen to put your family's culinary history on display (Image 1) or surprise your favorite home chef with a framed version of their 'famous' recipe as a birthday, Mother's Day, Father's Day or Christmas gift. Alternative: For a larger framed recipe, old church or community cookbooks can be a treasure trove of your grandmother's go-to recipes (Image 2).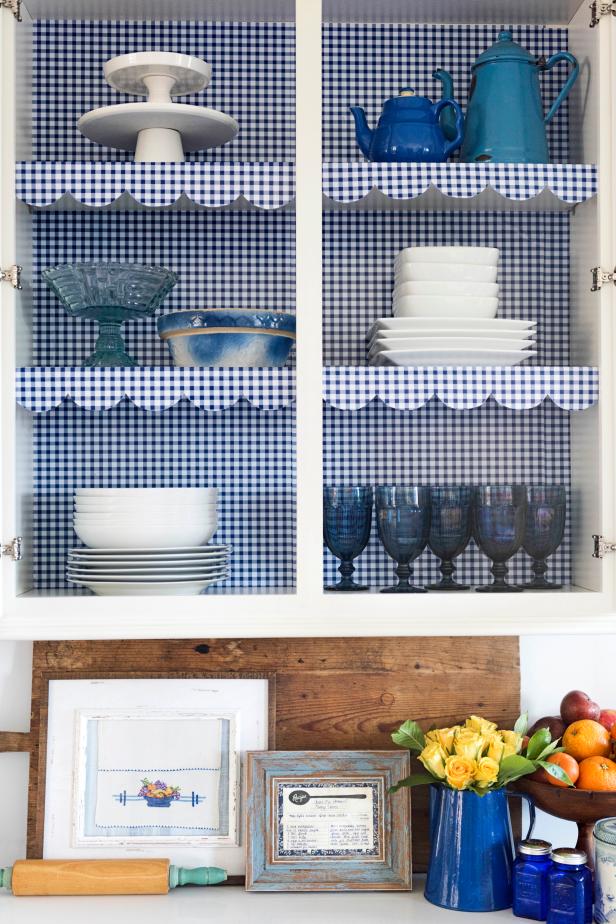 Sarah Busby; Styling by H. Camille Smith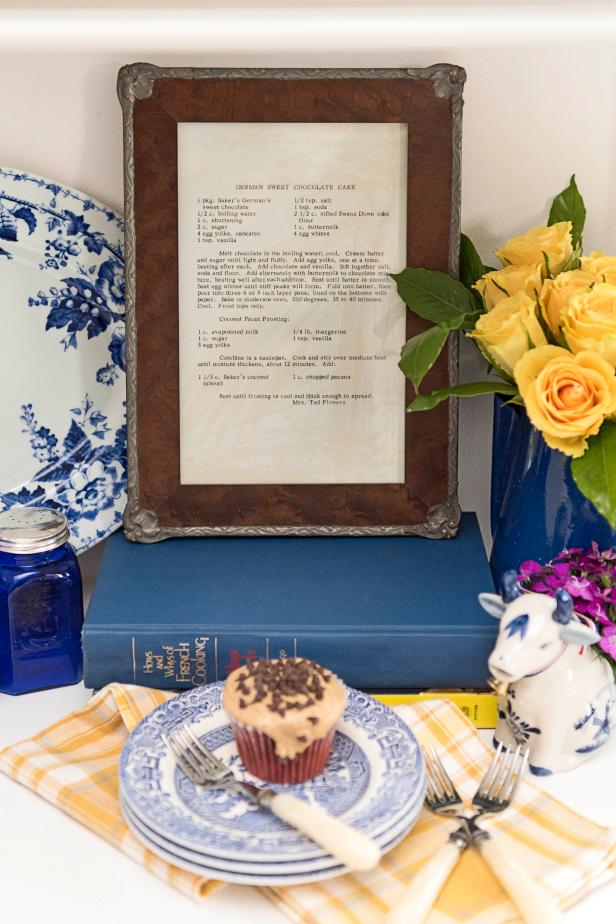 Sarah Busby; Styling by H. Camille Smith
Charming Blue-and-White Cottage-Style Kitchen
Give your kitchen a big boost of cozy cottage style by inexpensively lining the shelves with gingham shelf paper and framing family recipes and a hand-me-down tea towel as art.