3 Ways to Decorate a Plain Canvas Stocking
Embellish a plain canvas stocking from the craft store with one of these modern, Scandinavian-inspired designs.
Need new stockings this year? You don't have to spend a ton. Jill Tennant from the HGTV Handmade crew took a basic canvas stocking and transformed it into Scandinavian-inspired decor that looks like something super expensive from Anthropologie. And then she did it again. And then she did again. Seriously, all of these stockings look storebought. Read on for the oh-so-easy (and budget friendly!) how-tos.
We're sorry, there seems to be an issue playing this video. Please refresh the page or try again in a moment. If you continue to have issues, please contact us here.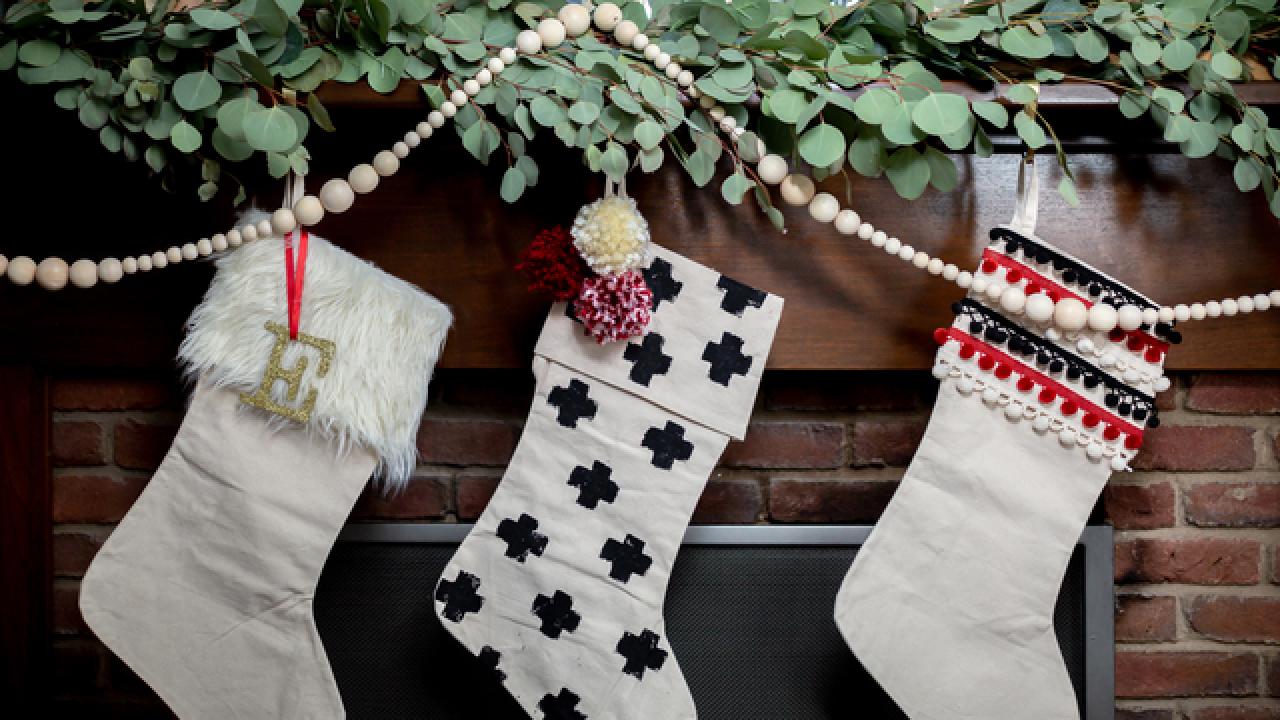 plain canvas stocking
pom pom trim (red, white, and black)
low temp hot glue gun
Start with a plain canvas stocking. Using a low temp hot glue gun, glue pom-pom trim to the stocking band in alternating colors. Cut the ends of the trim on each side; then flip the stocking over and glue the excess trim to the back of the stocking for a neater finish.
plain canvas stocking
yarn pom poms (optional)
kitchen sponge
fabric paint (black)
2 paper plates
2 sheets of cardstock
low temp hot glue gun
hot glue sticks
scissors
Start with a plain canvas stocking. Place two sheets of cardstock inside to prevent the paint from bleeding through. Using scissors, cut the corners from a kitchen sponge to create a Swiss cross pattern, which looks like a plus sign. Then, pour fabric paint onto one of the paper plates. Dip your trimmed kitchen sponge into the paint, blot away excess paint on the other paper plate and then stamp the pattern onto the canvas stocking. Repeat the blotting process with the kitchen sponge and cover the stocking from top to bottom. For additional embellishment, tie yarn pom poms to the top canvas hook.
plain canvas stocking
faux fur
glitter
ribbon
chipboard letters
decoupage glue
low temp hot glue gun
hot glue sticks
paper plate
scissors
Take the faux fur and use scissors to make a small cut at the desired thickness, then tear the rest of the faux fur by hand. This will ensure a straight line. Using a low temp hot glue gun, glue the faux fur piece to the top band of the canvas stocking. For an additional embellishment, take a chipboard letter of your choice and place it on a paper plate, then apply decoupage glue to one side. Sprinkle glitter over the decoupage glue chipboard letter and let dry on the plate. Optionally, seal the chipboard letter with another coat of decoupage glue. Finally, cut a small strip of ribbon and tie the letter to the canvas loop on the stocking.
Bring Scandinavian simplicity to your Christmas tree this year with these three easy-to-make DIY ornaments.
Make adorable Christmas ornaments and more with this super easy recipe. Spoiler alert: There's no salt. Or baking!
Make an elegant, oversized holiday wreath with an embroidery hoop and upcycled plastic pots.