Five Frighteningly Tasty Halloween Snack Board Ideas
This spooky season, step up your snack board game with some truly terrifying treats.
We're sorry, there seems to be an issue playing this video. Please refresh the page or try again in a moment. If you continue to have issues, please contact us here.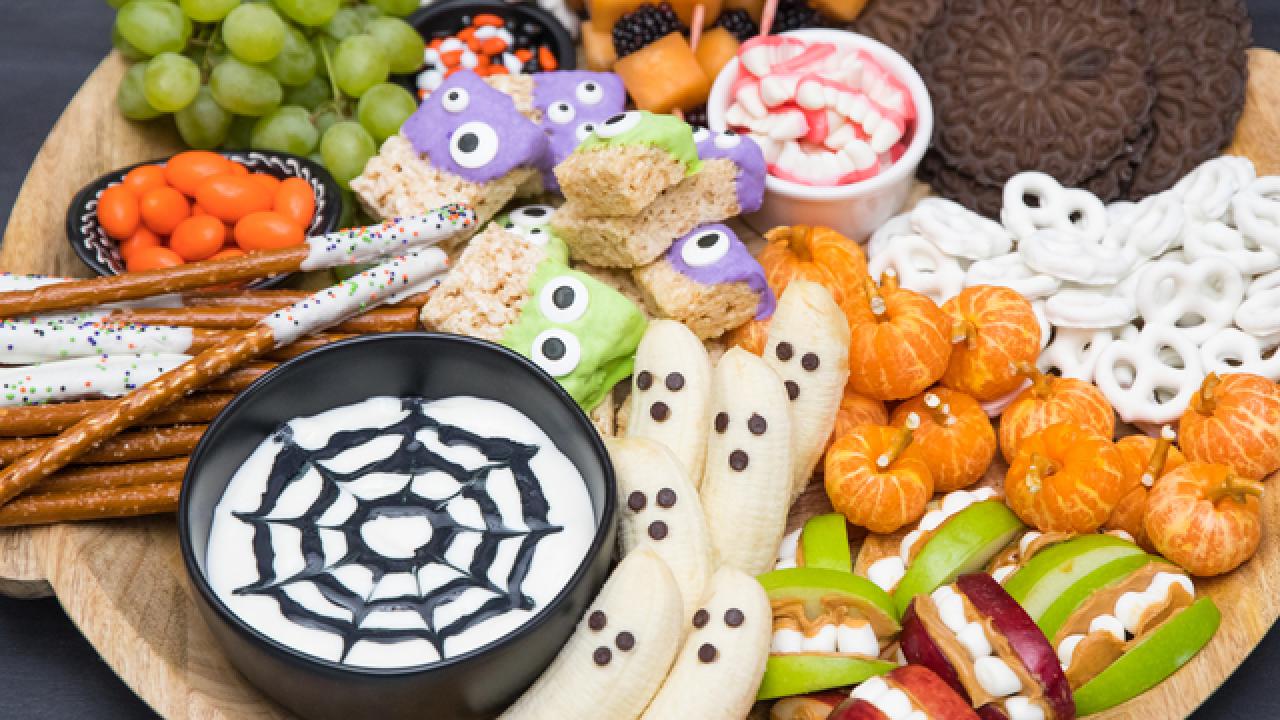 Bypass the boring fruit and cheese boards of parties past and opt for a few ghoulish goodies instead. These handmade treats are as cute as they are delicious and will have your guests begging for more.
To craft these creepy smiles, start by cutting up some red and green apple wedges. To keep them from browning, dip them into a lemon water mixture. The acidity helps to keep them fresh and colorful. Set the apples aside to dry while you get out your peanut butter and mini marshmallows. Coat one side each on two apple wedges with a layer of peanut butter (Image 1). With the apple peels facing out, sandwich a few mini marshmallows in between them to create a monster mouth (Images 2 & 3).
This healthy snack takes a matter of minutes to whip up. Simply peel several bananas and cut them in half (Image 1). Tack on an adorable ghost face using three chocolate chips on the tapered end of each cut piece (Image 2). Simply press the pointed end of the chocolate chip into the bananas and arrange the pint-sized poltergeists on your snack board.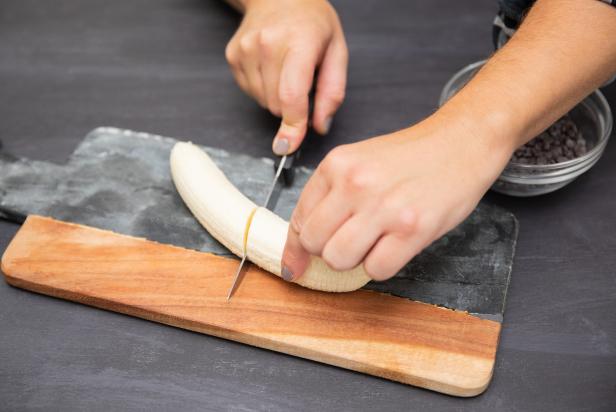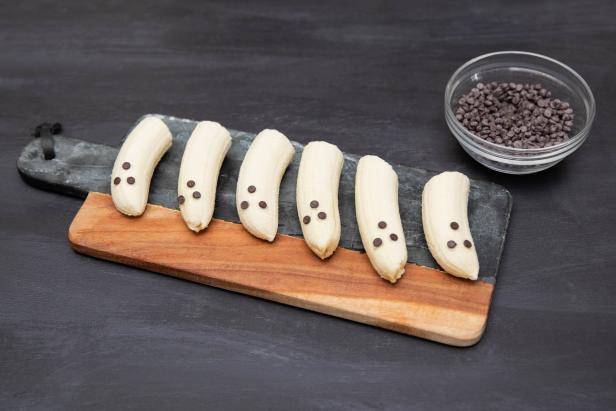 Banana Ghost Halloween Snacks With Chocolate Chips
These banana ghosts have been made by cutting bananas in half and poking chocolate chip ghost faces into the tapered ends. The Halloween snack is an effortless addition to any Halloween party as it only takes bananas, a knife and chocolate chips to create quickly.
BOO-tiful Bize-Sized Pumpkins
These mini pumpkins are so cute, you can eat them. Just peel some clementines and remove any excess pulp bits (Image 1). Break up a few pretzels and stick them in the top of the clementines to craft these bite-sized beauties (Image 2).
Creepy Crispy Rice Monsters
Begin by melting a couple of bowls of white-chocolate candies. While they are melting, break up several crispy rice treats into large and small pieces. Add purple food coloring gel to one bowl of chocolate and green to the other, then stir to incorporate (Image 1). Partially dip the crispy rice treat pieces in the chocolate, then press candy eyeballs into the chocolate to make crispy rice monsters (Images 2 & 3).
Spooky Spiderweb Fruit Dip
Start by scooping some fruit dip into a serving bowl. Next, make concentric circles using black cookie icing (Image 1). Use a wooden skewer to drag through the circles, starting in the center and working to the edges, resulting in a spooky spiderweb fruit dip (Image 2).
These haunted Halloween treats are sure to be a hit for any tastebud!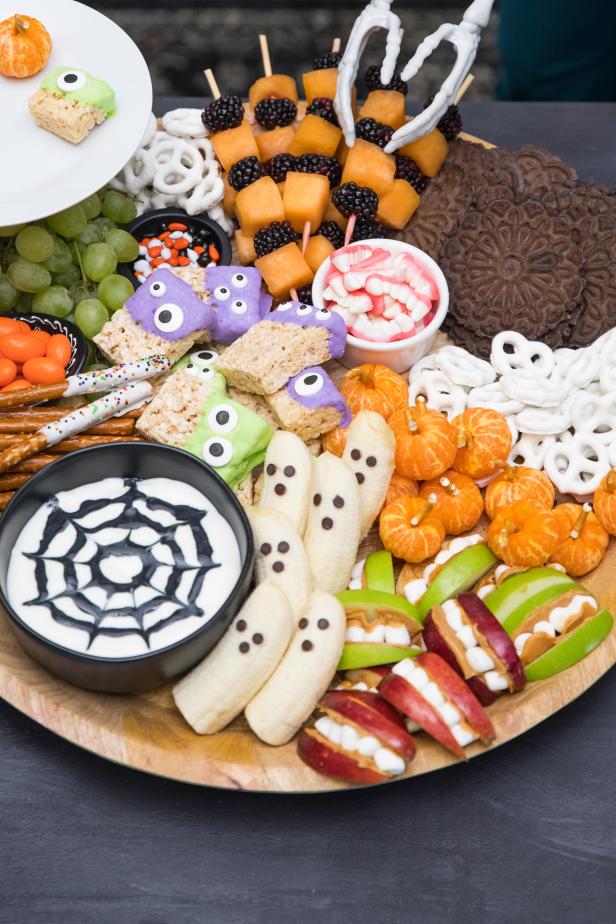 Halloween Snack Board Full of Tasty DIY Treats
This tasty Halloween snack board has plenty of DIY treats to offer. These treats have been made to look like monster teeth, mini pumpkins and other Halloween-themed items. Spiderweb fruit dip is made using cookie icing and a wooden skewer to drag out the web shape.