5 Last-Minute Essentials to Spook Your Party Up a Notch
Haunt your halls in a flash with these time-saving Halloween decor ideas.
We're sorry, there seems to be an issue playing this video. Please refresh the page or try again in a moment. If you continue to have issues, please contact us here.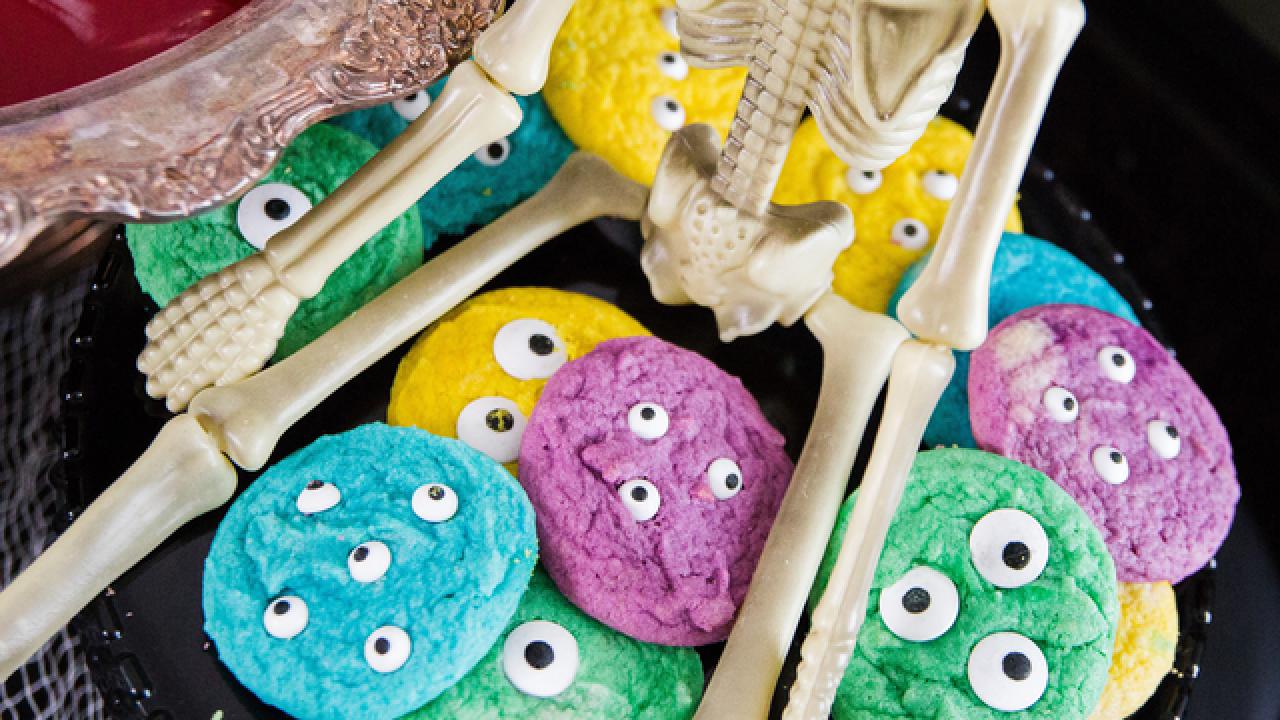 For many, autumn is the best time of the year. It's so cool, crisp and all-around wonderful that it flies by and, before you know it, Halloween has come and gone. Don't worry! These last-minute decor ideas will ensure that this Halloween gets the spooked-out attention it deserves.
Ditch the lights, lamps and even the candles. This Halloween, light the night with a pair of creepy, glow-in-the-dark eyes. Just draw your best pair of eerie eyes on a paper towel roll, cut them out with a craft knife, paint it black, toss in a glow stick, and tape off the ends with black tape. Bonus points if you remember to crack the glowstick.
Who knew you could decorate with an old flannel and a sock? Use scissors to cut a nine-inch flannel circle and cut the toe off of a sock. Roll the sock up to create a sock donut (trim any excess) and wrap the flannel around the roll, tucking into the center and securing with beads of hot glue. Finish this perfect pumpkin off with a bead of hot glue and a small stick in the center.
Spook-tastic Sugar Cookies
Sugar cookies taste outstanding but are most times seriously lacking in the style department. Bring them to life by dividing the dough into fourths and adding different food colors to each fourth. Bake following the normal process and once done, add candy eyes to each cookie before they cool. Instant snack table upgrade! You're welcome.
Punch bowls are a must at all parties, but when it comes to a Halloween punch bowl, we're prepared to give you a hand up. Filling a food-safe glove (no powder coating!) with water and natural food coloring makes for the perfect addition. Just fill, add a couple drops of food coloring, tie off and freeze until solid. Once frozen, use scissors to remove the glove, and just like that, you have the perfect dose of horror for your bowl of blood...err, punch.
With Halloween approaching, all of the creepiest crawlers are coming out to play. To ensure you have the perfect web, remove the seam from a trash bag and cut into a square by folding into a right triangle and cutting off the excess. Fold the triangle over itself twice. Once more, fold the triangle, but this time, fold the right-angle point to the bottom side, leaving some excess hanging on one side. Tape the seam with masking tape. Round off the excess part of the triangle in a concave fashion and continue to cut strips out down the entirety of the triangle. Once cut, remove tape and unfold the bag. Voila! The perfect scary spider web. Just hang and add an eight-legged creepy crawler.