Tree-Shaped Spinach Frittata Recipe
Delight your holiday guests with these miniature tree frittatas filled with savory flavor and colorful ingredients.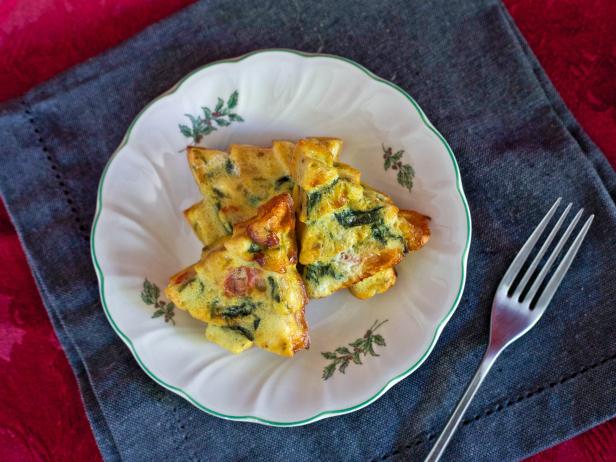 Christmas Tree-Shaped Frittatas
Make spinach frittatas in a Christmas tree shape as a festive, easy holiday breakfast idea for guests.
4 eggs
1/4 cup feta cheese crumbles
4 garlic cloves, minced
1/4 cup white onion, minced
1/4 cup cherry tomatoes, diced
3 oz. baby spinach
1. Preheat oven to 350 degrees F. In a skillet, saute garlic and onion until golden, and add spinach and cherry tomatoes. Saute five minutes or until spinach wilts. Set aside spinach mixture to cool.
2. Beat four eggs, add feta and fold into spinach mixture. Pour egg and spinach mixture into an oven-safe silicon tree mold (image 1).
3. Bake for 30 minutes or until frittatas are golden (image 2).