Baked Sweet Potato Sliders
Take your holiday finger food game to the next level with baked sweet potato sliders topped with tangy celery salad.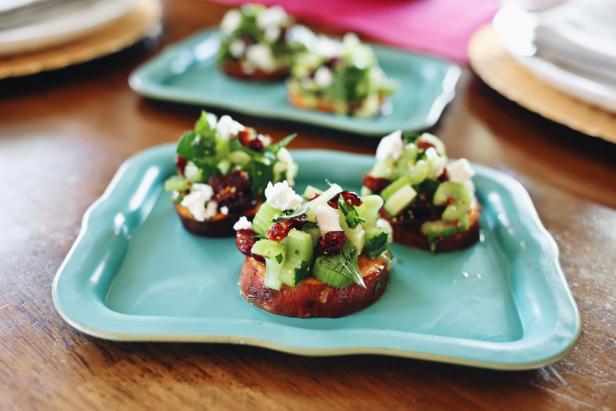 Sweet Potato Sliders
Elevate your finger food appetizers this holiday with baked sweet potato sliders topped with a tangy celery salad.
2 large sweet potatoes
4 celery stalks
1 bunch flat parsley
1/3 cup dried cranberries
pecans (optional)
goat cheese
champagne vinaigrette (recipe below)
Champagne Vinaigrette Ingredients
olive oil
juice of 1/2 lemon
champagne vinegar
1 tablespoon whole grain mustard
freshly-cracked pepper to taste
1: Preheat oven to 450 degrees F. Slice each potato into 1-inch thick medallions. Place on a baking sheet, and cover in oil, salt and pepper. Bake for 15-20 minutes. Flip and bake other side for 5-10 minutes. Set aside to cool.
2: To make dressing, whisk vinegar, olive oil (2:1 ratio, but add additional vinegar for taste), lemon juice, mustard and cracked pepper.
3: Mix sliced celery, chopped parsley, dried cranberries and pecans in a bowl, and toss with dressing.
4: Assemble salad on top of medallions, and sprinkle with goat cheese before serving.
Note: To make this a day in advance, cover potatoes and store on a flat surface. Dress the salad before serving.