A sophisticated spin on ham and eggs, these crepe squares are bold and fresh with notes of dill throughout.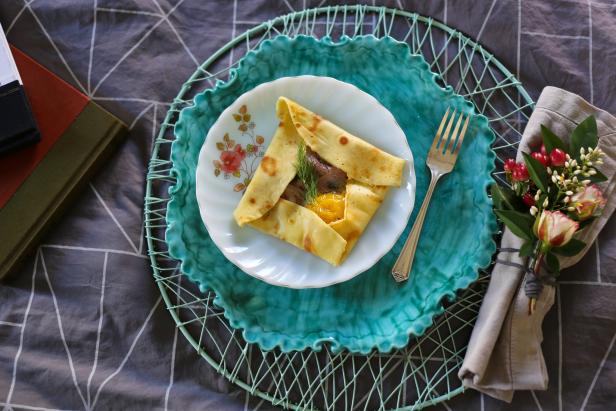 Egg Crepe Recipe
Prepare an egg crepe recipe for Mom this Mother's Day, and surprise her with a flower napkin ring that doubles as a corsage.
1/2 cup flour
1 1/2 teaspoons sugar
3/4 cup of milk
2 eggs
pinch of salt
1 1/2 tablespoons melted butter
4 slices thin pancetta
4 thin slices of dill havarti cheese
4 eggs
fresh dill
1. Pre-heat oven to 350 degrees F. In a blender mix flour, sugar, milk, eggs and salt for 30 seconds. Let sit for 15 minutes.
2. Heat a 12-inch, non-stick pan over medium heat and coat with butter. Pour 1/3 cup of flour mixture into the pan, moving it evenly to coat the entire pan. Heat on medium for 2 minutes or until underside is slightly golden. Flip and cook for another 1-2 minutes until golden.
3. Place crepes on a baking sheet, and add cheese and pancetta to the center of the crepe.
4. Crack an egg into the middle of the crepe. Pull each side in, forming a square pocket. Use the egg white as a glue to hold edges.
5. Bake for 12-15 minutes or until egg is cooked. Top with fresh dill.