Golden Raisin and Cranberry Chutney Recipe
Forget canned cranberry sauce; instead whip up this not-too-sweet relish to complement your Thanksgiving turkey, ham, duck or even roast pork.
2 1/2 cups frozen or fresh cranberries
1 cup apple cider vinegar
1/2 red onion, chopped
1/2 cup brown sugar (more or less, to taste)
1/2 cup golden raisins
2 tablespoons candied ginger, minced
2 cinnamon sticks
1/2 teaspoon kosher salt
Add all ingredients to a medium saucepan and bring to a low boil. Turn heat down to lowest setting, cover, and simmer for about 30 minutes.
Remove cover and let simmer for 3 minutes or so, until mixture thickens to desired consistency. Remove from heat and cool to room temperature, or refrigerate in an airtight container for up to one week.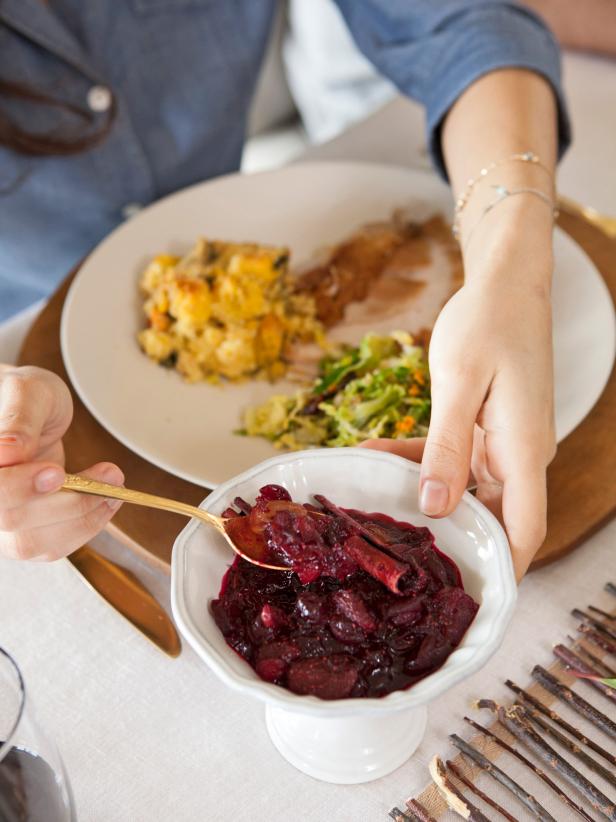 Golden Raisin and Cranberry Chutney
Friends don't let friends serve cranberry sauce from a can! For a homemade take on Thanksgiving's signature condiment, serve this not-too-sweet version. Get the recipe: http://www.hgtv.com/design/make-and-celebrate/entertaining/golden-raisin-and-cranberry-chutney-recipe