Southwestern-Style Poblano Cornbread Stuffing Recipe
Forget store-bought mix: With toasted pumpkin seeds, sweet potatoes and just the right amount of kick from roasted poblano peppers, this homemade stuffing is destined to become your family's new favorite.
2 recipes prepared cornbread, crumbled into 1" pieces and allowed to dry, uncovered, overnight
3 tablespoons chopped fresh cilantro
1/2 cup toasted pumpkin seeds
2 teaspoons kosher salt
freshly ground black pepper
1 stick unsalted butter
1 large onion, chopped
1 cup frozen corn
1 cup cubed sweet potato
3 celery stalks, chopped
2 cups chopped roasted poblanos
1 quart low-sodium chicken broth
Preheat oven to 350 degrees F. Butter sides and bottom of a large casserole dish and set aside.
Place dried cornbread pieces in a large bowl. Add pumpkin seeds, cilantro, salt and pepper, then toss together gently trying not to break up the cornbread.
Melt butter in skillet over medium-high heat. Add onion, celery, sweet potato and corn and cook until softened and beginning to turn translucent. Add to cornbread mixture along with poblanos and chicken stock; stir to combine.
Place cornbread stuffing in prepared casserole dish. Bake uncovered until golden brown on top and heated through, about 45 minutes. If stuffing starts to brown too quickly, tent with foil.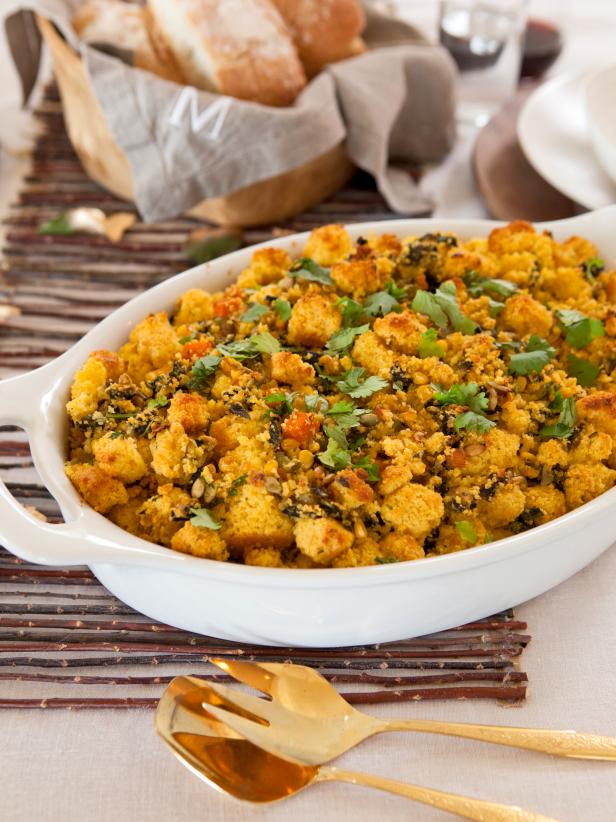 Southwestern-Style Poblano Cornbread Stuffing
Take everyone's favorite side dish up a notch by preparing this flavorful twist on your standard stuffing. Poblano peppers and cornbread come together to create a Thanksgiving dish that will keep guests coming back for seconds — and even thirds! Get the recipe: http://www.hgtv.com/entertaining/southwestern-style-poblano-cornbread-stuffing-recipe/index.html