If You Like Piña Coladas...Try These Twists on the Classic
Three variations of the refreshing cocktail from top bartenders around the country.
If you've only ever enjoyed a Piña Colada from the comfort of a lounge chair on the beach or the deck of a cruise ship, you're missing out. Sure, the classic combination of sweet, creamy and fruity flavors with a good slug of rum is delicious on vacation, but the whole point of the drink is to bring that tropical feeling to non-tropical places!
While the Piña Colada isn't quite as simple as, say, a Martini, we say it's a good time to try making one at home. You could stick to the classic recipe but the beauty of home mixology is that you can also add your own twist. For a little inspiration, we got three Piña Colada-loving bartenders from top watering holes around the country to share their own takes on the tropical tipple.

In Boston, Frederic Yarm makes a super-refreshing take on the Piña Colada by mashing together two classic vodka cocktails: the Chi Chi (just a Piña Colada with vodka in place of rum) and the Moscow Mule. His Chi Chi Mule tops a creamy, pineapple-y, coconut-y base with some ginger beer for a simultaneously bubbly and indulgent treat. And it's served in an iconic copper Moscow Mule mug, to boot! (Don't worry, you can just use a rocks glass if you don't have one.) Yarm himself should serve as inspiration for home mixologists looking to change careers: He now manages Loyal Nine but had started a blog and even written a cocktail book before he ever made a drink professionally.
The original Piña Colada gets its alcohol punch from rum, but by using a blend of different spirits as a base, you can get a much more sophisticated cocktail. That's the principle behind The Expat, a creation of Ryan Wainwright at The Ponte in Los Angeles. It's got high-proof rum of course, along with Lazzaroni Amaro, a minty, spicy and herbal Italian liqueur, and two different types of sherry from Spain. "The flavors of the bright fresh-pressed pineapple juice and the meaty coconut go so well with the depth of the amaro and the dryness of the sherries. The nutty bright notes of fino are balanced with the deep dried-fruit and butterscotch notes of oloroso," he says. "It ends up being a really amazing layering of flavors."
Even the slushy blended version of the Piña Colada can get a craft-cocktail upgrade. Chicago's Lost Lake serves all sorts of sophisticated tiki creations. Inspired by a similar drink at Brooklyn bar Donna, Lost Lake owner Paul McGee managed to incorporate a good slug of an ingredient nobody would expect—Fernet-Branca, a powerfully bittersweet digestivo bartenders love to do shots of—into his Fernet Colada. (The drink isn't on Lost Lake's official menu, but it's part of the spot's "whisper menu" of more than 100 house recipes.) "Most folks think of a Piña Colada as being a one-note, guilty-pleasure pool drink, but this variation has wonderful complexity. Usually, the liberal use of fernet can overpower other flavors in a cocktail," McGee says, but this one is "able to retain all the flavors of a classic Piña Colada while making the cocktail even more interesting and complex." If you find the original's unrestrained fruitiness cloying, this nuanced concoction will be perfect for you.
By Ryan Wainwright | The Ponte | Los Angeles, California
1 oz. over-proof rum (such as Plantation O.F.T.D.)
1/2 oz. Lazzaroni Amaro
1/2 oz. Fino sherry
1/4 oz. Oloroso sherry
1 1/2 oz. cold-pressed pineapple juice (the fresher the better, do not use canned)
1/2 oz. fresh lime juice
1 oz. Coco Lopez Cream of Coconut (accept no substitutes)
Edible flowers, mint, lime wheel and Angostura Bitters for garnish
Fill a tiki mug with crushed ice and set aside. Add all the ingredients to a shaker and fill with ice cubes. Shake, and strain into the prepared glass. Add extra crushed ice to create a mound on top and garnish with edible flowers, a mint sprig, a lime wheel and a few dashes of Angostura Bitters.

By Paul McGee | Lost Lake | Chicago, Illinois
1 oz. Plantation 3 Stars Rum
1 oz. Plantation Stiggins' Fancy Pineapple Rum
1 oz. Fernet-Branca
1/4 oz. Crème de menthe
1 oz. pineapple juice
1/4 oz. Petite Canne Sugar Cane Syrup
1 oz. coconut milk
1 oz. Rich Demerara syrup (2 parts Demerara sugar or brown sugar, 1 part water)
1 cup ripe pineapple chunks
2 cups crushed ice
mint and orchid for garnish
Add all the ingredients to a blender and blend until smooth. Pour into a rocks glass or tiki mug and garnish with fresh mint and an orchid blossom.

By Frederic Yarm | Loyal Nine | Cambridge, Massachusetts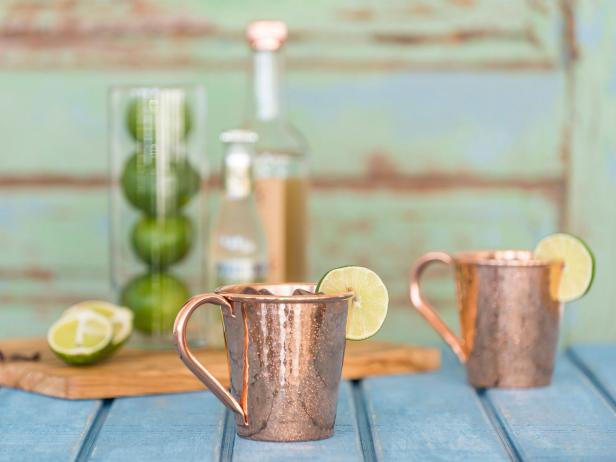 Sertodo Copper Moscow Mule Mugs
Combining skilled craftsmanship with timeless beauty, Sertodo's Moscow mule mugs are hand-hammered from heavy-gauge 100% recycled copper by independent artisans in Texas and Mexico. The mug's generous 18-ounce size ensures plenty of room for icing down your favorite cocktail or cold beverage while the mug's all-copper construction (no tin or steel lining or copper-colored lacquers) ensures that this mug is one that Dad will enjoy using for many decades to come.
Sarah Busby; Styling by H. Camille Smith
2 oz. vodka
2 oz. pineapple juice
3/4 oz. lime juice
3/4 Coco Lopez Cream of Coconut
2 dashes Angostura Bitters
2 oz. ginger beer
lime wheel for garnish
Add all the ingredients except the ginger beer to a shaker and fill with ice. Shake, and strain into a Moscow Mule mug or rocks glass filled with fresh ice. Top with the ginger beer and garnish with a lime wheel.