Mincemeat Thumbprint Cookies Recipe
These flavorful cookies combine the wonderful tastes of fruit and spice. The robust mincemeat center is perfect with the sweetness of the cookie. Be sure to refrigerate before baking to prevent unwanted spreading of the dough in the oven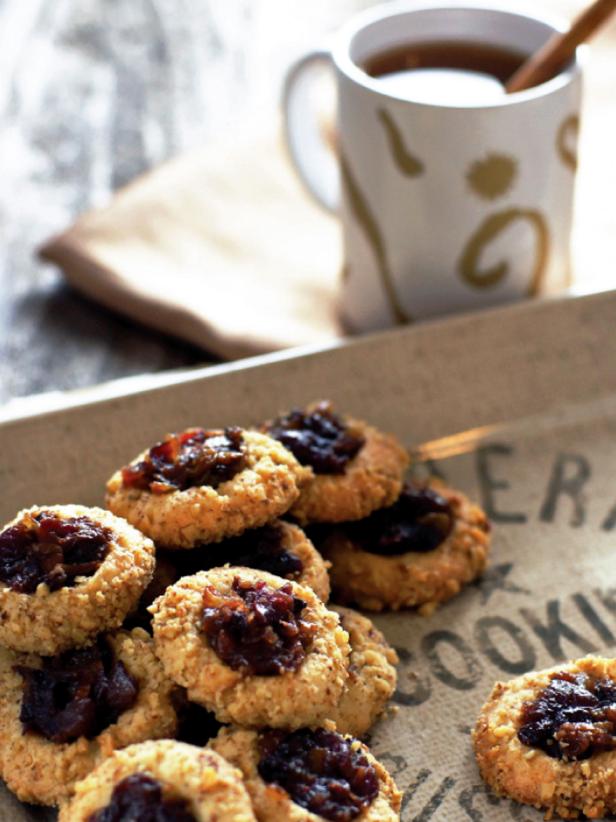 Mincemeat Thumbprint Cookies
Revive Grandma's holiday traditions with these mincemeat-filled thumbprint cookies. Despite the name, the filling is a mixture of fruit, nuts and spices — no meat here! Get the recipe.
Before you start:
Refrigerating the dough for the specified time is a critical step in this recipe. Failure to do so will result in cookies that spread too much and the indentation will disappear.
Traditionally, mincemeat was made with meat. It still is in many kitchens today, but we have opted for a meatless variety here. Although it is called mincemeat, be sure not to chop the ingredients too fine. The raisins should just be rough cut. The only exception might be the citrus peel (which you can find in most specialty supermarkets); it can be diced a bit smaller.
The Cookie:
1 cup (sticks) butter, softened
1 cup superfine sugar
1 egg
1 teaspoon vanilla
2 1/2 cups flour
1/2 teaspoon salt
2 cups walnuts, finely chopped
1 cup mincemeat
The Mincemeat:
2 1/2 cups diced apple (3 or 4 medium apples)
1/2 cup chopped raisins
1/2 cup chopped golden raisins
1/2 cup chopped dried cranberries or cherries
1/4 cup dried currants
1/2 cup diced candied citrus peel
1/4 cup brandy
1/4 cup rum
1/4 cup apple cider
2 tablespoons fresh lemon juice
3 tablespoons unsalted butter
1/3 cup dark-brown sugar
1/2 teaspoon ground cinnamon
1/2 teaspoon ground nutmeg
1/4 teaspoon ground allspice
1/4 teaspoon ground cloves
The Cookie:
1. Sift flour and salt together in a bowl and set aside.
2. Mix butter and sugar in a mixer on medium speed until light and fluffy (about 2 minutes).
3. Add egg and vanilla and mix until incorporated.
4. While mixer runs on lowest speed, gradually add flour and mix just until mixed in and dough ball forms.
5. Scrape down sides of bowl, cover with plastic wrap and refrigerate for at least one hour.
6. Preheat oven to 375°.
7. Using a small cookie scoop or a tablespoon to measure, roll dough into balls.
8. Roll the balls in chopped walnuts and place on parchment-lined baking sheets at least 2 inches apart.
9. Using your thumb, make an indentation in the middle of the cookies.
10. Refrigerate for 20 minutes.
11. Bake for 15-20 minutes or until very lightly brown.
12. Place cookies on wire racks and press indentation again to set.
13. While still warm, drop a bit (about 3/4 teaspoon) of mincemeat into the indentation you have created.
14. Allow cookies to cool completely.
15. Store in an airtight container.
The Mincemeat:
1. Place all ingredients in a medium saucepan. Cover and cook over medium heat for 15 minutes.
2. Remove lid and reduce heat to low. Cook for about 20 minutes or until liquid is gone.
3. Remove from heat to cool completely.
4. Store in an airtight container in the refrigerator.