Cookie Cutter Peppermint Fudge
Cookie cutters aren't just great for baking, they also make a cute container for decadent fudge before packaging it up as a homemade holiday gift.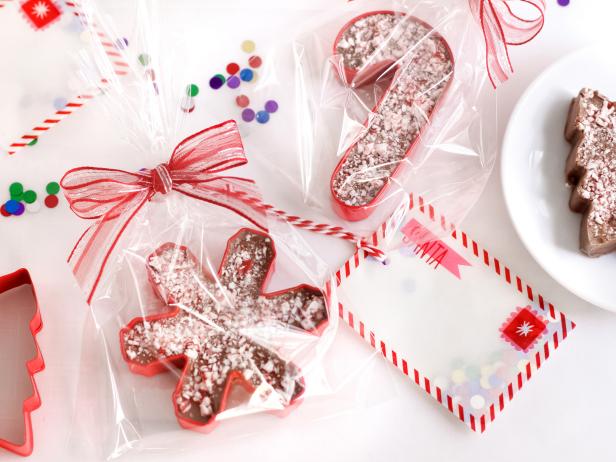 Cookie Cutter Fudge
These cookie cutters filled with fudge make great handmade Christmas gifts.
non-stick cooking spray
5 cookie cutters (about 3" each)
aluminum foil
1 cup (about 6 ounces) semisweet chocolate chips
1/2 cup extra crunchy peanut butter
crushed peppermint candy (or other topping if you prefer, like chopped salted peanuts or pretzel or toffee pieces)
disposable piping bag or zip-top bag
6x9" cellophane bag
colorful ribbon
Lightly spray a 6 to 8" piece of aluminum foil with cooking spray and lay a cookie cutter in the center (Image 1). Fold and scrunch the foil tightly around the edges of the cookie cutter (Image 2). Smooth the foil flat on the inside of the cutter using a finger. Lay the prepared cutters on a baking tray (Image 3).
Combine the chocolate chips and peanut butter in a bowl (Image 1) and heat in the microwave at 30 second intervals until the mixture can be stirred smooth, about 1 minute 30 seconds. Let the mixture cool slightly.
Transfer the candy to a disposable piping bag (or zip-top bag) with the tip snipped (Image 1). Pipe candy into the cookie cutters and shake the pan gently to level the candy (Image 2). Sprinkle candy with crushed peppermint or other desired toppings (Image 3). Transfer to the refrigerator to chill, about 30 minutes to 1 hour.
Remove foil from the backs of the cookie cutters. If any candy has seeped to the outside, gently wipe it away with a paper towel.
Place the cutters in a 6x9" cellophane bag (Image 1) and tie with festive ribbon. Add fun gift tags if desired (Image 2). Tip: If making these ahead, store them packaged in the refrigerator for longevity.