Cupid's Crispie Treats Recipe
These little crispie treats are spiced up just a bit with the addition of cinnamon imperials. We gave ours a sweet twist by inserting arrows straight from Cupid's bow.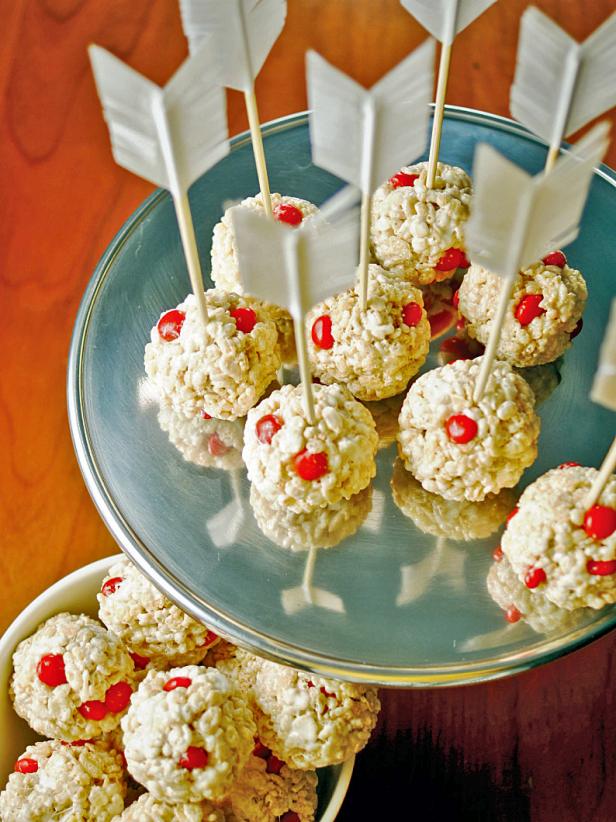 Cupid's Crispie Treats
Spice up classic crispie treats by adding cinnamon imperials and inserting Cupid's arrow as a sweet embellishment. It's the perfect combination of sweet and spicy.
3 tablespoons unsalted butter
4 cups miniature marshmallows
6 cups crisp rice cereal
1/2 cup cinnamon imperials
1. Line a baking sheet with parchment paper and set aside.
2. Melt butter in a large saucepan over medium heat. Add marshmallows and stir continuously until melted.
3. Add cereal and stir until completely incorporated.
4. Add cinnamon candies and incorporate fully.
5. Apply a small amount of butter to your hands. Gather enough mixture to make one-inch balls and roll, squeezing gently.
6. If none of the candies make it to the surface, poke in a few that have fallen to the bottom of the bowl.
7. Store in an airtight container.
8. Before serving, insert arrow in the very center of each crispie (see directions below).
1. Print the chevron template.
2. Cut out the chevrons inside the outlines (Image 1, left).
3. Apply glue to just the center of two chevrons.
4. Press the non-pointed end of the skewer to the glued side of one of the chevrons.
5. Press the other glued chevron onto the top of the skewer to sandwich it between the two papers, leaving about 1/8-inch of space at the top.
6. While holding the skewer in your hand, use your thumbnail and fingernail to pinch to seal the paper together as closely to the skewer as possible.
7. Snip diagonal lines about 1/8-inch apart up both sides of the chevron to create a feathered look (Image 1, right).
8. Allow to dry completely before using (Image 2).