Chocolate Biscuit Cake Recipe
Re-create Prince William's groom's cake in your own kitchen. This cake is rich, chocolatey and, best of all, easy to make.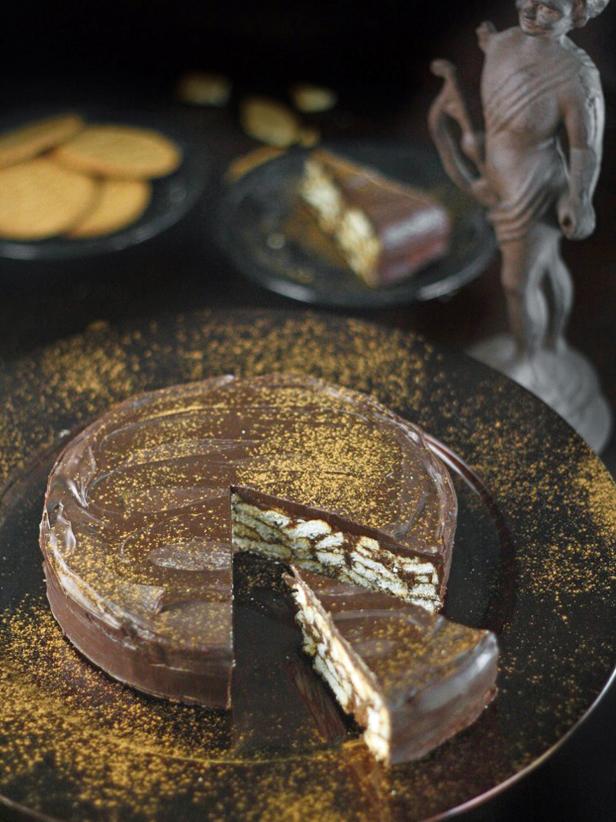 Chocolate Biscuit Cake
A sweet treat that requires no baking, this easy chocolate cake is rich and is the perfect after-meal dessert for chocolate lovers. Get the recipe.
1/2 teaspoon softened butter for greasing pan
8 oz. McVitie's rich tea biscuits (or other plain crisp cookie), broken into pieces
1/2 stick (4 tablespoons) unsalted butter, softened
1/2 cup extra-fine granulated sugar
4 oz. (about 1/2 cup) chopped chocolate or chocolate chips
1 egg, beaten
8 oz. chocolate for icing
cinnamon for dusting
1. Lightly grease a 6-inch springform pan. Set aside. Cream the butter and sugar in a bowl until mixture has lightened in color.
2. Melt 4 ounces chocolate in a double boiler. Add butter and sugar mixture to the chocolate stirring constantly. Add the egg and continue to stir. Fold in biscuit pieces until they are all coated with the chocolate mixture (Image 1).
3. Spoon the chocolate-coated biscuits into the cake pan. Press firmly with the back of a spoon to fill in any gaps — the bottom of the cake will be the top when turned out (Image 2). Chill the cake in the refrigerator for 3 hours.
4. Remove cake and unmold on a wire rack. Melt the 8 ounces of chocolate in the microwave or saucepan, and pour over the cake. Spread smooth with an off-set spatula. Allow chocolate-coated cake to sit at room temperature until chocolate is set. When set, run a spatula under the cake to remove from wire rack (the chocolate makes it stick a little). Transfer to a fancy serving platter, slice and serve.