What to Clean When You Only Have 5 Minutes
These items on your to-do list might seem tiny, but they make a big impact.
Busy families have to get creative with their time, and blocking out five minutes for the "quick" chores can help a household feel regrouped and in control. Next time you have a few minutes to spare, pick a task (or two!) from this list and make the most of the moment.
Merge the trash from all of your home garbage cans into the biggest bag (usually the one in the kitchen), and take it all out together. I try to time this chore so I can force it all into one bag, and then consider it done!
The drying rack beside our sink ends up being a catch-all for everything that touches the sink or emerges from the dishwasher still wet. The problem is, when your dish rack is overflowing, the kitchen looks infinitely more messy and disorganized, and that might just stress you out or make you feel like your home isn't ready for guests. It might be a daily chore, but you can fit it in with five quick minutes.
Gilles Mingasson/Getty Images, 2014, HGTV/Scripps Networks, LLC. All Rights Reserved.
Refresh the Garbage Disposal
Let your disposal devour a citrus rind – lemon, lime, orange – to immediately infuse a clean scent in the air and help to agitate and fight build-up that accumulates below your drain. Bonus points if you freeze pieces of rind with water in ice cube trays. It's nice to always have things like this on hand.
Put the Books Back on the Shelves
Do your kids love to read? That's great unless the bookworms forget to put their favorite reads back where they belong. It can get out of hand pretty quickly (especially those board books – #toddlers). Do a quick lap around the house stacking the books in hand to clean up the books that are visible, and deposit them onto a central bookshelf in your home. It'll be easy to keep the books they're still reading in an expected spot, and keep the rest from cluttering up tabletops and bedroom floors.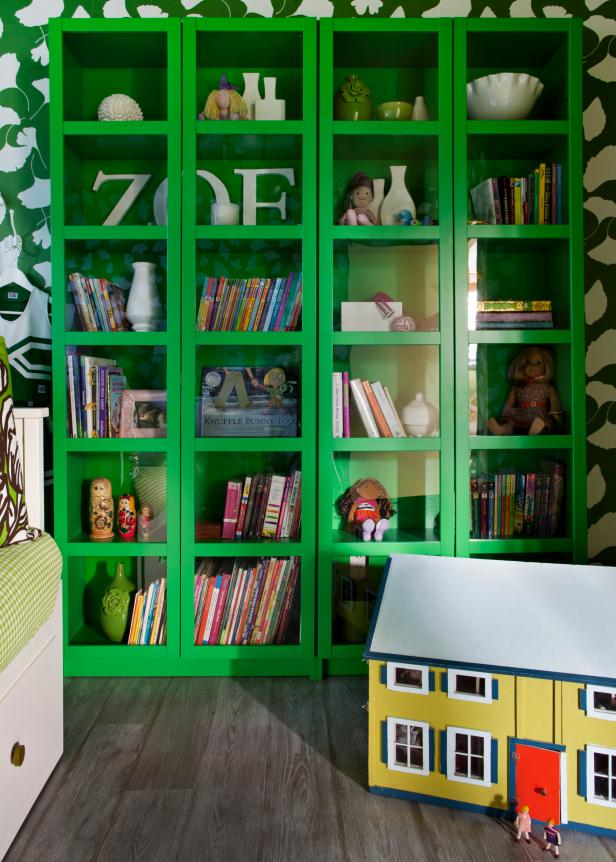 Bright Green Glass Bookcases in Girl's Bedroom
Modern green bookcases provide plenty of storage for this girl's bedroom, while creating a chic juxtaposition against the distressed hardwood floors.
Five minutes isn't quite enough time to wet mop, but if you have a handy microfiber dry mop, you can sweep over hard-floor surfaces in a snap. Zoom, zip – we love our 24" wide mop head that glides across the floor easily, collecting all of the pet fur and dirt in its path.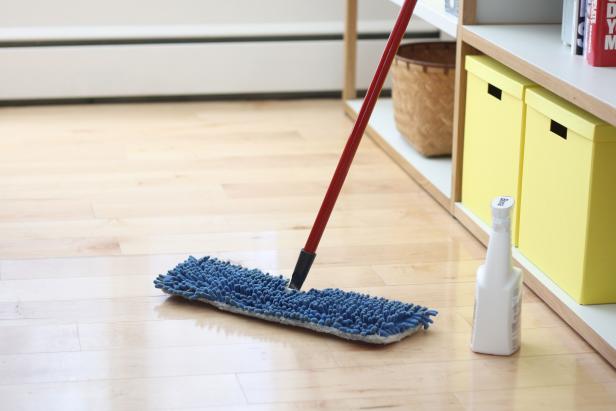 A Dry Mop for Cleaning Hardwood Floors
Choosing a dry mop for cleaning hardwood floors.
Clean the Bathroom Mirrors and Sinktop
Keep a bottle of glass cleaner and disinfecting spray in the bathroom cabinet, and clean off all of the surfaces as needed, rather than carving out time for an exhaustively big "bathroom cleaning" day. Quick wipe downs can take just three minutes and will help keep the space clean, presentable, and reduce the intensity of your cleaning routine.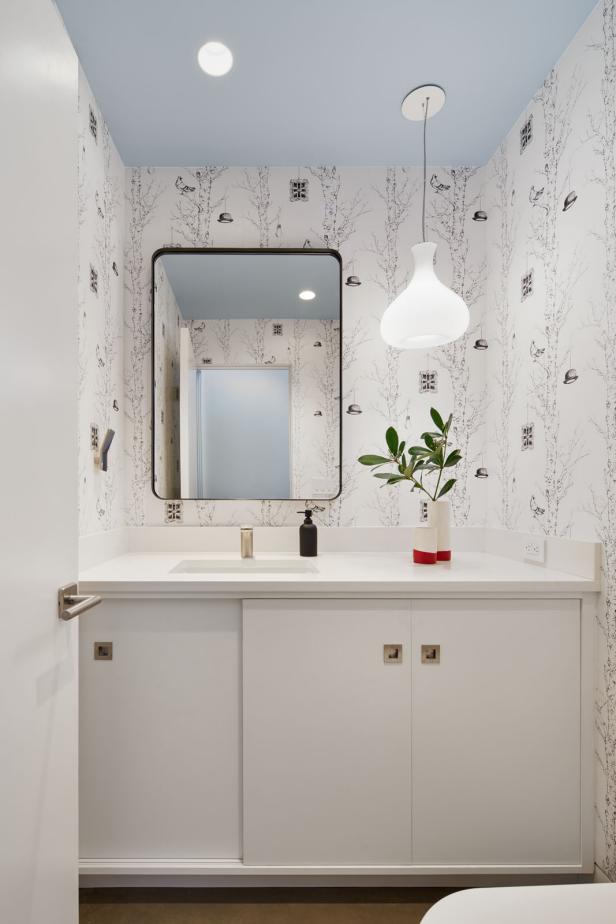 Powder Room With Black and White Wallpaper
A small space like a bathroom can be the perfect spot to try out a bold pattern. Here, whimsical wallpaper echoes the home's forest location.
Bruce Damonte Photography
Actually, I'm willing to guess that you can also clean the toilet in your five-minute chore-break. I keep the toilet brush in the bathroom alongside cleaner, and scrub the bowl once a week in a matter of seconds. Then, use the same countertop disinfecting spray on the seat and lid.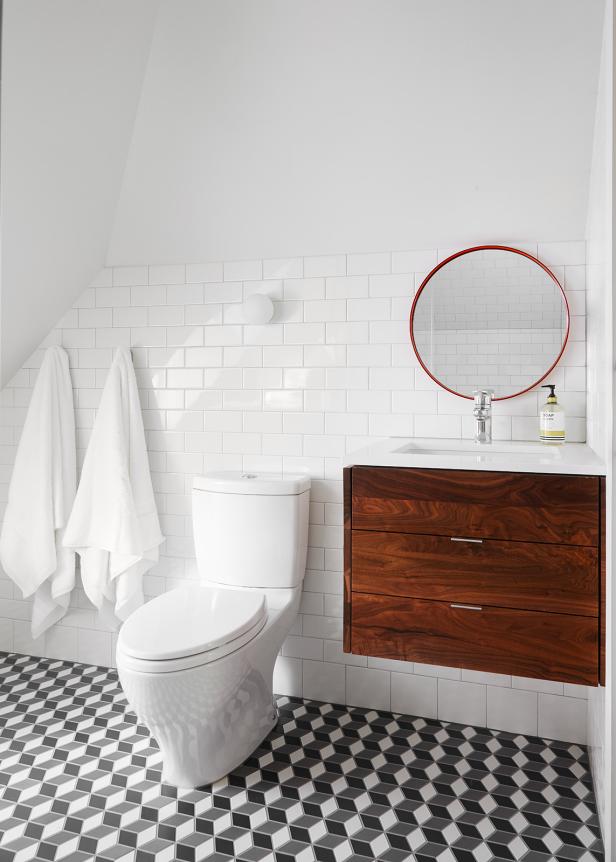 Contemporary Bathroom With Geometric Floor
This attic bathroom has all the graphic drama of an M.S. Escher print, thanks to its geometric black-and-white tile floor. To keep the focus on that pattern, the rest of the room is simple: white backsplash, round mirror and a floating wood vanity.
Wipe Down a Grease-Splattered Backsplash
Use a damp cloth to wipe down the areas around your range and on the backsplash. Small grease spots and sauce splatters can accumulate quickly if you cook at home often, but it's not always easy to remember to clean the backsplash as often as you clean your frying pan.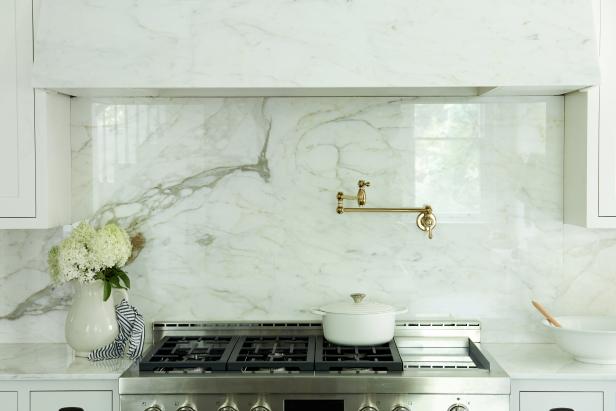 White Marble Kitchen Backsplash and Hydrangea
Even a simple detail like a pot filler faucet looks elegant up against a marble backsplash, as seen on HGTV's Restored by the Fords.
Place a bowl with a cup of white vinegar in the microwave for one minute, or until it's boiling and steaming up the inside of the microwave. Then, remove the bowl, and wipe down the inside of the microwave with a dry cloth to remove splatters. The vinegar should have loosened the tough areas, making cleaning up as easy as a wiping down.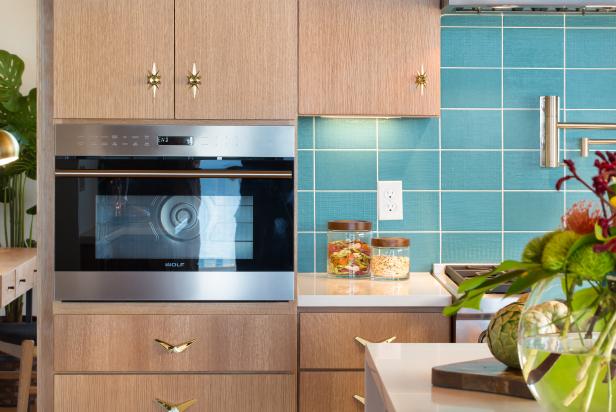 Midcentury Modern Kitchen With Blue Backsplash
Unusual pulls for drawers and cabinets can instantly give any room a new, fresh look. This kitchen goes in a midcentury modern direction.
Wynne H Earle Photography
Dusting, for me, is one of those chores that I can quickly get carried away with as I move through the house – can't forget the open shelves, the picture frames, the top of the door trim, the ceiling fans! Give yourself a break, and, in five minutes, focus on wiping the base ledge of every windowsill with a dry cloth. The chore will be done, the window area infinitely cleaner, and you'll feel like you did something productive that didn't take all day long.
Clear Miscellaneous Things Out of the Car
The five minutes I spend in the school pickup line is the best opportunity to pick up assorted papers, wrappers, books, and art supplies that get scattered throughout the car. Keep a reusable bag beneath your seat, and use it to collect stray items that need to be relocated to the house. Organize other items into storage centers, such as these, that attach to the back of the seat.
Tomas Espinoza Photography