5 Strategies to Declutter Your Bathroom Countertop
Hair dryers, flat irons, sprays and other products can easily create an unsightly mess on your bathroom countertops. These quick fixes will clear your counters and organize your toiletries.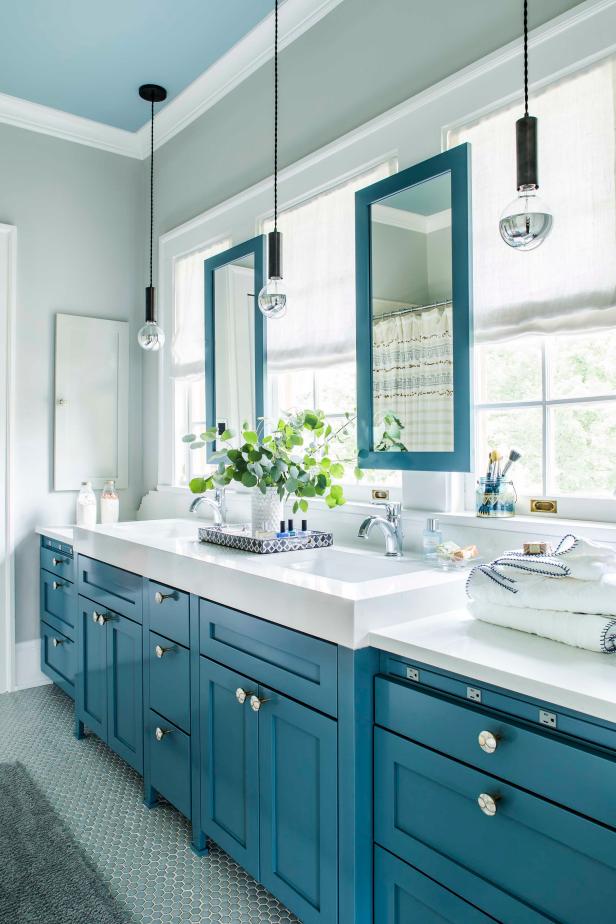 Blue Bathroom With Mosaic Tile Floor
For the bathroom joining two teen sisters' bedrooms, designers layered various shades of blue: pale blue for the ceiling and mosaic tile floor, a brighter shade for the vanity and matching mirrors. Lightbulbs are suspended from the ceiling in a contemporary twist on a pendant light.
Gather toiletries on a pretty tray. The great thing about a tray is that it creates boundaries, i.e., bottles and jars don't migrate over the entire countertop. You can buy trays made just for bath storage, but any model that fits on your counter and has room for your flotsam will work fine. Choose a material that's moisture proof and easy to clean, and that complements your fixtures and finishes.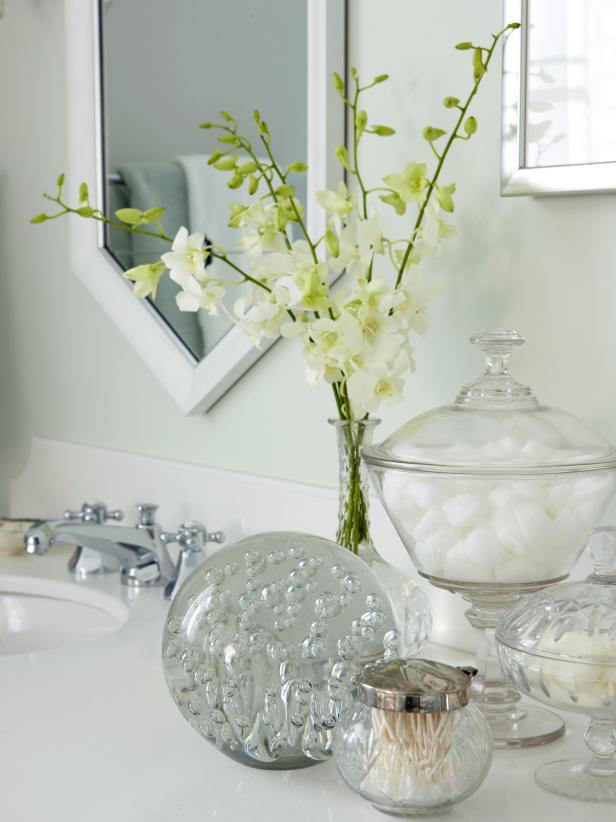 Bathroom Supplies in Decorative Glass Jars
Stock the bathroom vanity with the little amenities your guests may have forgotten to pack, such as cotton balls, toothpaste, a toothbrush and a razor. Even the most organized travelers will forget something, so having those items readily on-hand will save them frustration. Design by Sarah Richardson
Store loose items in canisters. Storing necessities such as cotton balls and cotton swabs in pretty canisters keeps them neat as well as clean and sanitary. Get creative with the containers: apothecary jars, mason jars, vintage tea tins or any other receptacle will work. Don't want them on display? Choose stacking canisters and stash them in a vanity cabinet.
Make use of drawer trays. Headbands, toe spacers and bobby pins — miscellaneous items such as these tend to get tossed on countertops and left to gather dust. Sort them in divided organizer drawer trays, the same kind used to keep kitchen junk drawers and home office supplies under control. Clear, plastic bins tucked inside a cabinet will work too.
Install wall-mounted holders. Choose soap dispensers and toothbrush holders that attach to the wall rather than sitting on the countertop, which frees up space around the sink. To streamline things even further, buy an all-in-one style that's designed to accommodate tumblers, toothbrushes and more.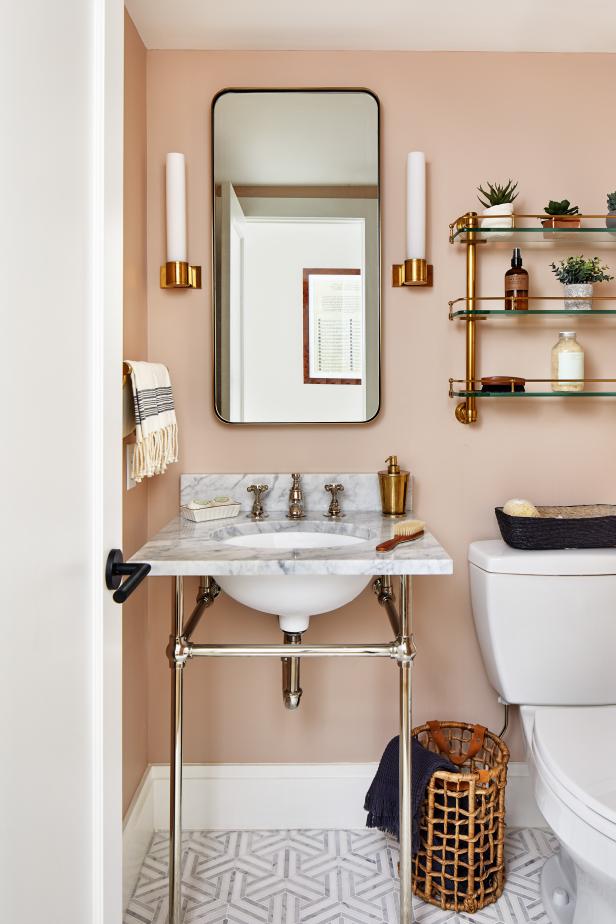 Pink Small Bathroom With Brass Shelf
Peachy pink walls are soft and inviting in this small bathroom. Brass accents match the room's warm glow and for a little luxury, the sink gets a marble countertop.
Add a shelf. Even in a tiny bathroom, a slim wall shelf makes a huge difference. Add a basket if you don't want toiletries and other odds and ends out in the open. If you have a stretch of unfilled wall space, such as next to a tub, anchor a full bookshelf to the wall to provide more than enough storage for bathroom needs and even a few decorative items.
More Countertop Organization Ideas
With some clever space-saving techniques, you can make your bathroom countertops more attractive and functional.
Counter space in the kitchen and bathroom is always a precious thing. Banish countertop clutter with these smart ideas.