How to Keep Your Winter Footwear Looking Shiny and New
Find DIY boot cleaners that work hard to help you combat harsh salt, sand, brine and winter sludge.
It's true. Winter is out to destroy your footwear. Felt, leather and suede, synthetic materials, and yes – even rubber boots – require special treatment during the winter to prevent them from succumbing to the wet snow, harsh salts, abrasive sands and dirty sidewalks. Before you lose the battle, learn easy ways to keep different materials clean, and then prepare some pre-mixed boot cleaner in a spray bottle to have on hand for whenever the occasion calls. Cleaning your boots after wearing them in dirty conditions will help them to last longer, look less worn over time, and help to ensure they retain weatherproof qualities.
There are more than a few tried-and-true solutions to protecting, cleaning, and repairing winter shoes, and I've gotta admit, I feel like I've tried them all. Some are better than others, and many DIY options work very well, so I've rounded them up here:
It takes a brave person to wear leather shoes and boots out on a snowy day, but if you have a harmonious cleaning ritual, you'll feel much more at ease (and everyone will ask how your boots still look like-new come April).
To remove dirt and salt: Fill a spray bottle with a mix of 50/50 water and white vinegar, and a few drops of tea tree oil. Spray the shoes directly, and wipe off any residue with a clean cloth. Dry completely.
To protect wet leather boots: If they're wet from slushy walkways, massage a dab of olive oil into wet leather (after testing on an inconspicuous area). This will help keep the leather soft as it dries.
To treat oily spots: Cover the spot with baking soda, and then using a makeup sponge or cotton tip, apply 99% rubbing alcohol to the spot. The baking soda will absorb oils, while the alcohol will evaporate quickly to prevent moisture damage.
To clean and polish: Use one part white vinegar, two parts linseed oil, and a few drops of tea tree oil. Massage it into the boots to condition the leather. Allow it to sit on the leather for 15 minutes, and then rub the oil into the boots in a circular motion to remove any excess. Repeat as necessary, until the leather no longer seems to be absorbing the oil.
Cleaning Suede and Faux-Suede
Wet and dirtied suede = fashionista nightmare. What's a person to do? It's important to use a very soft-bristled brush when cleaning suede, and yes – you will be able to get them looking like-new again.
To remove dirt and salt: Brush off as much of the dried salt and dirt as you can with the soft-bristled brush. Follow up by spraying a 50/50 solution of white vinegar and water onto the bristles of your brush, and then gently scrub the brush against the boots to remove any remaining residues. By wetting the bristles of the brush instead of the shoe itself, it helps keep the boot from getting too saturated.
If your suede boots are wet: Take a microfiber towel and blot the boots to remove the moisture. The material will stiffen as it dries, but once it is completely dry use the soft-bristled brush to soften and loosen the nap. If white salt lines are present when the material dries, you should wet the bristles of the brush the vinegar/water solution as described above.
Boots With Synthetic Uppers (such as woven nylon or polyester felt)
Many synthetic materials are designed to be weatherproof and residue-resistant, and that makes them easy to maintain.
If water soaked inside your boots: Take extra efforts to dry the interior of the shoe. Crumpled newspaper or tissue paper works well at addressing moisture in the toe-area, so get in the habit of stuffing the shoes once you take them off. Add a drop of tea tree oil to the paper as well, as it acts as an anti-fungal inside the boot while it dries.
To remove stains: Combine one part white vinegar and two parts water in a spray bottle. Spray onto the synthetic material of the boot, and use a toothbrush to loosen and remove dirt. Wipe clean with a dry cloth, and repeat as necessary.
Your rubber boots probably get a lot of wear in the fall and spring too. Keep them looking their finest with these simple tips:
To remove dirt and salt: Both real and synthetic rubber boots are easy-to-clean and difficult to damage. Soap and water will clean them, but I find it more convenient to fill a spray bottle with 50/50 white vinegar and water. If you spritz the boots when you remove them, it's easy to wipe off residue and salts with a soft, dry cloth.
To avoid rubber flaking or cracking: Avoid putting your rubber boots in the sun or directly beside the heater to dry.
To remove rubber "blooming": Over time, rubber may look powder-covered. This is a natural phenomenon with real rubber products. It doesn't mean that they're getting old, but you can make the boots look shiny-new again by buffing with a boot cleaner, a tablespoon of olive oil in a cloth, or – surprisingly – Armor All wipes that you might have stored in the garage for use on your car.
To remove scuff marks: Scuffs may not easily wash off with soap and water, but a pencil eraser often does the trick! Gently erase the scuff, and then buff the area clean.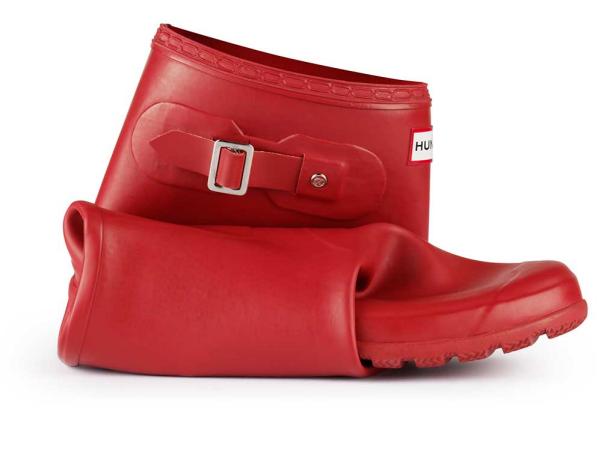 Hunter Tour Rain Boots
"Summer thunderstorms while you're on vacation can be a downer. Not only are you stuck inside playing board games, but since typical rain boots are bulky enough to require a bag of their own, you probably didn't pack proper footwear either. But fret no longer! With Hunter's Tour rain boots, you can splash in puddles at home and on the road. These lightweight rain boots are made of foldable rubber, letting you roll them up small enough to squeeze into your carry on." – Amanda, Interactive Producer