How to Clean Brick (Indoor or Outdoor)
Keep brick walls, floors and fireplaces clean and inviting with these simple tips.
Brick is built to last, but it does need care and cleaning. Whether you're cleaning the bricks on the exterior walls of your house or the bricks around your fireplace, these simple tips will help you learn how to clean brick.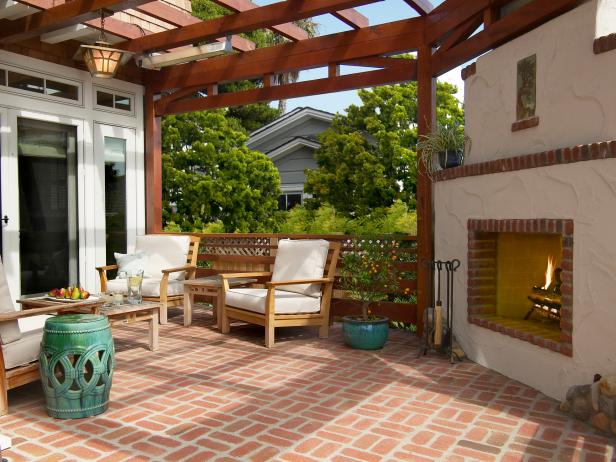 Cozy Brick Patio With Outdoor Fireplace
French doors from the dining room lead to a pergola-covered brick patio. Comfortable outdoor armchairs create a relaxing spot in front of the outdoor fireplace.
Brick can be used on floors, fireplaces and interior walls. The first step in cleaning brick is to remove surface dirt or, from a fireplace, soot. Use a brush or vacuum to remove loose dirt before wet cleaning.
You can use natural cleaners that you mix up yourself. They're more affordable and safer than commercially prepared cleaners. Natural cleaner one: Make a thin paste out of 2 tablespoons of cream of tartar and a little bit of water. Apply to brick and let sit for 10 minutes. Rinse with warm water and wipe off with a soft cloth. This method is best for cleaning small areas, like the brick trim around a fireplace. For larger areas like a floor or wall, go with natural cleaner two, vinegar. Mix equal parts vinegar and water and pour into a spray bottle. Spray on the bricks and let is sit for a few minutes. Use a sponge mop to clean the bricks. If the bricks are very dirty, use a nylon-bristled scrub brush and put some elbow grease into the scrubbing. Natural cleaner three is baking soda and dish detergent. Make a thin paste by mixing 3 tablespoons of dish soap to 1/2 cup baking soda. Spread it on brick, let sit for 10 minutes and then scrub off with a brush. Rinse with warm water.
Another cleaning option for larger areas of brick is to mix trisodium phosphate, a powdery cleaning compound available at home improvement stores, with water, and scour the brick with a scrub brush. TSP is hazardous, so wear heavy-duty rubber gloves and safety goggles.
You can use all of these methods on the interior and exterior of a fireplace, which gets sooty after a winter of fires. Knowing how to clean a brick fireplace keeps it working safely and looking great.
If a side of your home doesn't get much sunlight, moss, mold or mildew can grow on the bricks. Mix a cup of bleach into a gallon of water and apply to the wall with a sponge. Use a natural or nylon-bristle scrub brush to remove the growth. Don't use a wire brush because it leave bits of metal behind that will rust and stain the bricks. Knowing how to clean brick will keep your home lovely, longer.
Keep painted and wallpapered surfaces clean of fingerprints, smudges and dust with these expert tips.
Tidy up your fireplace between uses with these techniques for cleaning the firebox, glass doors and accessories.
Get pointers for maintaining your patio and learn how to thoroughly clean your outdoor living space.