Whether you do it yourself or call in a pro, caring for your fireplace is a critical annual chore. Learn why it is important to regularly clean your chimney and get the tips you need to keep your home safe.
Taking care of your chimney is essential maintenance. Annual care can help prolong the life of your chimney flue and firebox. It can also help identify issues before they become severe. If you have roof access and can safely reach your chimney, you may be able to perform annual cleaning yourself; however, it's always best to hire a certified chimney sweep for routine inspections.
Signs That Your Chimney Needs Cleaning
The more often you use your fireplace, the easier it becomes to recognize when something is unusual. If you begin to notice any of these signs, refrain from using your fireplace until you can get it cleaned and inspected:
A heightened smell of smoke or smoke visibly fills the room.
Fire takes longer to light, goes out quickly, or inconsistently burns.
The damper is black with soot or creosote. Advanced creosote damage can also look glossy or oily.
Creosote in the chimney is thicker than 1/8 inch.
Damage to or absence of the fireplace cap (without the cap, animals or birds may nest in your flue causing blockages or chimney fires).
When Should I Have My Chimney Cleaned?
Annual chimney cleanings and inspections are recommended for most homeowners. It's best to schedule your inspection in the spring or at the end of your burning season because the creosote can damage mortar if it sits on there for a while. Plus, residual creosote can produce strong smells during humid summer days.
Most people have a tendency to wait until fall to get an inspection or cleaning. Chimney cleaning companies can get very busy leading into the colder months, so many sweeps recommend scheduling early so that any cleaning and maintenance can be performed ahead of cold weather.
Chimney sweeps come insured and are equipped with an assortment of special tools and brushes. They can also use cameras to get close-up views of the condition inside the chimney. Their efforts go beyond dusting soot. An inspection will audit your chimney cap to ensure there are no issues with deteriorating stone or mortar. A good inspector will also look at the smoke chamber and shelf, the damper and the condition of the firebox itself. Having a professional inspection offers peace of mind to those who frequently enjoy getting cozy on cold evenings.
Can I Clean My Own Chimney?
Cleaning a chimney isn't a chore for everyone, but many homeowners do take steps to clean their own flue and firebox. With the right tools and an understanding of your chimney's construction, anyone can learn how to perform simple maintenance to reduce soot and creosote buildup. If it's difficult to access the top of your chimney or you have reservations about your ability to clean the fireplace due to possible deterioration, hire a certified chimney sweep. Whether or not you choose to DIY your chimney cleaning, scheduling an annual inspection with a certified chimney sweep is still essential.
Lay a large dropcloth in front of your fireplace. If the fireplace is open to the room, consider draping a sheet from the mantel as well to collect any airborne soot.
Access the roof and remove the chimney cap.
Connect the cleaning brush to one rod and insert it into the flue.
Move the brush up and down the flue to clean the liner. The residue will fall with gravity to the firebox in your home.
Remove the brush and add another length of rod to extend your reach into the chimney. Repeat the motion of raising and lowering the brush to clean the interior.
If necessary, add more rods to extend down the length of the chimney.
Remove the rod and brush from the chimney.
Inside, you will now need to clean the firebox which involves scooping out ashes that have fallen from the chimney and vacuuming the interior of the fireplace.
A chimney sweep would not clean glass doors or fireplace accessories. If you're doing this chore you may want to tidy up those elements of your fireplace, too.
Keep your fireplace tidy between uses with these tips for cleaning the firebox, glass doors and accessories.
How to Keep Your Chimney in Great Shape
Avoid burning wet or unseasoned wood because it will cause creosote build-up within the chimney.
If you chop your own logs and you're not sure if your wood is dry enough, invest in a moisture meter.
Burn a creosote reduction log once every season (or every 40 fires).
Keep your damper closed between fires in your wood-burning fireplace.
Do I Need a Chimney Sweep for a Gas Fireplace?
While gas fireplace inserts help homeowners avoid the maintenance associated with creosote from woodburning logs, an annual inspection is still necessary to ensure that the system is working efficiently and without risk.
An inspector will check the system to make sure the exhaust is functioning and that the firewalls are containing the flame. Deteriorating artificial logs can cause build-up on the chimney walls and contribute to vent clogs. Nesting from animals can also contribute to blockages if the chimney cap is missing or damaged. Blocked chimneys in gas fireplaces can cause carbon monoxide to enter the home.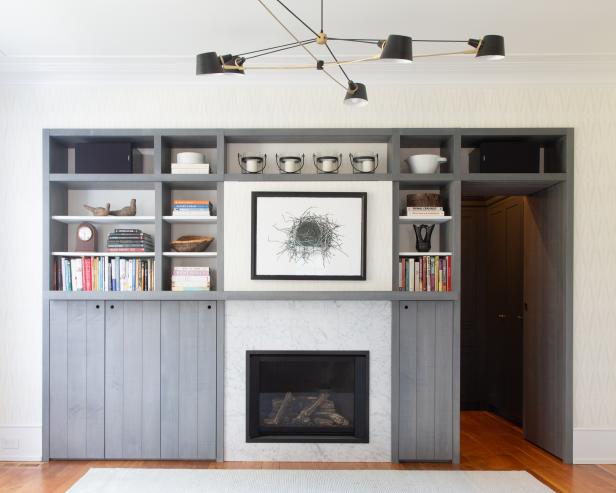 Rustic Gray Contemporary Shelving Unit With Modern Pendant
That's a door to the right of the television, and it leads to a bonus room! What was originally a covered porch area behind the keeping room had been renovated into an awkward, underused mudroom before designer Mindy O'Connor and her team stepped in. "This family has many cooks and many different dietary needs, so despite the large size of the kitchen, after all design considerations, we realized that still more storage space was needed," she explains. "I wanted the keeping room to feel complete and comfortable with its own identity where people can relax, socialize or watch tv by the fire, so a full pantry right near the kitchen, but behind a hidden door was the perfect solution! I created the custom bookcase unit (complete with gas fireplace and hidden television) in the keeping room with the hidden door as our perfect solution to creating a sitting room that stands on its own but offers quick access to extra storage."
There are many advantages to using a wood-burning fireplace, including saving money on heating costs. We have a few tips that will keep your fireplace in proper shape so you can enjoy it for years to come.