How to Restore and Maintain a Wood Cutting Board or Butcher Block
Properly cared for, a wood cutting board will give you decades of faithful service. Follow our tips for restoring the wood surface then whipping up your own inexpensive board conditioner to keep your butcher block in tip-top shape.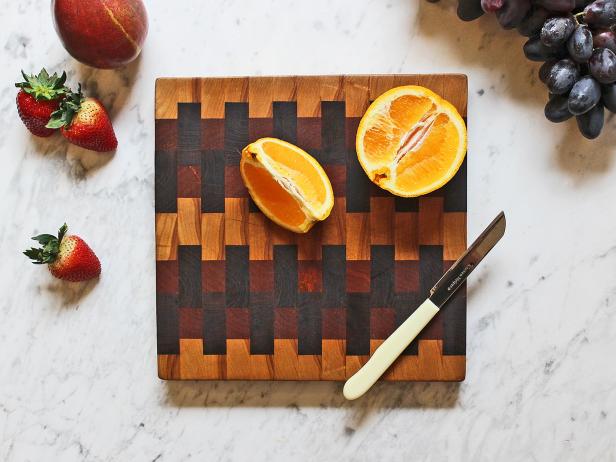 Wood Cutting Board
Give a scratched and worn cutting board or butcher block new life by first thoroughly sanding it then applying our DIY conditioning cream.
wood cutting board
sandpaper in coarse, medium and fine grits
2 oz beeswax (this is a great way to use up old beeswax candles)
glass measuring cup
4 oz mineral oil USP (available at your local grocery store or pharmacy)
wide-mouth glass jar with lid
rubber spatula
tackcloth or damp cloth
paper towels
Fill a small pot about half-full with water and place on the stove. Heat water over med-high heat, bringing it almost to a boil. Place candle or raw beeswax in glass measuring cup, and add to pot. Slowly melt beeswax, stirring it occasionally. If using 100 percent beeswax candles instead of raw beeswax, remove wicks.
Remove glass measuring cup from hot water and set aside on a dry towel. Add 4 ounces of mineral oil to the melted wax (Image 1); the mixture will become cloudy and bits of melted wax will start to solidify. Return glass measuring cup to the hot water and reheat, stirring to ensure the wax again thoroughly melts (Image 2). Remove mixture from heat and pour into a wide-mouth jar. Allow to cool for a few minutes, stirring occasionally with a rubber spatula to prevent the oil from gathering around the edges of the container (Image 3).
Before sanding, use a razor blade or kitchen scraper to remove any dried-on food (Image 1). Starting with coarse-grit, then working your way to medium- then fine-grit, thoroughly sand the front and all sides of the old cutting board to remove any scratches, dents or discolorations (Image 2). Note: When working with wood, always sand with the grain. Between sanding grits, clean the board with a tackcloth or damp rag so you can better see which areas need more sanding (Image 3).
Load up a paper towel with a generous amount of the board conditioner. Working with the grain, really rub it into the wood. Be sure to cover not just the face of the board but also the sides and back. Sanding the wood to remove scratches and stains has also raised the grain and left the wood dry so to ensure you replace all the lost oils and then some, apply even more conditioner than you may think is needed. Set the board aside on a clean paper towel for an hour or so to allow the wood to really soak in the oils, then gently buff off any excess. Your newly conditioned board should have a light sheen.
Maintaining Your Cutting Board
After each use, wash, then thoroughly dry your cutting board and apply a fresh coat of board conditioner. You'll find that the more you use and condition your board, the better it will look. Tip: The board conditioner is also great for restoring any other dried-out wooden kitchen items like dough bowls or long-handled spoons. It's also a treat for your hands.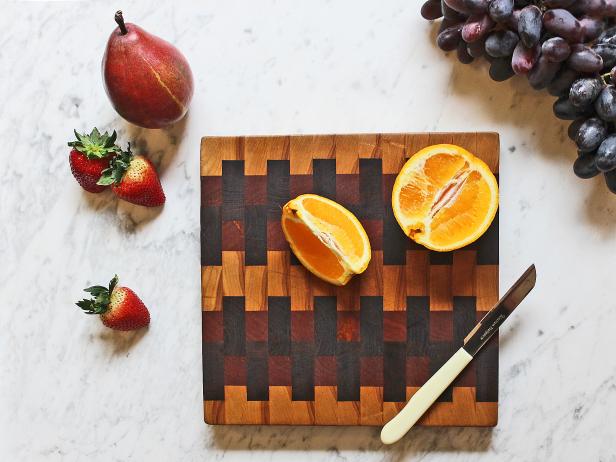 Wood Cutting Board
Give a scratched and worn cutting board or butcher block new life by first thoroughly sanding it then applying our DIY conditioning cream.
How to Install a Built-In Cutting Board
02:43
Learn how to install a built-in cutting board in your kitchen countertop.