How to Get a Bad Smell Out of a Leather Couch
No thanks, unwanted odors! Treat tough smells in leather with these simple cleaning tricks.
Leather couches sometimes get a bad rap for being stinky, but like most furniture, they just need a little extra care. Leather's porous, which means it's more likely to pick up and hold onto unwanted smells that linger, like body odor, pet odor, smoke or food.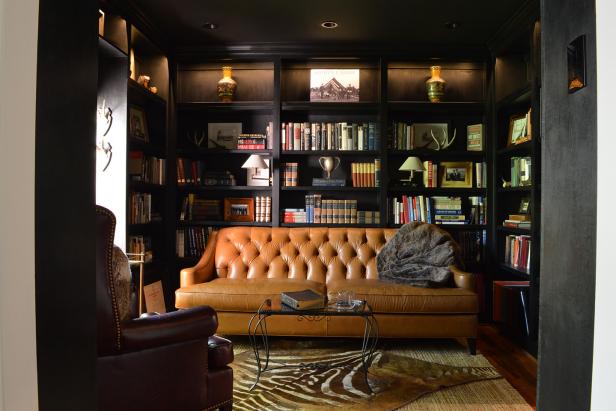 Rich Toned Woods and Fabrics in Luxurious Library
To give this space an extravagant feel, designers chose dark wood for the bookshelves and filled those shelves with first additions and other collectors' items. For the furnishings, a leather couch and chair sit just below the shelves, and creating an exotic vibe, a zebra-skin rug, completing the lavish library.
Fortunately, one thing to remember is that smells will dissipate from leather over time, so if it doesn't seem to be completely odor-free after your initial cleaning, give it time before you oversaturate the couch with scented cleaners. With proper treatment and upkeep, this too will pass.
First things first: Know what kind of leather you're dealing with and be aware of its condition if it's an old sofa with damaged leather. All of this makes a difference in how you cleanse and treat the surface. Follow manufacturer guidelines, if available.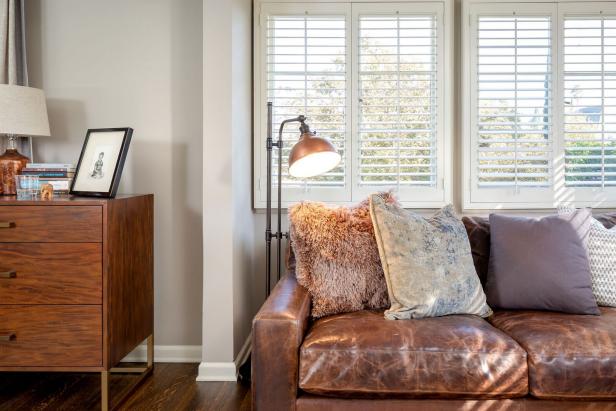 Living Room with Leather Sofa
A leather couch topped with pastel pillows adds a splash of color to a living area, matched with rustic lighting and upholstery.
Sunlight is a powerful force, and putting your couch in a warm room and in the sunlight for a few hours may just be the trick you need to kick bad smells to the curb, especially if it's musty or seeming mildewy. If you're able to move the couch outdoors for added ventilation, it's worth the effort (just like line-dried laundry). With the moisture removed, your couch will be back to smelling like natural leather rather than anything unwanted.
Though not safe for all types of leather, white vinegar diluted 50/50 in water will help to cure smells in smooth, treated, protected leather. If you're unsure how your product will respond, test this in a discreet area first. Use a spray bottle to mist it directly onto the surface of the leather, into creases of the couch and anywhere that seems affected by smells. Use paper towels or absorbent cloths to wipe away the spray before it has time to soak in and do harm. The microbial properties will help to treat bad smells, and we promise that the vinegar smell itself will dissipate over time, too. Avoid oversaturating the leather with excessive moisture.
Baking soda is especially helpful for removing smells from many types of leather surfaces, including suede. Before bed, sprinkle a generous amount of it over the surface, and use a dry brush to gently rub it in. In the morning, vacuum the couch with an upholstery attachment to remove all signs of the baking soda.
Cleaners formulated specifically for leather are nothing to shy away from, either. These cleansers are properly pH balanced and can help protect and polish while simultaneously treating smells. These solutions also target spores and signs of mold that contribute to reoccurring smells in leather.
Here are a few more tricks that can help keep your couch smelling A-OK, even after you clean it:
Double-layer a piece of nylon stocking and fill it with baking soda. Knot, and place it beneath and behind the cushions to continue to absorb smells. (Dry coffee grounds work too, but be forewarned that it might start to smell like a coffee shop.)
If your pet loves naps on the leather sofa, have them lay on a blanket instead of directly on the leather for ease of cleaning.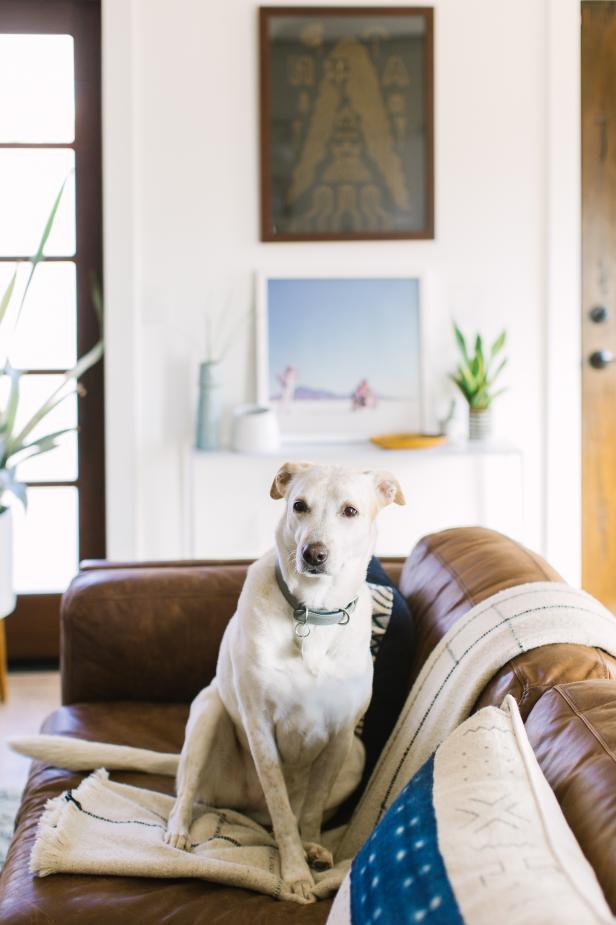 Brown Leather Sofa Decorated With Throw Blanket and Pillows
A simple, traditional brown leather sofa comes to life with decorative details. A throw blanket and mix of pillows softens the look and gives the sofa the cozy, at home feel.
Stick a few dryer sheets beneath the bottom cushions.
Unfolded sheets of newspaper layered between the cushions can help as an overnight treatment if you suspect extra moisture.