Short on Space? Turn a Closet Into a Homework Station
Need a dedicated space for online learning or to encourage homework focus? Follow these easy steps to turn a standard closet into a roomy, well-organized workstation with kids needs in mind.
Work from home is a thing for parents, but it's also true for kids. And we know that having a dedicated space where all your supplies are handy and you can really focus is key.
small table or desk
plywood or ready-made shelves
adhesive hooks
oven cooling rack
magnetic clips
pegboard
pegboard accessories
chalkboard calendar
adjustable-height desk chair
desk lamp and extension cord or LED/battery-operated light
decorative tape (optional)
We're sorry, there seems to be an issue playing this video. Please refresh the page or try again in a moment. If you continue to have issues, please contact us here.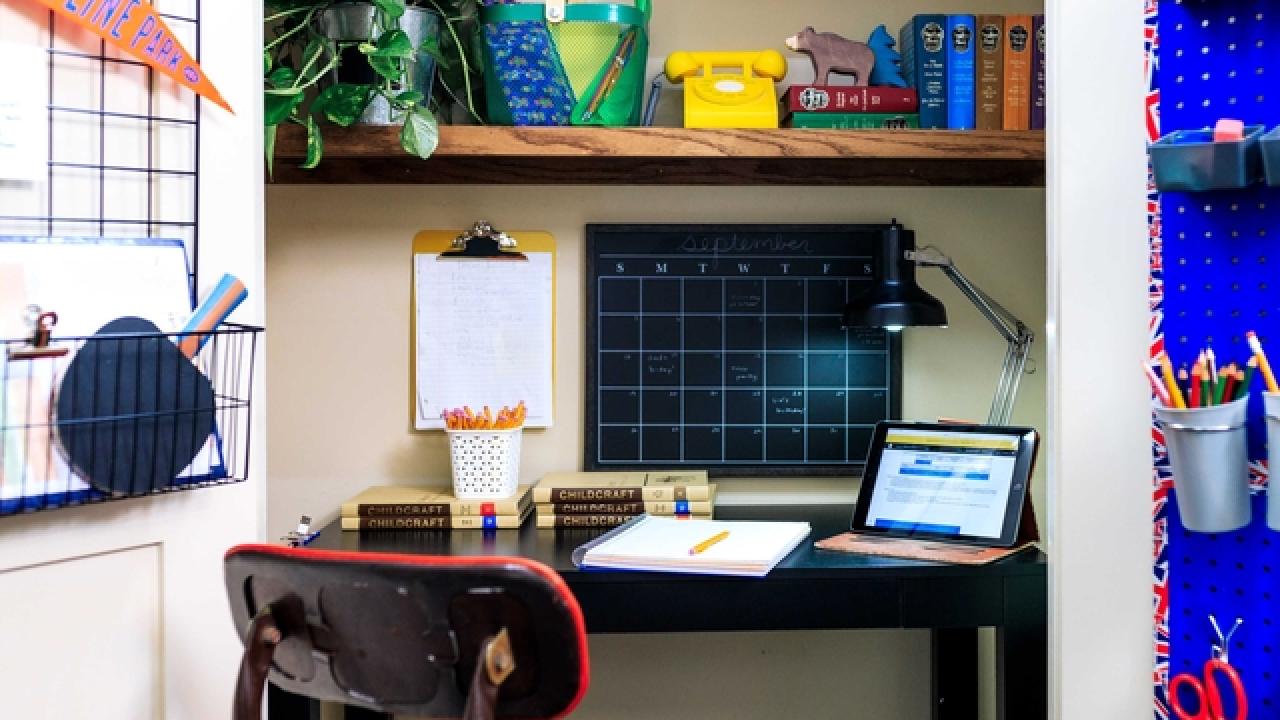 Turn an underused closet into a full-service desk for kids who need a space to work at home. With this design, everything can be tucked away inside the closet and the door shut when school is not in session. Open the door and you've got miles of style and organization all packed into a minimal amount of space.
Step 1. Clear Out the Closet
Remove everything from the existing closet so you have a clean slate to work with. Remove unwanted shelves and closet rods and if necessary, lower shelf brackets to the needed heights.
Step 2. Add Sturdy Shelves
If you already have adjustable shelves in the closet, you can certainly repurpose those. We added simple plywood shelves to give the workstation a bit more of a finished look. Fill the shelves with all your child's books and referece materials. Don't forget to add niceties like a faux plant or fun accessories to add a pop of color and personality.
Step 3. Fit a Small Desk Inside
Add a small-scale desk or table inside the closet. Be sure to measure the depth and width so that the desk can clear the closet door when being placed inside. A small console table may also fit the dimensions you need. The average height for a desk should be anywhere from about 28 to 30 inches tall.
To create space-saving storage, get creative by using the vertical space on the back side of the closet doors. Many different solutions could work, depending whether you have a single door or two small doors. For a single door, try an over-door shoe caddy. For two smaller doors like we have, a hanging pegboard is a fantastic solution. We had this piece cut to size and then lined the edges in decorative tape for some added style. We also used the same tape to create a hanger so that the pegboard could be hung on the back of the door. We used an adhesive hook so it won't make any permanent holes. Of course, you can use anchors and nails for added stability, just be sure you choose the right kind for the door you have. We added accessories to the pegboard so that school supplies can be stored within easy reach.
Step 5. Include a Wall Calendar
Keep your kiddo organized and on task with a reusable wall calendar. We used a chalkboard monthly calendar, but depending on your child's age, you may want to use a weekly, monthly or even daily board to help your student remember online class times, after-school activities or assignment due dates.
Step 6. Add a Storage Rack
An inexpensive cooling rack pulls double duty as a handy paper storage area. Here, we attached the rack to the back of the one of the closet doors and used magnetic clips for reminders, notes and personal mementos. As with the pegboard, we used adhesive hooks instead of screws or nails to minimize permanent damage.
Step 7. Add Comfortable Seating
Bring in a desk chair that is the right height for your student. An adjustable stool with a padded seat and back, like the one we used here, is ideal.
Step 8. Let There Be Light
Don't forget about task lighting. Most small closets don't have a ceiling light, so you'll want to add proper lighting for your little learner. If your closet doesn't have an electrical outlet (ours did), simply feed an extension cord under the door, tacking or taping it against the floor molding to prevent any tripping hazards, or use a battery-powered light instead.
A cluttered desk can spell major distraction when trying to work from home. Create a well-ordered workspace that boosts productivity with these budget-friendly and DIY organizing solutions.