The Best Kitchen Floor for You
HGTV Magazine asks, what's your flooring style? Don't get tripped up on floors. Discover which of these five materials is the best for you.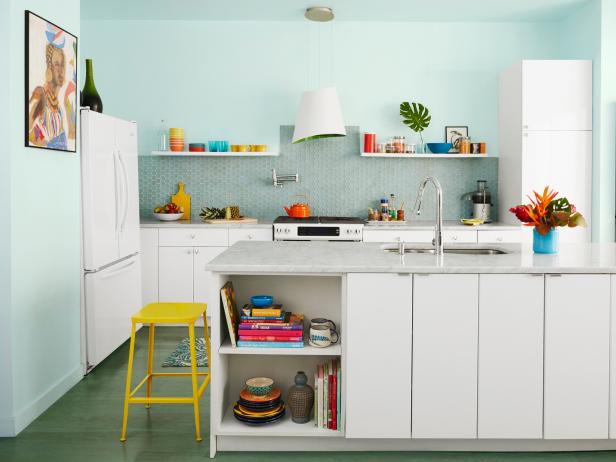 Multicolored Kitchen With White Cabinets
This kitchen was featured in HGTV Magazine.
David A. Land (styled by Courtney De Wet)
Pros: Because the top layer is real wood, it shares the beauty of solid planks. But since the core is tough fiberboard, it resists spills and humidity better.
Cons: Engineered hardwood can be as costly as solid wood. And many kinds can be refinished only a few times over the course of their life—otherwise you'll wear away the top layer.
Care tips: "Treat it just like regular hardwood. But make sure not to walk on it in heels—they can dent the top layer of wood."—Alison Victoria, Kitchen Crashers
Where to buy: Try companies that also make reliable solid hardwood—Mohawk (mohawkflooring.com), Shaw (shawfloors.com), and Mullican Flooring (mullicanflooring.com).
Pros: Laminate, in addition to being durable, affordable, and easy to install, comes in a vast array of styles, from stone to barnwood. Some options are made from recycled materials.
Cons: While newer laminate feels, sounds, and looks a lot like stone or wood, it won't help your home's resale value. If you plan to eventually move, it may not be the most worthwhile choice.
Care tips: Using a damp mop is OK, but don't pour water or liquid cleaners on laminate floors—too much moisture can make them swell, warp, or delaminate (when the top layer comes off).
Where to buy: Shaw, Armstrong (armstrong.com), and Mannington (mannington.com) all offer many styles, including reclaimed-wood look-alikes.
Pros: "Solid wood is the most cohesive choice for open floor plans, is softer on feet than tile, and can be refinished many times."—John Colaneri, America's Most Desperate Kitchens
Cons: If the wood is not properly sealed, water can stain it—a big negative since it's pricey. It also expands and contracts with changes in humidity, so it may look different over time.
Care tips: Vacuum or sweep it regularly, and occasionally wipe it with a nearly dry mop. Shade your windows to block UV rays, which can make floors fade.
Where to buy: For high-quality hardwood, try Mohawk, the Bruce line by Armstrong, Anderson (andersonfloors.com), and PID Floors (pidfloors.com).
Pros: Because it comes in so many materials—cement, porcelain, ceramic, and stone—tile offers tons of different looks. It's also incredibly durable.
Cons: Tile is tough on feet, so if you cook a lot, it may not be the ideal choice. Installation can get pricey, and inexpensive tiles are sometimes prone to chipping.
Care tips: "I have ceramic tile in my kitchen, and it just needs vacuuming. On occasion, for a more thorough scrub, I use a tile cleaner from Bona."—Vern Yip, HGTV designer
Where to buy: Find a wide variety from Daltile (daltile.com), Emser Tile (emser.com), and Nemo (nemotile.com). For handmade tiles, try Fireclay Tile (fireclaytile.com).
Pros: "Vinyl is durable, wallet-friendly, and slightly cushiony underfoot. It's also water-resistant, so it's smart for splash-prone spots."—Josh Temple, House Crashers
Cons: Depending on the quality, vinyl may last as few as five years. If you want it to hold up longer, choose a durable version like LVT (luxury vinyl tile) or LVP (luxury vinyl plank).
Care tips: Vinyl can become dull and grimy, so mop it frequently with soapy water. Wipe up spills right away to prevent them from soaking into the material.
Where to buy: Try IVC (ivcfloors.com) or Kraus (krausflooring.com) for realistic stone replicas. For wood-like options, shop Earthwerks (earthwerks.com) or BerryAlloc (berryalloc.com).
Our expert: Scott Humphrey, CEO, World Floor Covering Association