DIY: Hanging Mason Jar Storage
Steal this DIY idea from Shannon Quimby's recycled kitchen featured in HGTV Magazine by following her step-by-step guide.
Hanging Glass Mason Jar Storage for Kitchens
Ditch the cardboard boxes and plastic bags that go with your cereal, snacks and dry goods. They're ugly, take up lots of space and don't keep your food fresh. Instead, opt for glass jars or airtight food storage containers. Steal this idea for DIY hanging mason jar storage from Shannon Quimby's recycled kitchen, as seen in HGTV Magazine.
To see all of Quimby's one-of-a-kind creations, check out this photo gallery that takes you through her kitchen full of recycled projects.
canning jars with lids (6 were used for this project)
Phillips-head screw driver
hammer
flat-head nail (3/8" x 18") or something similar
scrap piece of wood or another flat, hard surface
6 screws (no longer than width of surface jars hang from)
Remove the lid from the jar. It will separate in two pieces: the rim and a flat top.
Place the flat top on the scrap piece of wood. You can use any flat surface that you don't mind putting a hole in, like an old cutting board. Hammer the nail into the center of the flat top, just wide enough to create a small hole.
Place the flat tin top back inside the rim, and screw the entire lid on to the underside of a shelf or cabinet you plan to hang the jars from. Add anything you'd like to store in the jar and tighten it around the lid. Be mindful to hold the bottom when opening and closing the Mason jars.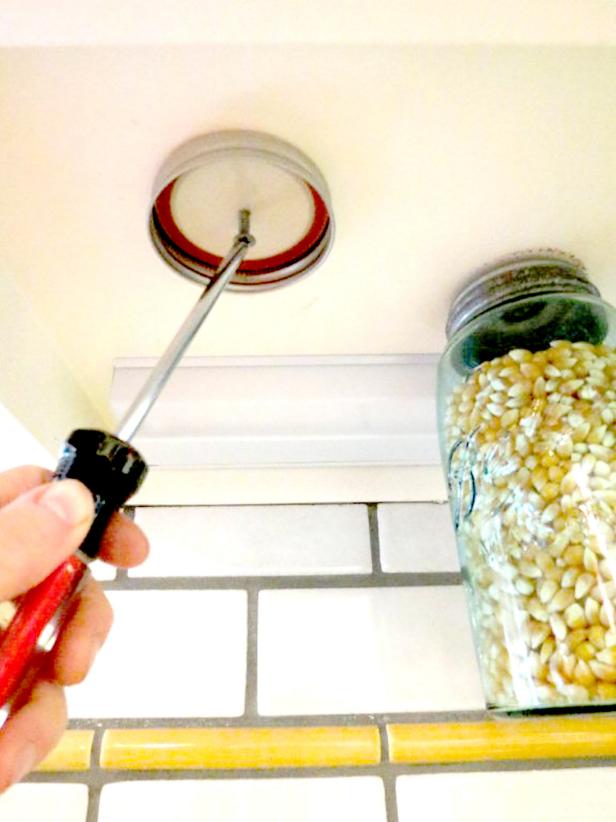 Secure Mason Jar Lids to Cabinets for Hanging Storage
Place the flat tin top back inside the rim, and screw the entire lid on to the underside of a shelf or cabinet you plan to hang the jars from. Add anything you'd like to store in the jar and tighten it around the lid. Be mindful to hold the bottom when opening and closing the Mason jars