Your Guide to the Different Types of Hardwood Flooring
The enduring good looks of hardwood flooring come in many types and styles to fit different needs and budgets.
If you're thinking of putting in hardwood floors, you can't go wrong. All types of hardwood floors have unmatched natural beauty and go with any decor — modern, traditional, country, you name it. Hardwood flooring goes in any room, although kitchens and basements warrant special considerations.
White Cottage Kitchen with Hardwood Floors
The kitchen of this charming Jamestown, Rhode Island, cottage was once dim and closed off, with a narrow window. Post-renovation, it's light, bright and open, with integrated appliances, a petite island and crisp white cabinetry that extends to the ceiling for maximum storage. Hardwood flooring adds to the charm.
Unfinished hardwood flooring is a good option if you want a custom stain applied before the final finish, or if you want to match the color of existing flooring. After hardwood flooring installation and staining, the flooring is given several coats of protective finish. If you're thinking of adding hardwood flooring in your kitchen, unfinished flooring is a good choice because the finish will penetrate and seal the seams between boards, helping to prevent water from seeping between boards.
Prefinished hardwood flooring comes from the factory already sanded and sealed, meaning the whole installation job goes quickly. There are no odors and VOCs from finishing on-site, and the floor is ready to walk on immediately.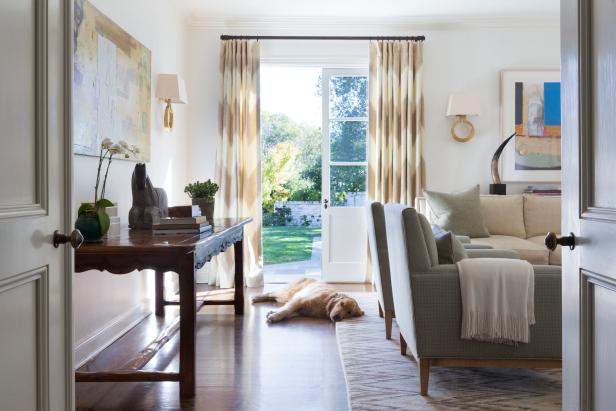 Light and Airy Living Room has Contemporary Flair
Clean white French doors open the contemporary living room to the backyard. A traditional wood table displays favorite books and accessories, while abstract art brings modern elements to the space.
Solid hardwood flooring is all wood and is usually 5/8" to 3/4" thick. Because it's solid wood, it can be sanded and refinished many times. However, it's susceptible to changes in humidity, and isn't recommended for below-grade basements.
Engineered hardwood flooring is a veneer of real wood glued to several layers of wood underneath, like plywood. This gives engineered wood excellent stability over time and makes it a good choice for any area of your home, including below-grade basements. Depending on the thickness of the hardwood veneer, engineered hardwood flooring can only be sanded and refinished once or twice during its lifetime.
Add warmth and timeless beauty to your kitchen with classic hardwood flooring which comes in a variety of wood species, designs and finishes.
The best hardwood floors are made with wood species that are readily available and — you guessed it — very hard. Oak flooring, maple flooring and cherry flooring are all good choices. Other species include bamboo (which is actually a grass), walnut, ash and mahogany. You'll pay a premium price for more exotic species, such as teak, jarrah and mesquite. Check to make sure the hardwood flooring you choose comes from sustainably harvested forests.
Another option is reclaimed hardwood flooring, which you can find at salvage yards. It likely has some signs of wear and age, but you'll pay about half what it would cost for comparable new flooring. If they don't have what you're looking for (and you have the time), ask to be put on a waiting list. Salvage flooring is an especially good choice if you're renovating an older house.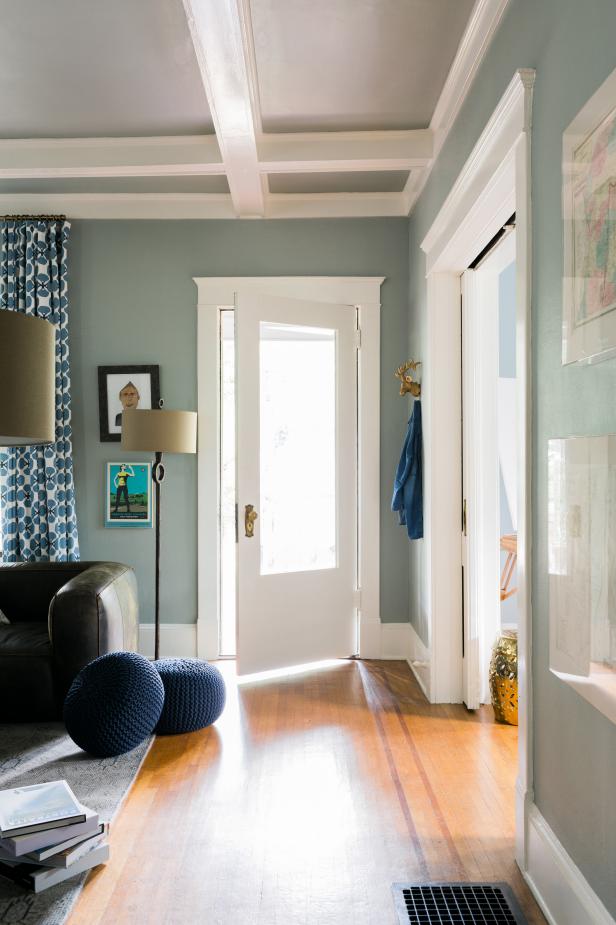 Glass Front Door Fills Home With Natural Light
Families tend to spend the most time in rooms that get the best natural light. Maximize your family room's light by using doors with glass inserts. When the doors are closed, they'll still allow plenty of natural light into the space.
Although oak still accounts for about two-thirds of all installed hardwood flooring in America, it's losing ground to its exotic cousins. A wide range of hardwood from other countries, especially Brazil, Australia and parts of Asia, is gaining a foothold and nailing down homeowners' interests.
"There has been a trend for several years for exotic hardwoods to grow," says Anita Howard of the National Wood Flooring Association in Chesterfield, Mo. The number-one reason: price. "They're more reasonable than they used to be," she says. They're also more available, as interest grows and lower pricing makes them more attractive.
Consumers also are intrigued by the possibilities that avoid the need to alter their wood choices drastically with stains. "These species offer a broader range of colors, so you can use the natural species rather than staining oak to a particular color," Howard says. "More people today want to forgo stain and try a different wood type with a natural stain instead." Some of the most popular woods right now are:
Brazilian Cherry

The seasoned wood has a russet or reddish-brown color, with a medium to somewhat coarse grain. It's slightly more stable than red oak, but it requires a longer than normal acclimation period. It also is more difficult to saw due to its high density.
Cork

It comes in a spectrum of shades from light to dark and has a familiar grain that's unlike other woods (it's actually the bark of a type of oak tree). It's become popular for a lot of reasons, because of its durability, sustainability and its cushioning effect underfoot. "We get a lot of calls about cork flooring. It's very hot right now." Read more about the benefits of cork floors.
Bamboo

Technically, bamboo is a grass, but it is considered a wood due to its hardness. Bamboo has become popular with "green" building proponents due to its rapid regrowth, which makes it highly sustainable. "You can cut it and have a fully mature tree in four years," Howard explains. It comes in manila/yellow tones as well as dark shades. The grain pattern shows nodes from the bamboo stalks, she says. Read more about the benefits of bamboo floors.
Wenge

This nearly black wood, which comes from Africa, is difficult to obtain but has become popular as an accent wood. It can be hard to cut and requires carbide tools.
Bubinga

Burgundy in color, this African wood has a fine grain and saws easily. But it splits easily when nailed with machine tools, so hand-hammering works best.
Sydney Blue Gum

Over time, this wood's color mutes from a spectrum of pink to burgundy red to become a medium brown-red. Its hardness requires carbide blades to cut.
As these differences show, exotic woods will react differently to cutting and installation techniques, as well as to the environment, Howard stresses. "It requires a professional who is familiar with the local area and its humidity and weather conditions, as well as with the wood, to install it properly. Requirements are different in different areas."
It takes some elbow grease to refinish hardwood floors, but it's worth it. Hardwood floors add value to your home and provide a classic look that goes with any style.