Metal Countertops: Copper, Zinc and Stainless Steel
There's a reason professional chefs have relied on metal countertops for decades: they're anti-bacterial, stain resistant and add a beautiful glow to any kitchen.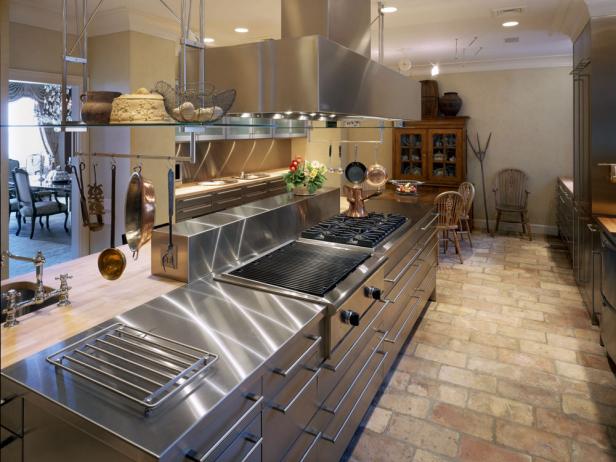 KB-2470887_kitchen-eclectic-van-tullis
Stainless steel contertops and cabinets create a high-end kitchen that any chef would love. Design by Van Tullis.
Stainless steel contertops and cabinets create a high-end kitchen that any chef would love.
Design by Van Tullis
.
Stainless Steel: Leading the Pack
You've probably seen stainless-steel countertops in sleek, contemporary kitchens or professional ones; they're that good looking and that hard working, the kitchen countertop equivalent of brains, brawn and beauty. But when it comes to metal countertops, stainless steel is hardly the only game in the kitchen. Other metals — which have been in use since before there were kitchens, never mind countertops — are making kitchen comebacks. Stainless steel casts a modern glow, but zinc, pewter, copper or even bronze countertops meld into traditional or period kitchens.
All of these metal options go to the head of the countertop class. Unlike stone (such as the ubiquitous granite) metal is nonporous (read antibacterial and stain-resistant). In the case of copper and zinc, they're recyclable, and metal countertops don't require sealing or more than soap and water to clean. Metal does scratch, however, so keep the cutting board handy. And when you get the inevitable etches, enjoy their character.
Except for stainless steel, the metals will also oxidize, forming a patina. You can keep them pristine by polishing, but that's not an insignificant commitment. If your spouse has ever muttered the word "obsessive" about your cleaning habits, these countertops might not be for you. But most owners want the patina and even work on hastening it. To find out whether a metal countertop is right for your kitchen, buy a small sample of copper or zinc and put it on your current countertop. See if the changing color enchants or exasperates you. Metals cost about the same as granite, and many metal fabricators make integrated sinks to match. If you like the look, investigate using metal tiles or a patterned metal piece as a backsplash.
Since its invention in 1913, stainless steel has been a multitasking wonder. It's the most popular finish for appliances and matching countertops can make a sweeping design statement and a breezy cleanup. Stainless steel, unlike other countertop metals, won't patina.
Copper: the Glowing Germ Fighter
Copper helped hoist humans from the Stone Age into the Bronze Age. Several millennia later, it can propel your kitchen forward, too. You can polish it — on a weekly basis — to keep a rosy gold or allow it to develop a patina of a burnished brown-black with green flecks. Copper inhibits germs, too. A recent British study highlighted copper's antibacterial skills: E coli survived on stainless steel for 34 days while on copper it lasted for only four hours.
Bronze and Brass: Rare but Beautiful Choices
More rarely used as a countertop material are the alloys bronze (copper and tin) and brass (copper and zinc). The mix of metals makes both of them harder than copper and both start out with more golden hues than their salmon-colored parent. Both will patina into dark brownish black tones.
Zinc: From Oyster Bars to Your Kitchen
Take a zinc lozenge for a cold, slather zinc oxide on your baby's rash, and — what the heck — put it on your kitchen countertops. People have for centuries and if you've eaten in an oyster bar, for example, you've seen a zinc countertop. Skip the polish and zinc's silver shine will develop a blue-gray patina. A soft metal, the edges can be decoratively shaped, echoing dentil or crown molding or your own design. Interest in zinc is leading more metal fabricators to put it in their repertoire.
Pewter: Enjoying a Renaissance
Pewter, an alloy of tin and small amounts of hardening agents such as copper, has graced French bistro and brasserie tabletops and bars for centuries. Lead was once added as a hardening agent but today's pewter is lead-free. It has a luxurious look and turns to a gray or charcoal patina. Like zinc, pewter is soft enough to be shaped into decorative edges.