Learn about Shaker kitchen cabinets and get ready to add style to either a traditional or modern home.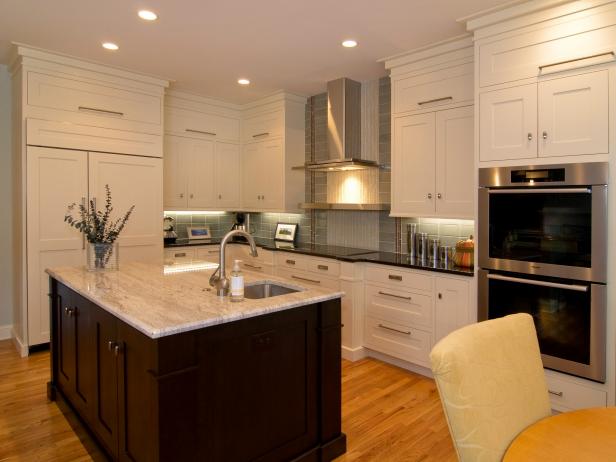 Shaker Transitional Kitchen
Mary Beth Hartgrove of Metropolitan Kitchen & Bath transformed a cramped kitchen with little aesthetic appeal into a transitional masterpiece. Mindful of the home's more traditional architecture, Hartgrove blended contemporary elements to complement the homeowners' taste.
Shaker kitchen cabinets are a popular trend in current kitchen renovations because of the classic and simple look they give to either a traditional or contemporary design.
Cabinets play an important role in both your kitchen's appearance and functionality. From cleverly concealed appliances to unique cabinetry hues, explore the latest trends and styles for your kitchen.
The Shaker design originated from a religious movement that began in the 1770s during the American colonial era. The design tends to avoid any flourishes of style in favor of a simple and functional aesthetic. The simple and clean lines of Shaker cabinets lend themselves to placement in modern or contemporary kitchen designs, despite their traditional origin.
Some trademark characteristics of Shaker kitchen cabinets include flat paneled doors with rail frames, sturdy construction with quality wood, and utilitarian designs. In terms of materials, Shaker-style cabinets tend to use high-quality local American woods traditionally found in the northeastern United States. Examples include durable woods such as cherry, maple, hickory and quartersawn oak.
Shaker cabinets are often left with a natural wood finish, or they can be stained to bring out the natural wood hues in darker colors. Shaker cabinets painted white or gray are also popular in modern kitchens as they give off a light and airy feel that many contemporary homeowners seek. Shaker cabinets are often paired in modern kitchens with white or light granite countertops, stainless steel appliances and modern hardware to complete the look.
Kitchen Cabinet Color Options: Ideas From Top Designers
See All Photos
While the minimal ornamentation and straight lines of Shaker cabinets lend themselves to the modern look, these cabinets also function well in a more traditional kitchen. Warm, honey-colored wood tones can be used and paired with more traditional hardware. Additionally, tapered legs and beadboard accents within the rails of the doors themselves can also be found in a more traditional Shaker-style kitchen.
Whether you seek a modern or more traditional kitchen in your home, using Shaker cabinets can give you a high style look while being durable and long-lasting.
More Kitchen Cabinet Styles
Kitchen Cabinet Inspiration